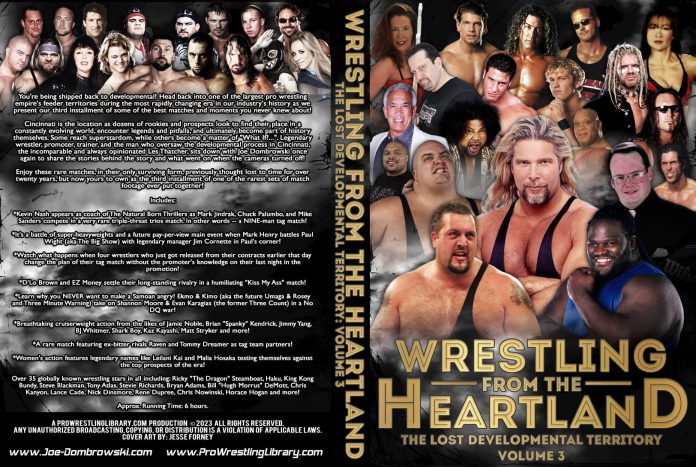 Joe Dombrowski is a lifer of the professional wrestling industry.
From the time he unwrapped brand new Hasbro action figures on Christmas morning during his childhood to the past twenty years he spent inside of the industry, Dombrowksi, who helped set up a fundraiser event at his high school as his introduction to the business when he was just 17, seems destined to spend his life a part of the spectacle that has consumed him for the past few decades. An accomplished broadcaster, booker, producer, and merchandiser, the Pittsburgh native has worn more or less every hat possible in the game outside of the ropes.
Despite his shy nature and humble beginnings back in 2003 at his high school fundraiser, the squared circle has taken him quite literally around the world the past two decades. A regular for AAA in Mexico, a lead announcer for MLW across the United States, and with an improbable return trip to England for 1PW recently, the broadcasting veteran often finds himself doing laundry for his next venture while he finalizes travel plans. With the busy Wrestlemania season, including a trip across the country to Los Angeles, Joe spent approximately three of the last four weeks on the road.
"It takes a lot out of me, but I try to budget what little time I have accordingly," an exasperated Joe said.
When he wasn't getting fresh stamps in his passport, he was still on the road, but instead went to the heartland of the United States, the same location that once housed one of the hidden gems of the sport.
The Heartland Wrestling Association, an early developmental territory for the WWE, was operated by Les Thatcher, one of the most knowledgeable figures in the history of the business, and showcased contemporary and future stars during its heyday. Thatcher's status in the industry, as well as his many contributions to the sport will be celebrated when he will be inducted into the George Tragos/Lou Thesz Professional Wrestling Hall of Fame, receiving the Jack Brisco award this July. With the bulk of its developmental duties in the aftermath of the collapse of ECW and the purchase of WCW, a myriad of names shared an HWA ring during a time of several changes to the industry. Considering that VHS tapes were the modern media format at the time, there was footage of major stars that most fans didn't know existed. Being as passionate about the history of the industry as he is, Dombrowski spent many late nights with pen in hand to scribble down notes for the variety of original productions that he released over the past few years. Just over a decade ago, Dombrowski released The Montreal Theory, a production that many pundits consider a definitive look at the Survivor Series controversy. A seminar will former WWE referee, Jimmy Korderas, A Brian Pillman series, and a variety of independent titles are just some of the content within the Dombrowski library. Thatcher, known for his eye for talent, recognized Joe's dedication immediately, and the two formed a friendship that opened the door to unearth wrestling history that many thought was lost to time.
The door that was opened was Les' garage door when Joe made the trips from Pittsburgh to Cincinnati, where he quite literally dug through dusty storage bins to uncover some of the rarest footage yet to be released when he embarked on the "Wrestling From The Heartland" series just a few years ago.

"It's very cool to find a piece of history and give it new life and a new home. Heartland was a special time and place, and after over twenty years in storage, to say there are three volumes out there when once upon a time it was probably thought none of it would ever be salvaged or the fact we did similar and more to give The Brian Pillman Memorial Shows their first mass release ever also means a lot, especially because we just passed the 25th anniversary of the very first Pillman Memorial. There's so much to learn and study and enjoy, whether you are wrestler or fan, and I'm just glad I can spread the same passion for history I have onto an audience always looking for something different," Joe explained.
After the two previously mentioned volumes, Joe's newest release, a set of HWA matches that he complied and produced with special commentary for added insight, is the third installment in the Heartland series, bringing even more rare footage to wide distribution for the first time ever.
"The story of HWA will perhaps never fully be told, but with this set we'll be up to 18 hours of matches on the market from Heartland, and Les Thatcher sitting with me providing insider bonus commentary on all of it. Les is a limitless wealth of knowledge, from working with and teaching the young rookies to dealing with the office, and everywhere in between. My goal has been to present sort of a greatest hits of matches, moments, talents, and stories so fans and future generations alike can understand the humble beginnings of the developmental system, years before a Performance Center was ever realistically feasible," Dombrowski remarked.
At a time when more pro wrestling content is more easily accessible than any other time in history, the Heartland series takes a unique approach to present footage that isn't available anywhere else. If it wasn't for Thatcher's knowledge of how important a piece of history the HWA was in the sports entertainment narrative, and Dombrowski's willingness to rescue those brittle VHS tapes from the dusty boxes and oil stains on the garbage floor, some of the rarest footage might've remained undiscovered.
"The challenge I set myself to with each of the Heartland releases is continuing to provide a steady stream of something for everyone. Be it the legends like a Kevin Nash or a Jim Cornette, or a fast-rising cruiserweight like Jamie Noble or Shannon Moore, a prospect like Umaga, or a star of that era like D'Lo Brown, I want these sets to encapsulate every style that came through the door. Some people would be surprised to learn that, for instance, Haku was in a dressing room during the same time as a Shark Boy or Brian Kendrick, but it was this melting pot of so many different talents just trying to find their spot in a wrestling business that was very rapidly changing in several ways," Joe said.
Joe Dombrowski is definitely a lifer in pro wrestling, and this latest Heartland release is not only the latest chapter in his journey, but also highlights a rare chapter in pro wrestling history.
To order the new HWA production
DVD: Joe-Dombrowski.com
Digital: ProWrestlingLibrary.com
For more information about Joe
Twitter Joe_Dombrowski
IG Joseph_Dombrowski
Youtube @ProWrestingLibrary
What do you think? Share your thoughts, opinions, feedback, and anything else that was raised on Twitter @PWMania and Facebook.com/PWMania.
Until next week
-Jim LaMotta
E mail drwrestlingallpro@yahoo.com | You can follow me on Instagram & Facebook @jimlamotta89