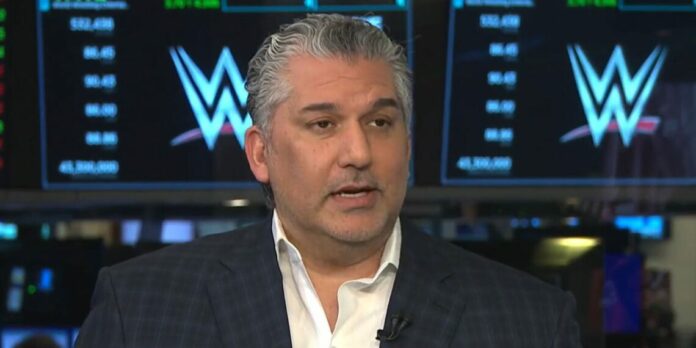 WWE CEO Nick Khan attributes the company's continued success to Chief Content Officer Triple H and "the system" established by Chairman Vince McMahon.
Khan recently spoke with Sports Business Journal about a possible sale and the next media rights deal for RAW and SmackDown. According to officials, WWE's current media and content strategy puts them on solid ground as they consider the sale and negotiate the rights deal, pointing to two areas that will help the company as it navigates through an unprecedented level of change – an increase in viewership and record live event gates.
"If you look at the ratings and relevancy of our product, we like to think we're in a good position," Khan said.
SBJ stated that WWE has seen a 5% year-over-year increase in viewership for WWE NXT on the USA Network, a 9% increase for RAW on the USA Network, and an 8% increase for SmackDown on FOX. According to internal company data, WWE's Premium Live Events on Peacock have seen viewership increases of more than 50% this year.
WWE's success in arenas is also continuing. SmackDown had set all-time gate records in nine markets as of Monday, March 6, while RAW had done the same in seven. This year's premium live events, including Elimination Chamber in Montreal and the Royal Rumble in San Antonio, were the highest-grossing of all time for WWE. Despite being three months away and with no match announced, WrestleMania 39 had already set the all-time gate record for any WrestleMania. WWE set gate records for SmackDown and RAW in more than 20 markets in 2022.
WWE's "gaudy" TV viewership and arena numbers, according to Khan, are due to Triple H's ability to create compelling storylines with in-ring talent. He also credited Vince and others who help WWE run smoothly.
"To me, the success we've seen in the ratings is a combination of factors," Khan said. "Certainly Triple H, but that would also include the entire writing team, the producers, the Superstars/in-ring performers and the system that Vince set up. Like any organization that thinks it's great, the system moves no matter who comes and who goes."
WWE's media rights agreements with FOX and NBCUniversal/USA Network expire in 2024, and the company hopes to renew them soon. The current five-year deals are worth $2.35 billion, and they also signed a $1 billion five-year deal with Peacock in 2021. Khan commented on the upcoming rights fee negotiations.
"We look to get into the heat of the conversation first with our incumbents by the middle of the year or so. Depending on the timing and how strategic alternatives shake out, it will be either be middle of the year getting hot and heavy, or some time shortly thereafter," he said.
Khan added that WWE purposefully timed its deals with FOX and NBCU so that it would not be in the market with its next agreement at the same time as the NFL, which announced new deals worth more than $110 billion with FOX, CBS, ESPN, NBC, and Amazon in 2021. Regardless, WWE is in the market for new deals at the same time as top sports properties such as NASCAR and the NBA, but Khan is optimistic about what WWE can achieve.
"We believe there's plenty of money out there for us," he said.
Moving the WWE Network to Peacock made sense, according to Khan, given the growing streaming wars raging with the emergence of multiple new platforms.
"WWE Network didn't seem as viable as it did in 2014 when it was launched," he said.
The WWE Premium Live Events shown on the platform have benefited from the Peacock deal. Khan stated that WWE has seen significant crossover viewership from other Peacock programming, citing Premier League soccer, Spanish-language World Cup matches, and the hit series "Yellowstone" as the programming with the most crossover viewership.
"Our audience turns out for our events, but there's also stickiness in terms of our audience sampling other Peacock products," Khan said. "Once our folks go to Peacock, they tend to stay there and become invested in the platform, which we certainly think is great for Peacock and great for us."
Concerning the shows on FOX and USA, Khan stated that WWE uses marquee NBA regular season games on ESPN/ABC and TNT, as well as early round NBA Playoff games, to gauge how well its own programming is performing.
SBJ noted that the combination of a potential company sale and new media rights deals creates a balancing act for WWE, especially given that some of the potential bidders named thus far are media companies drawn to WWE's extensive calendar of live entertainment. Potential bidders include, as previously stated, Endeavor Group, Comcast, Netflix, Amazon, and Disney, among others.
"That's probably the trickiest of all the parts, but one thing that all potential buyers know is that the rights that Fox and NBCU negotiated for separately will obviously have to be adhered to and respected with all sorts of good faith attached to that," Khan said.