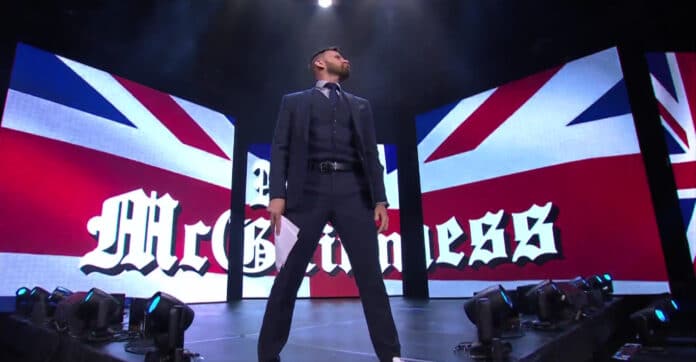 The following was sent to us:
By refereeing the final of Super Strong Style 16, it wasn't just a special moment for winner Kid Lykos, but also represented the first time Nigel McGuinness had set foot in a ring for ten whole years.
Legendary wrestling commentator and former professional wrestler Nigel McGuinness had nothing but praise for PROGRESS Wrestling and Super Strong Style 16 after another memorable yet eventful tournament in the English capital!
McGuinness' voice is recognised throughout the entire wrestling world, and he is best known for his time with WWE where he worked as a colour commentator for WWE NXT, NXT UK, NXT Level Up, and now along with being a ROH and AEW commentator his skills on the headset can now be heard on Demand PROGRESS.
A former Ring of Honor (ROH) World Champion and ROH Pure Champion, McGuinness was also heavily involved in the Super Strong Style 16 tournament final between Kid Lykos and Mark Haskins as the special guest referee.
Throughout the Super Strong Style 16 final, in what McGuinness believes is the best tournament in professional wrestling, Haskins taunted the former PRO Wrestling Noah star a few too many times, leading to a physical retaliation from McGuinness which no doubt contributed a small factor in Kid Lykos's historic SSS16 victory.
Speaking post event, McGuinness said: "It was an incredible weekend. I felt nervous but excited at the same time, and I couldn't wait to see all the competitors in the ring and find out who would be the winner of this year's Super Strong Style 16 tournament.
"I really enjoyed sitting next to Ollie Spring on the commentary desk. I honestly thought I was going to be sat next to SoCal Val, but Ollie did a wonderful job.
"It was amazing to be back at PROGRESS Wrestling. The last time I was here was in 2014 and the passionate reaction from the fans towards professional wrestling is what we are all bound by. It truly was a dream come true."
McGuinness also revealed that it was the first time he stepped inside the squared circle since he retired from wrestling when he took up the post as referee for the tournament final.
Explaining why he took his refereeing duties a step further than just officiating the match, he said: "It is the first time I have been in the ring during a match for a decade.
"It was a great experience to hear the reaction of the crowd, it lived up to the hype. Kid Lykos deserved to win, and he has a great opportunity now to win the gold against the man they call the Sovereign Lord, Spike Trivet.
"When you retire and step away from the ring, you must put all of that emotion behind you, but by going back in it made all of the hairs on my neck stand up!"
"I admit, I got involved in the final a little bit. Haskins was frustrated as the match went further on and you can understand that, but he took things too far and I had to rein him in."
"Kid Lykos is a lovely fella, and he has not just won the PROGRESS Wrestling fans over, but he has won me over too! He played nice and straight throughout the match and he deserved to win!"
There can be no doubt that to see Nigel McGuinness back in a wrestling ring for the first time in 10 years is special and we look forward to seeing Nigel back in PROGRESS very soon.
You can listen to Nigel's commentary now on Demand PROGRESS from the first day of Super Strong Style 16 2023 by signing up to our online channel.
Watch back a memorable day one by CLICKING HERE which goes live on demand PROGRESS at 5pm Saturday 10th June.
For further information please contact Lee McAteer at lee@progresswrestling.com, please credit PROGRESS Wrestling where possible.