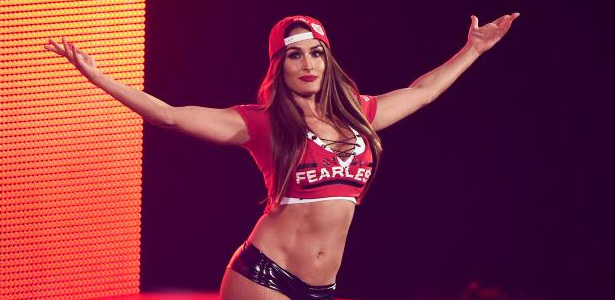 – Above is video of TMZ Sports catching up with Nikki Bella and asking her about Ronda Rousey possibly getting coming to WWE to wrestle. Nikki says she would welcome Ronda to WWE and she'd love to get in the ring with the former UFC champion. Nikki also says she's not sure yet if her wedding with John Cena will be featured on Total Divas.
– WWE stock was down 0.95% today, closing at $21.94 per share. Today's high was $22.48 and the low was $21.87.
– As a reminder, the WWE RAW viewership that usually comes out today will be delayed until Wednesday afternoon due to the Labor Day holiday. The SmackDown viewership that usually comes out on Wednesday will be delayed until Thursday morning.
– WWE teased a new storyline with Goldust going into SummerSlam last month but nothing ever happened. It appeared that The Golden One was going to reveal his new protege at SummerSlam but he hasn't had a backstage TV segment since the August 7th episode. He did work the recent Intercontinental Battle Royal but there's been no mention of the reveal storyline that was teased for SummerSlam.
Goldust took to Twitter this week and wrote "Soon!" to cause more speculation on the storyline. He also wrote, "Takes time young man" in response to a fan who said they were still waiting on the reveal. You can see both tweets below:
Takes time young man https://t.co/9DMUd76cIr

— Dustin Rhodes (@Goldust) September 3, 2017
Soon!

— Dustin Rhodes (@Goldust) September 5, 2017