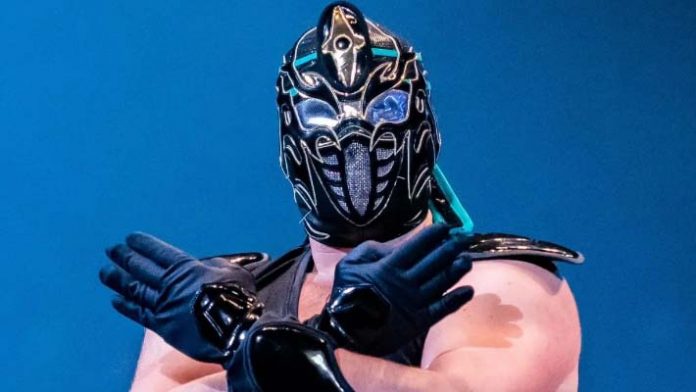 Pro Wrestling NOAH star and former GHC Jr Heavyweight Champion Ninja Mack spoke with PWMania.com's Lewis Carlan about a wide range of topics including his current Pro Wrestling NOAH contract situation, NOAH possibly working with WWE or AEW, wanting a match with Will Ospreay, his upcoming GHC Jr Heavyweight Title opportunity against HAYATA, a possible Pro Wrestling NOAH US Tour, his upcoming GCW match with Joey Janela and so much more.
You can check out the complete interview below:
Click here to subscribe to PWMania.com on YouTube and never miss a new video.
On May 4, you have a big opportunity against HAYATA for the GHC Junior Heavyweight Championship at MAJESTIC 2023. How are you preparing for this huge opportunity and your thoughts on that match?
"You know, with the first time I was able to literally obliterate HAYATA to win the belt and it was a ref call, so the match did not go to a finish. So I'm very excited for us to be able to go out there and to be able to finish the match. But in the end, I am there to win. So if I have to break him again, I'll do whatever it takes to get that that second reign as the Junior GHC champion. Coming down to preparation, probably one of the times I'm kind of on a carnivore diet, I'm trying to eat clean. I mean, my in ring work is stamina is there, so it's just, keeping the body physique and just making sure I can peak on the at the right time on the right day."
You mentioned the last match which was on October 30 2022. You defeated HAYATA for the GHC Junior Heavyweight Championship. He was injured in that match and you were you were declared the victor. Do you feel there is pressure on you now to prove that you're not just an accidental champion.
"No, I actually in the opposite, I feel like all the pressures on HAYATA. I went in there and he was on such a good junior run and I broke his armor. I broke the guy that was unbeatable for the junior division. And for him to beat AMAKUSA to regain the championship, how often is it that a champion issues the challenge for the first challenger? Usually it's the challenger coming out. HAYATA was to go right away and he wants his revenge on me. So I think all the pressures kind of switched to HAYATA. I don't feel any pressure. I feel confident going into this match. I know I can break the man, I know I can beat the man. I'm 2-0 in prelims right now, tomorrow, for the date, it's the 29th tomorrow for us. I have my third prelim at Korakuen Hall. We're actually the first match on the show with Lanzelot and Super Crazy. So maybe I sweep these prelims I go 3-0 going into this championship match. I really feel like I've put the pressure on him to step up or move out the way and let me take back over the junior division as the champion."
At Sunny Voyage, April 23, you scored the big win, the fatal four way match you HAYATA, Dragon Bane, and YO-HEY. After the match, you took the GHC Junior Heavyweight Championship and it looks like you said something to HAYATA. What did you say to him?
"I told the man step up, I'm now 2-0 against him in prelims. I don't feel much of a threat to where I need to attack him after a match or make a mark. I think I proved enough in my first championship run by breaking him, I'm now 2-0 in prelims against him. So, I mean, it was very short to him to step up, step up, or it's, I'm gonna be the junior ace, and I'll be the junior champ going forward for Pro Wrestling NOAH."
So on May 4, you're gonna take that belt from him?
"Of course, and I go home May 5. So I would love to take that belt and bring it back to America. That's been one of my biggest goals. I was unfortunate to be able to do it last time, you know, Dante got the jump on me and beat me for that belt on my first title defense. So if I can win this belt against HAYATA on the fourth, I fly home the fifth and I'm home in America for six weeks. I have all intentions of bringing that belt home, I can bring it to GCW, I got a couple of matches lined up with them. So that's a big goal of mine to be one of the first foreigners to bring that belt back. It's been such a long time."
You mentioned Dante Leon. How disappointing was it to lose the belt because you just had the belt I think for 10 or 11 days. So how disappointing was it to lose the title to him.
"You know, if I was to lose it, I was fortunate to lose it to a man that I've rivaled. We rivaled in GCW. We've now rivaled a little bit of Noah. He knows a lot of my strengths and weaknesses. So he knows what it takes to kind of go at me and to be able to take it. So for him to get it on me he was he was a worthy opponent to lose it to. I don't see it as such a disappointment because I've continued with this ninja path to learn and grow from things. And it was, to me a very humbling moment because even though I just won, I broke HAYATA, I took down the big dog. At the same time, it just shows you there's such competition in the NOAH Division at the juniors at even if you take out that big dog, you're the next big dog, your targets on your back and I slipped up, I lost and I've learned from it because I'm getting better. I'm getting stronger from that, I've used it as motivation."
So should you win the GHC Junior Heavyweight Championship? Do you want to get that win back from Dante?
"So I would, I would love to get that win back in a championship match. I was very fortunate. I know he lost it to AMAKUSA., about six weeks after he had it maybe five weeks, I don't know the exact time. But after he lost that belt, I did get a singles win against him to get a little bit of a revenge. So that just to me, to beat him in a regular singles match, I want it on the big stage, I want it for the championship match. So I would if I am able to take away this belt from HAYATA, I would like a bigger match with Dante for the belt and to be able to pull off a win. You know, it's more of a redeeming process at that point. But my focus right now is HAYATA on the fourth."
So I want to go back to that fatal four way match for a second. Your ring interactions with Dragon Bane, I thought were absolutely incredible. So my question when are we getting a Ninja Mack versus Dragon Bane one on one match?
"Talking to NOAH's office, I think it's sometime in the future. He's such a young and very formidable opponent. Short story. My first singles match with Dragon Bane back in Loko Wrestling. I want to say maybe March of 2020, maybe March 2021. I know it is one of those March shows for Loko Wrestling. After that singles match, that match was the reason Noah called me, was they watched our singles match back in Houston, Texas. So we have we had had a one on one. We actually did have a second one on one down in Mexico in his hometown. So we have two singles. He's a very strong opponent and he's actually beaten me twice. So I think my third match if I can able to go one on one with Dragon Bane on a big match that's that's something that I think you know, just coming from that Loko Wrestling scene in Houston it'd be such a step of the Texas scene because I do represent Texas wrestling a lot. I think both of us getting out there and that Lucha scene to be great"
How strong would you say the Junior Heavyweight division is in Pro Wrestling NOAH compared to other promotions such as New Japan Pro Wrestling?
"I would put NOAH's juniors up against anyone. I mean, I think we've got some of the best luchas in the world. You got some of the best Japanese wrestlers right now. I mean, HAYATA and YO-HEY. YO-HEY just became tag team champ with the Good Looking Guys, and Good Looking Guys are looking strong right now, all five of them, Tadasuke, YO-HEY, Anthony Greene, Jack Morris, Jake Lee. They're very strong faction coming together for NOAH. HAYATA has always held down the junior division. Eita is a very surprising Junior wrestler that's very strong in NOAH and then just the handful of luchadors that come in, you got Dralistico that comes in every now and then recently. Dragon Bane's back ,so you got some of the top luchadors in NOAH also, I mean even just a shout out to some of the Japanese Wrestlers, Alejandro so good. YO-HEY is, so good. You got so many great junior division. I put them up against a lot of a lot of the divisions around here and they're very consistent workers. They're not just one time good people every master good matches are going out and performing well."
I'm a big Junta Miyawaki fan as well.
"He just, I believe, if my memory, he just got back from his another two month Mexico excursion and he's going to be at the Korakuen Hall show I believe. I know he's at the Ryogoku. I just don't know if he's at Korakuen Hall tomorrow."
On June 9, New Japan Pro Wrestling, NOAH and All Japan Pro Wrestling will be joining forces for All Together Again. Is there an is there an opponent from NJPW or AJPW that you hope to face at the show?
"I mean, if I had the choice I think I'm never one to name small. I would I would love this match. Will Ospreay. I think if I had the chance to do battle Will Ospreay I think we could really tear it down. I think he's one of the top tier talent in the world. And I like to challenge myself and if I can put myself in the ring with one of the best right now just to see where I stand, it's a test for me and I mean just like any test if you're successful or failure you learn from it so I think it would give me a good point of where I'm at in my career if I can get in the ring with a Will Ospreay."
What is your current contract situation right now with Pro Wrestling NOAH?
"I signed a one year back at the end of June, I would start July so my contract actually ends June 30. Going into July I know we've recently brought it up with Pro Wrestling Noah, are we are we looking into going another year? What's the future of Ninja Mack and Noah? Nothing's official yet that's been announced. So it might even depend on what happens on May 4. You know, if I take that belt, I think I get a I get a lot of points on my side to have power to negotiate a little more. So they might be holding a see what happens May fourth with HAYATA."
With the rising popularity of NOAH, could you see NOAH hitting the US market soon with a US tour?
"Of course I believe I mean, I know just the WrestleMania when Muta, Keiji Mutoh going in to WrestleMania and just retiring I think he's had such a long career and and now back when he was with WCW he means so much to wrestling. And I know Noah has done a couple tryouts over in America. Marufuji has gone over there himself and held a tryout. I actually got to partner with the tryout winner Sean Legacy, shout out to Sean he's done phenomenal these last few weeks he's been here and he was the winner from the tryout that came over so I think the markets big if NOAH wanted to make the jump over but once again I am wrestler, I'm not in the office. So this will be just speculation but I think if NOAH was to kind of jump over to that American market it might be might be something very big to look into."
New Japan Pro Wrestling, they run joint shows with AEW and Impact Wrestling. If NOAH was to have a joint show, is there a specific promotion that that you would prefer?
"Knowing history they've done a little bit of work with Impact history before. Looking at the umbrella of what NOAH is at, GCW does some work with DDT and if I'm not mistaken, I believe DDT and NOAH are under Cyber Agency. So it's under the same umbrella so I don't rule out the possibility and GCW's coming back to Japan in July. And you know if I do renew that contract I'd be here in July you never know what can happen. But to me I guess I shoot for the big dogs I think if if NOAH really wanted to do something and if it was allowed, WWE, let's go for the big people. Let's take them on I think. Marufuji is the genius of NOAH. I think he can go toe to toe with many of the biggest stars there. So, I mean, Nakajima is phenomenal, Kenoh, our young ace Kiyomiya. All these guys are so well, why not put them against the best talent?. Ninja Mack vs Ricochet? How does that sound? You know, I think we have the right opponent, the right people that can line something up to make it happen. So I'd shoot for the big dogs. Let's go WWE. I mean, AEW, the doors are open. Tony Khan has proven himself to to work with many companies. They got mega stars over there also, and I don't see AEW being ruled out. So AEW, WWE, some of the big dogs is what I would shoot for."
You mentioned Tony Khan. You've been on a Ring of Honor show in the past and lost to Brian Cage. Could you see yourself back on a Ring of Honor show in the future?
"You know, I prioritize my contract so I would definitely push towards NOAH and if that opportunity ever was to come across, my target number one would be Brian Cage if I was pushing Ring of Honor, I want pay back. I wouldn't want to hold back. Just even seeing the people that are going out, shout out to Gringo Loco that just made it to Ring of Honor. I know he just did a show for them and they've been tearing it up. So I think there's a handful opponents that I can match up well with at Ring of Honor. I would just target Brian Cage first being a ninja."
Do you think NOAH can overtake New Japan Pro Wrestling as a top promotion in Japan?
"I think the works cut out, I think we have the right people to do it. But you know, there's always that change in wind and direction. You need some you need some lucky breaks to happen you need some things to go your way. But I don't see that it's not possible. We just put 30,000 people in Tokyo Dome being a NOAH show, I mean, New Japan was even there. But what when's the last time there was a 30,000 person show going like that. So I mean, to be part of that at Tokyo Dome was something phenomenal and just to show what we're capable of."
So let's move along to GCW. May 20. You return to take on Joey Janela. Your opinion, what makes GCW such a special promotion? And your thoughts on that match with Janela?
"You know, just being announced I think GCW kind of giving me a little break through coming through before I went to NOAH. I mean Joey Janela is the face of GCW. He goes out there he can wrestle anyone from a seventy year old wrestler to a main star that's kind of waiting in free agency before he comes to a young guy coming up. And for Joey, I think he has so much potential to wrestle every single style. He's a very difficult wrestler to figure out so to be able to go against him. really challenges me but we are one and one. I did get a little help from X Pac back in Los Angeles. Joey beat me the first match back in Dallas. So we're going for round three. And I believe him coming over to Japan recently, you got a little rivalry going on. I think I've grown this last year and it's going to be a little bit different of a match."
For GCW, have you participated in a deathmatch in the past? And if not, would you participate in a deathmatch?
"Another little short story, the first time I met Bret (Lauderdale) going down to that Tampa WrestleMania, first thing I ever talked to him when I introduced myself he asked me the same thing would I ever be interested in a deathmatch? I told him I gave him a price that I thought I was worth. You know, being a wrestler coming in not being known. The price was a little ridiculous, but I think I've proven myself every step of the way. And if you ever wanted to pay that price, he knows the price I'm not gonna say because I think a lot of people will be mad but I'm not a I'm not against it. I'm pretty reckless in the ring. I've got you know, the Kamikaze gimmick with the Ninja? I play with weapons. I know you don't see it in the ring. But I play with both staffs. I played with swords. I do fire axe. I don't think it's out of the possibility but no, at the right price. Everything's business. So no, I have not done a deathmatch, but also, I'm not against it if I was paid the right price."
So Nick Gage versus Ninja Mack is a possibility in the future?
"Nick Gage, man MDK all effing day. That man, you know that man, he's carried GCW with Joey Janela, so much too. I don't see it not being a possibility. But to step in a ring with him, you're looking for death, and not just a match. So you know, I gotta be fully mentally prepared to be able to take that level of opponent on."
All right, so June 11 you're headed to the UK, Sovereign Pro Wrestling with a shot at the Commonwealth Championship. How did that opportunity come about?
"In between my little tours with Japan, I'm very fortunate to be able to go home for four, six weeks at a time. And I'm not wanting to take any time off. So I've lined up show after show every weekend. And you know, I went over to WxW in Germany, I've done a little bit of UK work before. So to be able to get back and just travel more, I think, traveling is one of the best experiences and it gives you such a wide range of wrestling. So to take on some of the best young guys over there and see where they're at is going to be a huge step. And so just a travel ninja trying to get all the countries in I can."
You could possibly have a belt in Japan, you can win a belt in the UK. What about the US? Are there any US belts you're going after? GHC Heavyweight Championship?
"It's not out of the realms and out of the possibilities. I mean, there's some big companies out if you're just looking at Indies, you got GCW, you got Warrior Wrestling, you got MCW. I mean even even a shout out to AAA. I did some work with AAA before and Vikingo is such a great opponent and he's carrying that belt proudly and representing that company so well. Vikingo vs. Ninja Mack match can be can be some money. So I don't see it out the way but my focus is Japan right now. So I say let me get through May 4 and see what's possible."
Did I say GHC Heavyweight Championship? I meant GCW World Championship.
"Masha just became that champion for GCW while i was in Japan. Just to give a shout out to Masha, she's such a badass herself. I thin all possibilities are on the door. She opened the door for a lot of people in GCW. Who thought that was ever gonna happen."
She's a tremendous talent. She's doing tremendous work with Impact Wrestling now as well. So your in ring abilities, they're absolutely mind boggling. The moves that you do, you make them look so easy. How much practice goes into perfecting those moves and you have to have perfect timing. When you do those backflips and then backflip to the outside. Your timing has to be perfect. How much practice goes into perfecting those moves.
"I think just my previous training before, I trained so much that I don't practice that now. The only thing I practice in the ring every day is Tom Prichard. I preach Tom Prichard workouts. I don't know if you know Dr. Tom. I did a couple of seminars with Dr. Tom. I memorized his workouts. That is all I train every day handful times a day is Dr. Tom Prichard workouts. I don't train the ninja stuff. That's the power of the mask."
So we got the last question here and then we can wrap this up. The All Star Jr. Festival coming to Philadelphia on August 19. Do you expect to be on that show and you have a preferred opponent for that event, if you're on that show?
"Is that a New Japan show?"
It's similar to the one that was in Japan. Hiromu Takahashi is running it and bringing in Juniors from all over the world.
"Just knowing going forward, if I do resign with NOAH, I usually get the month of August back in America so I would be in America at that time. That might be something to look into. But I do gotta get approval with NOAH to be able to work a New Japan show. But I'm not against it. I think I said to put myself in the ring with the best people in the world only gonna make me better. And in the end, that's my goal is to be the best I can be."
If you use any portion of the quotes from this article, please credit PWMania.com with an h/t to PWMania.com for the transcription.