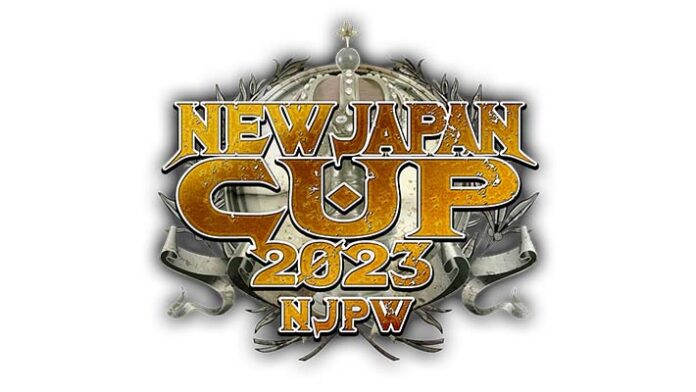 NJPW New Japan Cup Night 8 Results – March 15, 2023
Location: Okayama Japan
Venue: ZIP Arena
Aaron Henare vs. Yuto Nakashima
Aaron Henare dominated with some kicks and a senton. Yuto Nakashima hits some forearms and a body slam for a near fall. Henare set up for Ultima but Nakashima fought free. Henare later got Ultima locked in, drops to the mat, and Nakashima taps out.
Winner By Submission: Aaron Henare (9:05)
Rate: 6
6 Man Tag Team Match
IWGP Tag Team Champions Bishamon (Hirooki Goto & Yoshi Hashi) & Ryohei Oiwa vs. United Empire (Kyle Fletcher,Mark Davis & Jeff Cobb)
Yoshi Hashi & Jeff Cobb kicks this match off and Cobb overpowered him early and surfed on his back. Cobb tags out & Ryohei Oiwa tried to put Davis in a Boston Crab but Davis broke free before Davis drills Oiwa to the mat with Waterslide gets the win for United Empire.
Winners: United Empire (9:18)
Rate: 6
8 Man Tag Team Match
Just 4 Guys (Taichi,Taka Michinoku,Douki & Yoshinobu Kanemaru) vs. House Of Torture (Evil,Yujiro Takahashi,Sho & Dick Togo)
Just 4 Guys & House Of Torture brawls at the bell, then Yoshinobu Kanemaru & Sho starts us off then House Of Torture began working over Taka Michinoku. Taichi makes the hot tag and clears the ring and was fired up. Everyone from both teams passed around a bottle of whiskey and took swigs.
The ref got blinded by whiskey sprayed in his face. Douki nailed a dive through the ropes on Yujiro Takahashi & Togo before Michinoku nails a Michinoku Driver then Dick Togo chokes Taichi with his metal wire. Taichi put Togo in Seitei Jujiro for the win.
Winners By Submission: Just 4 Guys (7:59)
Rate: 3
6 Man Tag Team Match
Bullet Club (Strong Openweight Champion Kenta,Chase Owens & El Phantasmo) vs. Guerrillas Of Density (NEVER Openweight Champion Tama Tonga & Jado) & NEVER Openweight 6 Man Tag Team Champion Ren Narita
El Phantasmo & Ren Narita open this match off with some standing switches, then switched to trading forearm shots. Bullet Club works over Narita then Tama Tonga made the hot tag and levels Chase Owens with a clothesline then he rips off his vest and was fired up. Tonga nails a Stinger Splash and an exploder suplex for a near fall. Jado enters and traded offense with Kenta then Kenta makes Jado tap out to Game Over.
Winners By Submission: Bullet Club (9:10)
Rate: 5 
10 Man Tag Team Match
Los Ingobnrables De Japon (Junior Heavyweight Champion Hiromu Takahashi,KOPW 2023 Champion Shingo Takagi,Sanada,Tetsuya Naito & Bushi) vs. Chaos (Lio Rush,Yoh,Toru Yano & Tomohiro Ishii) & Tomoaki Honma
Shingo Takagi & Tomohiro Ishii starts this match off with them trading shoulder tackles with neither man going down then switching to forearms. Tomoaki Honma enters to battle Sanada. Sanada put Honma in the Paradise Lock but Honma is so greasy he broke free before Tetsuya Naito ties up Honma with a leg lock around the head & shoulders.
Lio Rush enters and traded quick offense with Hiromu Takahashi then Rush nails a dive through the ropes on Takahashi. Takahashi hits a pop up powerbomb. Rush hits a spear and they were both down. Yoh enters and fought Takahashi with Takahashi hitting a dragon screw.
Bushi hit a top rope missile dropkick on Yoh. Honma hits a flying headbutt on Sanada. Yoh hit a dropkick on Naito then Yoh hit a neckbreaker over his knee on Bushi then plants him with Direct Drive for the victory.
Winners: Chaos & Tomoaki Honma (10:23)
Rate: 6
2nd Round Match Of The 2023 New Japan Cup
David Finlay vs. Great O Khan
David Finlay & Great O Khan immediately traded forearm shots. O Khan hits a deep armdrag and they were both down. Finlay hits a chop block to the back of O Khan's left knee and he rips at O Khan's face. Finlay hits a backbreaker over his knee for a near fall. O Khan locks in Sheep Killer and Finlay was close to passing out.
Finlay hits a Stunner to escape, and they were both down. Finlay hits a clothesline to the back of the head for a near fall. Great O Khan hit a modified piledriver for a near fall then Finlay nails Trash Panda win.
Winner: David Finlay (13:07)
Rate: 7
Non Title 2nd Round Match Of The 2023 New Japan Cup
Shota Umino vs. Television Champion Zack Sabre Jr 
Shota Umino & Zack Sabre Jr kicks this match off with them doing some standing switches. Umino was in charge early, as he hit elbows to the back of the neck and top of the shoulder. ZSJ locks in a cross armbreaker in the ropes and he immediately began working on the left arm. Umino hits a diving forearm but was selling the arm injury. Umino hits a northern lights suplex and he ties ZSJ in a cravat. ZSJ went back to twisting the left arm & locks in a Fujiwara Armbar.
Umino was able to slam ZSJ face first on the ring apron while twisting ZSJ's left arm and now Umino focused on the left arm. They brawled on the floor then they got in the ring, and Umino pushes the ref back out of frustration. Sabre hit some European uppercuts with the right while protecting the left arm. Umino hits a DDT then ZSJ locks in a cross armbreaker, and he turned it into a triangle choke. Umino hits a spinning neckbreaker and a Bloody Sunday for a 2 count.
Umino hits a running neckbreaker for a 2 count and he was fired up. Umino got an O'Connor Roll for a near fall. ZSJ locks in a double armbar but Umino got a foot on the ropes at 2. Umino hits a dropkick and they were both down. They began trading forearm shots while on their knees then while standing. They traded European Uppercuts. Umino hits a tornado DDT and a snap DDT for a near fall. ZSJ locks in a mid ring Octopus submission hold but Umino got a suplex to escape it then nails Death Rider for the win.
Winner: Shota Umino (26:12)
Rate: 7
Quarter Finals (March 17th & 18th)
March 17th
Sanada vs. Tetsuya Naito
Evil vs. Mark Davis (He is replacing Will Ospreay due to shoulder injury)
March 18th
Champion vs. Champion Match
IWGP Tag Team Champion Hirooki Goto vs. NEVER Openweight Champion Tama Tonga
David Finlay vs. Shota Umino
Semi Finals (March 19th)
Sanada or Tetsuya Naito vs. Evil or Mark Davis
IWGP Tag Team Champion Hirooki Goto or NEVER Openweight Champion Tama Tonga vs. David Finlay or Shota Umino