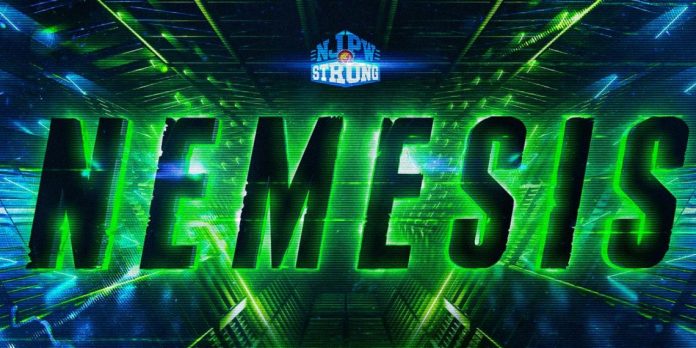 NJPW New Japan Strong (Nemesis Episode 4) Results – January 29, 2023
Blake Christian vs. Keita
Match starts off with a lock up into the ropes leading to Blake Christian grabbing a side headlock before things quickly broke down into kicks only for Keita to get tripped and dropkicked to the outside. Christian follows him with a low pe into the guard rails then another before a shotgun dropkick kept up Keita's acquaintance with the barriers.
Christian breaks the count out so he could stay on Keita with a suplex before a springboard forearm back into the ring earned Blake a two count. Keita tries to fire back with chops but is overwhelmed by Christian's before he took a Tiger Feint Kick into the corner. A 2nd springboard forearm from Christian's caught and turned into a uranage.
Back inside, a flying clothesline and some thrust kicks have Christian rocked, ahead of a Keita The City tornado suplex out of the corner that earned a near fall. Christian comes back with a suplex into the corner pads though, then a sunset bomb back into the same corner then a V Trigger into the ropes.
From there, a brainbuster plants Keita for a near fall before more kicks and a step-up curb stomp gets the win.
Winner: Blake Christian (7:17)
Mistico vs. Misterioso 
Misterioso & Mistico trading arm drags and headscissors leading to a stand off. Mistico's spun to the mat as he ran into a shoulder tackle before dualling handsprings led to a pop up Tijeras from Mistico, taking Misterioso to the outside for a plancha. It's caught, with Misterioso posting Mistico instead.
Chops from Misterioso keep Mistico on the back foot, before he kicked Mistico's leg out of his leg by the guard rails. Misterioso trolls the crowd by clearing them only to throw Mistico back inside for a senton atomico that picked up a couple of pinning attempts. Mistico's springboard back elbow forced a way back in, while a flying 'rana took Misterioso back outside for another delayed dive this time from a slingshot headscissors.
Mistico hits the ring again for a flying body press off the top to the outside, before a springboard sunset flip back inside was thwarted by Misterioso. A thrust kick gets Misterioso another couple of two counts from lateral presses, before a wheelbarrow roll up stopped Misterioso's tardy attempt at a charge into the corner.
Misterioso's taken back outside yet again, but this time he yanks Mistico off the apron mid Asai moonsault then charged back at Mistico with a flip senton from the ring to the outside. Back inside the ring again Mistico wakes up, only to get elbow down ahead of a Quebrada that nearly puts him away. A trip up top from Misterioso gets cut off as Mistico charges in with a gamengiri then brought him down with a Spanish Fly that nearly won it.
Mistico crotches Misterioso in the ropes for a springboard 'rana which still isn't enough before Mistico hit the ropes and brought down Misterioso for La Mistica for the submission win.
Winner By Submission: Mistico (12:08)
We get a video package of Fred Rosser defeated JR Kratos in his last Strong Openweight Title defense before Peter Avalon talked his way into a Strong Openweight Title shot.
Strong Openweight Title Match
Fred Rosser (c) vs. Peter Avalon 
Peter Avalon interrupted Fred Rosser's entrance to mock his Prime Time past prompting Rosser to hit the ring and throw him to the outside so he could finish posing.
Rosser took Avalon into the corner before he scored with a shoulder tackle only for Avalon to armdrag his way back into contention. A scissored armbar from Avalon has Rosser in trouble momentarily, before a shoulder tackle and a seated splash put Rosser right back in it.
Rosser adds a second seated splash to the mix, before a third was countered into a roll up  only for Avalon to take a discus forearm that sent him onto the apron. Avalon blocks a back suplex onto the edge of the ring, returning with a thrust kick as he shoved Rosser backwards into the ring post. Staying on the outside, Avalon pulls Rosser down and charged him between the apron the ring barriers and then threw him into the barriers.
Back inside a Tequila Sunrise traps Avalon in the middle of the ring before Avalon changed tack and took Rosser into the ropes as a back elbow earned a two count. An overhead armbar's next for Rosser, who punched his way free before he got on a Chicken Wing albeit between the ropes. A front kick from Avalon from the apron then a swinging DDT back into the ring turns it back in his favour.
Chops from Avalon see him keep Rosser on the mat as they returned to the apron to exchange some shots ending with a blow to Rosser ribs. Avalon charges on the apron, but gets caught with a spinning back suplex onto the side of the ring. Back inside more chops from Rosser led to him sending Avalon corner 2 corner before a clothesline spun Avalon to the mat for another two count.
Rosser's met with another strike to the ribs as Avalon proceeded to roll him down for a half crab. They're right by the ropes though, so Rosser's able to force a break only for Avalon to sneak in some stomps before doing so. A 2nd one's kicked away as Rosser ran through some chops to begin a comeback landing a Gut Check on the 3rd attempt before a sit out side slam left Avalon laying on the mat building to a STF chicken wing for the stoppage.
Winner By Submission & Still Strong Openweight Champion: Fred Rosser (12:08) (STILL CHAMPION!!!!!)
After the match Rosser calls out Keta to the ring & Kenta obliges only to be told that Rosser would whip his rear end when they meet, as the obligatory stare down.
Battle Of The Valley (Feb 18th)
Women's Title Match
Kairi (c) vs. Mercedes Moné
Strong Openweight Title Match
Fred Rosser (c) vs. Kenta
David Finlay vs. Bobby Fish (Pre Show)
Alex Coughlin vs. JR Kratos (Pre Show)
IWGP World Heavyweight Title Match
TBD (c) vs. TBD
Jay White vs. Eddie Kingston
Filthy Rules Match
Tom Lawlor vs. Homicide
Strong Openweight Tag Team Title Match
Motor City Machine Guns (c) vs. West Coast Wrecking Crew
8 Man Tag Team Match
Rocky Romero,Mascara Dorada,Adrian Quest & Josh Alexander vs. Kushida,Kevin Knight,The DKC & Volador Jr