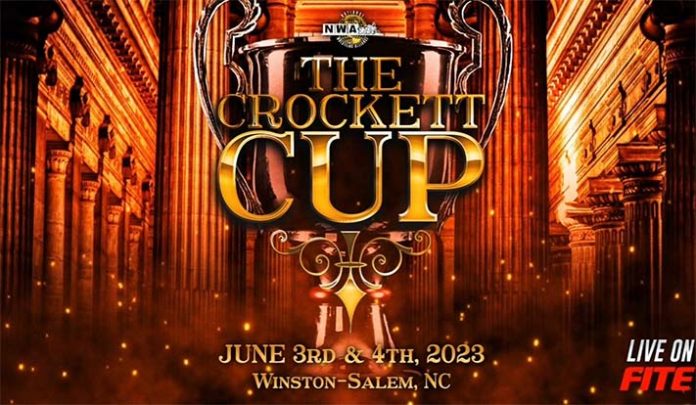 Night two of the 2023 NWA Crockett Cup is in the books.
The National Wrestling Alliance held the second and final night of their two-night 2023 NWA Crockett Cup special event on Sunday night in Winston-Salem, North Carolina.
Featured below, courtesy of F4WOnline.com, are complete results of the event.
NWA CROCKETT CUP NIGHT TWO (6/4/2023)
Pre-show:
– The Country Gentlemen win a Gauntlet Match to retain the NWA United States Tag Team Titles
– Magnum Muscle (Dak Draper and Mims) defeated The NOW (Hale Collins and Vik Dalishus)
Magnum Muscle started the match against The NOW. They wrestled for maybe one minute but then Draper pinned Hale Collins.
– Magnum Muscle (Dak Draper and Mims) defeated The Fixers (Jay Bradley and Wrecking Ball Legursky)
The Fixers ran in and started destroying Magnum Muscle and they held the advantage for a good 2 minutes but then Dak Draper secretly tagged in and pinned Wrecking Ball for the second pinfall.
– Daisy Kill and Talos defeated Magnum Muscle (Dak Draper and Mims)
After the pin of the previous matchup, Talos made his way out onto the stage without Daisy Kill, who was in the ring attacking Magnum Muscle. Dak Draper was able to lift up the giant Talos once, but Kill dragged him down and set up a chokeslam for the pin.
– TNT (Terrence Hughes and Terrell Hughes) defeated Daisy Kill and Talos
TNT ran in with a lot of energy but it didn't last long. Talos worked them both over for a little bit to start. Talos was taken out of the equation to the outside, so TNT hit the 3D for the pin.
– The Spectaculars (Brady Pierce and Rolando Freeman) defeated TNT (Terrence Hughes and Terrell Hughes)
This was somewhat noteworthy because Rush Freeman is usually part of The Spectaculars but for this match, it was Rolando. The commentators chalked it up to them losing in the first round of the Crockett Cup. They took care of business quickly and pinned TNT with a frog splash.
– SVGS (Jax Dane and Blake "Bulletproof" Troop) (with Chris Silvio, Esq.) defeated The Spectaculars (Brady Pierce and Rolando Freeman)
The SVGS, of course, had the early advantage. Some early distractions gave Rolando the opportunity to fight back, Jax Dane destroyed Pierce and killed Rolando in the ring with a clothesline for the pin.
– SVGS (Jax Dane and Blake "Bulletproof" Troop) (with Chris Silvio, Esq.) defeated Los Vipers (Arez and Toxin)
This one started with another all-out brawl and the actual leg of the match only lasted about 30 seconds. Blake Troop hit his jackhammer finish for the pin.
– NWA United States Tag Team Champions The Country Gentlemen (AJ Cazana and Anthony Andrews) (with Joe Cazana) defeated SVGS (Jax Dane and Blake "Bulletproof" Troop) (with Chris Silvio, Esq.)
Jax Dane started this segment strong too against the champions. Andrews got the hot tag though and hit a massive uranage onto Troop. Dane interfered and got ready to spear Andrews but Troop tagged in and locked in a headlock which turned into the perfect position for The Country Gentlemen's finish. They retain the titles.
– "Thrillbilly" Silas Mason (with Alex Taylor) defeated Dan Maff (with Shawn Donavan)
It looks like the big theme of tonight is to have unannounced matches take place on a show that already has 10 on the card.
Maff came out angry throwing his jacket at Mason and attacking him early. They went back and forth after that working to the outside. Joe Galli had his hand laying on the announce table and Mason drove Maff's head into it. Galli starts freaking out that his hand was broken and he needed ice. Tim Storm also needed some Diet Coke apparently.
Back in the ring, they worked this really well for two big guys that aren't giant. They traded headbutts, punches, and forearms. The finish came when Maff went for a lariat but Mason kicked the arm down and connected with the thrill ride out of nowhere for the win.
– M95 (Madi and Missa Kate) defeated Angelina Love & Max the Impaler (with Fodder & Father James Mitchell) to retain the NWA World Women's Tag Team Titles
Looks like we have an unannounced title match now. Including people we already saw last night. Madi and Love started the contest by screaming at each other and pushing each other around, but Madi came out on top with a cross face and toe drag.
Love went for the tag onto Max but she wasn't holding the rope or extending her hand. Storm questioned whether she knew tag team rules even though we saw her in the most important tournament of the year, just last night. Max finally got the tag and dominated the match until Missa Kate got the hot tag. They worked over Max until she charged at her own corner and Love tagged her as she fell out. All Kate did was hit one kick-fil-a and they won the match.
– Ruthie Jay defeated Kenzie Paige by DQ for the NWA World Women's Television Title
Ruthie Jay replaced La Rosa Negra last night in the Hardcore Team War so she may be replacing her in this match tonight too. No 6:05 time limit in this one due to it being a PPV, which doesn't really make sense.
Paige started out ahead just being a classic heel, but Jay fought back and sent her to the outside. Paige got the heat back by pulling her hair and countering a cannonball in the corner. The champ locked in a sleeper that almost put Jay to sleep, but she fought out and did her comeback that ended in a facebuster. She then connected on a double German for a near fall. Paige kicked out and hit Jay with a superkick and sold her ankle. Kylie Page then ran in and just ran over Ruthie Jay right in front of the ref. He called for the bell and that was it.
Main Card:
NWA opened the show with their sizzle reel and commentary breaking down the bracket. Joe Galli, Velvet Sky, and Tim Storm are on the call.
– Jinetes del Aire (Myzteziz Jr. and Octagón Jr.) defeated The Brothers of Funstruction (Yabo the Clown and Ruffo the Clown) in a Crockett Cup Quarterfinal Match
Yabo came into the ring with a balloon sword. When he challenged Myzteziz to a sword fight, somebody in the crowd yelled this is a family show. Great start. The clowns kept throwing clown stuff at the luchadors but none of them foreign objects. Jinetes del Aire retaliated with a double tope suicida.
Yabo got the heat back cutting off the ring, but Octagon got the hot tag and ran wild on the clowns. He hit a cutter on Ruffo while Myzteziz did something to Yabo on the outside that we just never saw. Octagon followed it with a 450 splash for the win.
– Mike Knox and Trevor Murdoch defeated Ricky Morton and Kerry Morton in a Crockett Cup Quarterfinal Match
The Mortons came out on stage with Bobby Fulton trying to convince them to not fight dirty after they used a title belt to win last night's match. They brushed it off and went to the ring.
Right when the match started Kerry distracted the ref and Ricky hit Murdoch with a low blow. The Mortons then cut off the ring and worked on the former world champ. Murdoch set up the hot tag with a massive spine buster onto Kerry. Mike Knox ran wild onto the Mortons which set up Kerry to go high and low for the win.
– The Midnight Riders (Tyrus and Chris Adonis) defeated The Immortals (Kratos and Odinson) in a Crockett Cup Quarterfinal Match
It was a battle of meat to start this one. NWA Heavyweight Champion Tyrus against Kratos. The Riders cut off the ring on Kratos with early domination. During this though, Tyrus looked like he hurt his knee and everything after looked weird but I think he was just selling it. He was able to suplex Kratos after selling for them for about 2-3 minutes. Adonis gets the hot tag and hits Odinson with a sky-high for a near fall.
Tyrus and Kratos fought on the outside when Odinson went for a top rope move onto Chris Adonis but he caught him in the master lock and made him pass out for the win. After the match, Tyrus was still selling the knee and Kyle Davis asked him if he can still take on Knox and Murdoch in the semifinals which he replied, in simpler terms, yes.
– They then brought out legendary NWA Tommy Young for an interview. He joked that he wasn't Tommy Young he was Tommy Old. When they asked Young for his prediction, he put over Fox News and how much Tyrus is on Fox News. That was weird.
– Blunt Force Trauma (Carnage and Damage) (with Aron Stevens) defeated the NWA World Tag Team Champions La Rebelión (Bestia 666 and Mecha Wolf) (with Vampiro) in a Crockett Cup Quarterfinal Match
They started this match by talking about how Vampiro didn't have a manager's license so he had a Legends exemption. He's out because he attacked the Flippin' Psychos for the champions last night in the main event.
BFT attacked La Rebelion on the outside and they got the early advantage. Aron Stevens was on the outside barking orders and telling the team what to do. They worked over Bestia 666 for most of the match until Mecha Wolf got the hot tag. He hit a double moonsault off the top and then got help from Bestia for a double enziguri and tope. Stevens then got involved with his loaded glove but Vampiro went to the top rope and took a nasty bump in the ring. BFT rid the ring of all the interference and they actually got the surprise win over the champs. They'll face Jinetes del Aire in the semifinals.
– EC3 defeated Thom Latimer in a Champions Choice match to retain the NWA National Heavyweight Title
We got another unannounced match, that is the same as last night. This was a Champions Choice match where he got to select who he wanted to defend the title against. He selected NWA World Television Champion Thom Latimer, after he put himself over, of course. He gave Latimer the choice of which belt to defend and he picks the National Heavyweight.
They ran wild to start fighting all over the place. Latimer got the early advantage though after catching EC3 on the outside. EC3 turned it around with a clothesline and Thezs press. They were just taking turns getting the heat and working, very old style. Almost too old to a point. They kept working this slow style until EC3 hit his one percent finish, but it was a near fall that got a big pop.
Latimer went to clothesline EC3 but EC3 wrapped around and just threw Latimer into the turnbuckle from a German suplex. This led to a giant superplex that led to a close 10-count draw. They got up and fought to the outside where EC3 wanted to use the title belt as a weapon, only for Latimer to hit him with a belly to back onto the apron. EC3 had the title taken away from him in the ring and when the referee was disposing of him he slammed Latimer in the groin and hit a piledriver to win and retain the title.
– Colby Corino won a six-way scramble for a shot at the NWA World Junior Heavyweight Championship
This match started with all six men coming out but right after that, Colby Corino came out and was a surprise seventh entrant. In a six-way?
Jared Fulton, Eric Jackson, PJ Hawx, Flip Gordon, Joe Alonzo, and Gaagz the Gymp were the original six that came out for this #1 contender match. They proceeded to have a spot fest, which included Jackson and Hawx dropping each other right on their heads. The FITE stream also started going haywire during this match so I couldn't see everything. I was able to see the old classic spot of everybody diving into the same spot so Flip Gordon can tease his dive, but he never did it.
Judais and Father James Mitchell then made their way out from the back and Judais picked up Gaagz and threw him out of the ring on top of everyone else. They then went to go pick up Gaagz the Gymp and left with him. They continued the spot show. It is 1000000x more exciting than anything else from NWA this weekend. The finish came when Colby Corino was in the ring with Gordon and he hit him with his arm lock DDT for the win. NWA Junior Heavyweight champion Kerry Morton came out after the match and got in Corino's face and yelled at him.
– Blunt Force Trauma (Carnage and Damage) (with Aron Stevens) defeated Jinetes del Aire (Myzteziz Jr. and Octagón Jr.) in a Crockett Cup Semifinal Match
BFT started this match using the same strategy as their last match, which was an attack before the bell. The luchadors turned it around quickly though, catching them on the way back into the ring. they got a quick sequence in before Carnage turned it back around. BFT worked over Octagon on their half. Myzteziz finally got his hot tag after a missed elbow drop and the chaos resulted in a near fall.
Octagon set up Damage for a shooting star press which he missed badly so Galli had to change the move into a shooting star press headbutt to the shoulder. Damage actually kicked out at 1 and BFT hit the double flatliner for the win. BFT moves on to the finals.
– Mike Knox and Trevor Murdoch defeated The Midnight Riders (Tyrus and Chris Adonis) in a Crockett Cup Semifinal Match
Tyrus is still selling the knee injury from earlier and he came out with a ton of tape on that knee. He can barely walk down the steps to the ring. So, of course, Adonis starts the match across from Mike Knox.
These two went back and forth in the beginning, but right when it looked like Murdoch and Knox were gonna work over Adonis for the entire match, Tyrus tagged himself in and tried to fight but Murdoch took advantage due to the knee. Adonis finally got his hot tag and put the Masterlock in on Knox but Murdoch broke it up and attacked Tyrus on the outside. Adonis couldn't tag out so Knox and Murdoch went high and low to advance to the final against Blunt Force Trauma.
– The Mystery Man defeated Cyon (with Austin Idol) by referee stoppage in an Unsanctioned Match
Cyon came out and Idol was lagging way behind. The Mystery Man is still wearing this black Cyon mask and his entrance theme is just really loud white noise. They started battling with Cyon getting the upper hand, but it really was an all-out brawl. Cyon went to the back and got a trash can and set it up in the corner. The Mystery Man then threw Cyon into the chair and got the heat back. Austin Idol was extremely quiet at ringside, which is not normal.
The Mystery Man started ripping at the mask of Cyon and we almost saw the face of Cyon. He started getting beaten so badly that he went crawling to his father Austin. Austin then whipped out the Brass Knuckles and punched his own son in the face. Jordan Clearwater came out to help but Idol punched him too. The referee ended the match, an unsanctioned match, because Cyon could not continue. The Mystery Man dragged both Cyon and Clearwater into the ring and spit on them.
– Kamille defeated Natalia Markova to retain the NWA World Women's Title
Commentary made sure to say that this was the co-main event with the Crockett Cup Final, but who knows on this show? Markova was getting introduced and Kamille just runs her over on the apron onto the concrete. They also pushed how Kamille is from "right down the road" in Durham.
Natalia Markova was getting killed in the early going. She was taken some of the nastiest bumps I've seen all weekend. If NWA does one thing right, it's making Kamille feel like a real star. After Markova moved out of the way of a charge onto the outside, it was a little bit more even in the ring. A neck-breaker from Markova got a 1-count. Soon after, she went for a roll-up in the corner that was a little too fancy and she fell right on her face. She got the heat back though and a superkick got a near fall. She followed it up with a roundhouse kick that got another near fall.
Markova set her up for the finish in the corner, but Kamille ducked and dropped the leg for her own near fall. She then set her up for a torture rack into a blue thunder bomb. They exchanged German suplexes, but Markova tried to win it with a top rope move and Kamille turned it into an avalanche German for a really good near fall. Kamille went for another avalanche, but Markova hit the head scissors from the top rope. She went to set up the finish in the corner one more time and Kamille speared her out of nowhere for the win. She hits two years as champion in a really really good match.
– Mike Knox and Trevor Murdoch defeated Blunt Force Trauma (Carnage and Damage) (with Aron Stevens) to win the 2023 NWA Crockett Cup
Billy Corgan and Davy Crockett came out before this final match to hold the cup and take a seat at ringside. Aron Stevens made his way out with BFT taking off the jacket but not the white glove. Knox and Murdoch made their way to the ring looking fired up as always.
It was chaos to start with each man running into each other and then all four men brawling in the middle. The crowd was chanting BLT towards BFT which really angered Aron Stevens. It got back to normal in the ring but Stevens was messing with the apron in the corner where they were working and it tripped up Knox setting up a nasty-looking DDT by Carnage. This let BFT cut off the ring on Knox.
After a few rest holds and heel tactics, Knox finally powers out of a nerve hold and hits a clothesline onto Damage. This opens up the hot tag from Murdoch and he ran wild for about 10 seconds before he was speared by Carnage. Knox recovered and help Murdoch fight back, but as Knox rolled out of the ring, Murdoch got the referee trapped in the corner and he went down. Murdoch hit a piledriver with the referee down and got like an 8-count from the crowd. Aron Stevens came into the ring and punched Murdoch with the loaded glove and dragged Carnage on top. The referee only got to two before Murdoch kicked out. But right after, Carnage got set up for high and low, and without interference, Mike Knox and Trevor Murdoch win the 2023 NWA Crockett Cup.
– After the match, Stevens was shown crying over the cup. Corgan and Crockett lifted up the trophy to the two victors and they celebrated in the ring by holding it up and bowing down to the famous trophy.