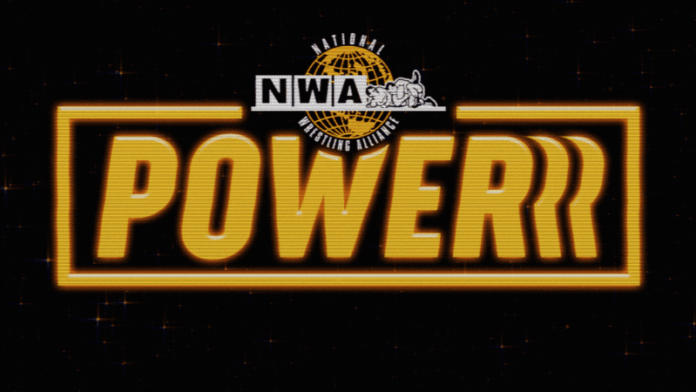 NWA Powerrr Results – February 28, 2023
Kicking off this week's Powerrr with Kyle Davis is with La Rosa Negra at the podium & she announced that she is cashing her Champions Series for a Women's Title shot  at NWA 312 then she put over Team Rock N Roll and talked about the honor of challenging Kamille for the Women's Title.
Women's Champion Kamille came out to the podium and talked about how Negra was one of the people who saw something in her when she first started in wrestling. Kamille talks about how the tables have turned but that when they finally face off, Kamille is going to show no mercy to anyone trying to take the title away from her.
Negra promised that no matter what happened in the match, win or lose, Kamille will not forget their battle.
Fodder vs. VHS
Match starts off with a lock up before Fodder shoves VHS into the canvas. Fodder signals for the test of strength. Fodder kicks VHS in the gut then he headbutts VHS. Chop Exchange. Fodder with a toe kick. Fodder slams VHS's head on the top turnbuckle pad. Fodder is throwing punches at VHS. Fodder with a back elbow smash.
Fodder with a corner clothesline. Following a snapmare Fodder with a running neck snap. Fodder kicks VHS in the chest the follow by a elbow drop. Angelina Love licks Fodder's face. Fodder with a corner clothesline. Fodder with a Ripcord Lariat. Fodder connects with The Psycho Slam to pickup the victory.
Winner: Fodder
May Valentine was with EC3 & Jordan Clearwater, discussing the partnership between Church's Money Enterprises from BLK Jeez & CYN. Clearwater said he had no idea what CYN is, but he was open to partnering. EC3 said NWA was the rock he was going to build his church on.
Women's Television Title Tournament Qualifying Match
Kenzie Paige vs. Kilynn King
Kilynn King beat Kenzie Paige around the ring including chops on the outside before Paige managed to superkick King. Paige chokes King in the corner and against the ropes. King fought out of a chin lock but Paige was able to hit a DDT instead.
King hit a superplex but was unable to get the pin. She landed hard chops and a powerslam in the middle of ring for a two count. Paige slips out of the Excalibuster and hit a uranage for a two count.
She & King exchanged slaps and strikes before King nailed Paige with a forearm. Paige rolls King up but she kicks out. King hit a crazy full nelson slam for a two count. Paige countered the Excalibuster into a hurricanrana and then hit a springboard cutter for the win.
Winner: Kenzie Paige 
Aron Stevens & May Valentine attended couples counseling. The doctor took swings of whisky behind their back.
There were highlights of Judias vs. Silas Mason from Saturday's NWA USA with Mason winning after hitting the Thrillride. James Mitchell gave a chair to Judias to attack after the match, but Mason got away.
Chris Adonis was in the arena before the show with Joe Galli and he is cashing his Champions Series for a NWA World Heavyweight Title shot at NWA 312.
Bully Ray vs. Mike Knox
Mike Knox attacks Bully Ray before the bell rings. Knox is throwing punches at Ray. Knox starts choking Ray in the corner. Knox wraps the chain around Bully's face. Knox continues to tee off on Ray. Knox with an elbow drop. Knox delivers multiple chair shots. The match never got started. Bully dodges a running chair shot then he spears Knox. Bully gives Knox the chair treatment. Bully has a fan at ringside pull out a table from under the ring.
Bully with a chair shot to the back of Knox. Matt Cardona attacks Bully from behind. Cardona transitions into a ground and pound attack. The Cardona Family gangs up on Bully. Cardona gets up in Knox's face then he slaps him in the face. Knox grabs Cardona by his throat. Knox Chokeslams Cardona through the table. Knox gives Cardona the middle finger salute to close out this week's Powerrr.
Winner: N/A (No Contest)
NWA vs. AAA Card (March 4th)
Tag Team Match
National Champion Cyon & Homicide (NWA) vs. Komander & Octagon Jr (AAA)
Mixed Tag Team Match
Blue Demon Champion Arez & La Hiedra (AAA) vs. Aaron Stevens & Natalia Markova (NWA)
Sal The Pal (NWA) vs. Jack Cartwheel (AAA)
Women's Title Match
Kamille (c) (NWA) vs. Mixed Tag Team Champion Flammer (AAA)
Trios Titles Match
Nueva Generacion Dinamita (El Cuatrero,Sanson & Forastero) (c) (AAA) vs. Television Champion Thom Latimer,Chris Adonis & Kratos (NWA)
NWA World Tag Team Titles Match
La Rebelion (Bestia 666 & Mecha Wolf) (c) (NWA) vs. Vampiro & Blue Demon Jr (AAA)
Trevor Murdoch (NWA) vs. Psycho Clown (AAA)
NWA World Heavyweight Title Match
Tyrus (c) (NWA) vs. Daga (AAA)
NWA 312 Card (April 7th)
Finals Of The Women's Television Title Tournament
TBD vs. TBD
National Title Match
Cyon (c) vs. EC3
NWA World Heavyweight Title Match
Tyrus or Daga (c) vs. Chris Adonis (This is Adonis Champions Series Cash In Match)
Women's Title Match
Kamille or Flammer (c) vs. La Rosa Negra (This is La Rosa's Champions Series Cash In Match)