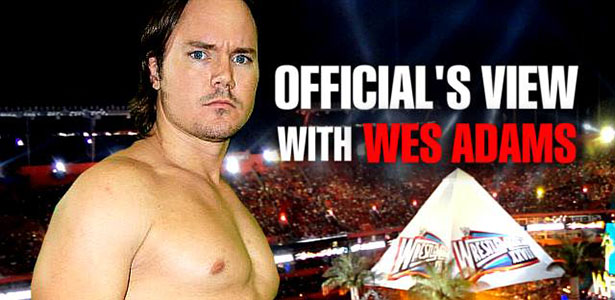 Welcome to another special "EntertainaMania" edition of "Official's View with Wes Adams" on PWMania.com. So what do we have in the pipeline for WrestleMania XXX? Well it's hard for me to say because like I said in my previous column, I haven't managed to watch the show in a while so I can't really see what the crowds are reacting to or who. WWE can't afford a lack luster or halfassed WrestleMania this year. There's too much riding on it. The WWE Network deal, the biggest moneymaking show of the year, and good lord it's the 30th Mania are reasons enough for the Creative team to need to get this right.
From what I've read and gathered, the unification of the two world championships was rushed and lackluster. Wrestlemania XXX could and should have been the time for the unification, not a December "B" PPV show. The time to unify them was long overdue though. The brand extension has been over and done with for a while, so there is no reason for two "world" championships. The World Heavyweight Championship has been presented in such a terrible manner the past few years, that is has ceased to have any real meaning. It hasn't been featured in the closing match of WrestleMania since 2008, and has been devalued by short title reigns, champions losing, and horrible booking of the person holding it.
If WWE is going to continue to run separate live event tours, one could be headlined by the WWE Championships, and the other can be headlined by the Intercontinental and Tag Team Championships. But WWE rushed it and now WrestleMania XXX will not get the "historic biggest match ever" like it should have. WWE rushed it like they usually do. At least they didn't screw the fans over yet again and set up another bait and switches ALA WCW, much like the Daniel Bryan saga of this year. I didn't like the idea of Cena and Orton being the main event unifying the two titles, because these two have headlined so many PPVs together already, and have already wrestled each other in a triple threat match at WrestleMania XXIV. WWE didn't make the championships valuable enough for people to buy the match based solely on the fact that it's a unification match. And they couldn't undo years of bad booking to the WHC in just a few weeks' time.
If Cena is going to be in the main event again, at WrestleMania, which is in jeopardy now that Batista is returning, then let it be with someone else. If Orton is going to be the Authority's "Chosen One", then let's have a FRESH match with another individual. There is no way that Orton vs. Cena in their 100th PPV match is going to be an earth shattering, money making pay-per-view match. And what happens to the winner of the Royal Rumble this year? If a title match is going to be set, what does the Rumble winner do? That in itself makes me feel like WWE rushed the title unification match, and had it at a random ppv, much like they did with the WWF/WCW Unification match. Mania usually sells itself, but will this match be enough for the casual fan to want to open their wallet? We'll see. So for the second year in a row, there are more questions than answers heading into the Mania main event season. If anything, I think there could be strong hope in a potentially great undercard. Let's take a look, shall we?
First of all, even though I haven't been watching, I am pleased as punch to see Goldust back in WWE, and Cody Rhodes finally starting to find his niche as a babyface. These two have wanted a WrestleMania match with each other for years, and all signs point to it happening this year. They're currently the tag team champions, but there are several months to build to a feud. This is a golden opportunity for the WWE to have some great television build for these two. The storyline possibilities are endless. Who goes face and who goes heel? Either one could go either way. Who does "The American Dream" Dusty Rhodes side with? Goldust is in his best shape ever, and Cody has come a long way as a worker since debuting on the main roster in 2007. A well written tv feud culminating with a huge win over his brother at WrestleMania XXX could be the thing that he needs to get him up to the next level. I have read that their series of matches with the Shield has been fantastic and sounds to me like it's been setting the tone for a great WrestleMania moment.
The Shield…what to do with them? Well, there's only one thing that makes sense to me at this point. The Shield vs. The Wyatt Family has to happen. The Shield has been a great force in the WWE since they debuted, but again, bad booking has slowed their momentum and they aren't going to get it back as heels. The last few times I watched, the crowd was solidly getting behind the three during their entrances, and nobody can deny their in ring intensity and presence. Of the three, I see Roman Reigns being a huge babyface, potentially one of the next huge breakout stars, if bad booking doesn't slow him down. I see Seth Rollins getting over as a babyface, mostly in a midcard role, and Dean Ambrose can be a main event level heel in a singles position. I could see Ambrose reluctantly leading the Shield into battle with the Wyatt Family, only to have them leave him behind and starting a solo career for all three. As far as the Wyatts go…I've had a shaky feeling that WWE was never going to know what to do with these guys. And so far, they haven't let me down. I mean, what have they done? Kidnapped Kane and Daniel Bryan, and what else? Rocked in chairs and blew out lanterns. It is time to commit to a push for these guys, and determine what their role and purpose is going to be. But in all seriousness, the same thing could be said for half of the roster.
The last few years the WWE has made an effort to feature the Intercontinental Championship on the card in some form or fashion. Here's hoping that this year won't be different. If WWE continues the push of Big E Langston, and he still has the IC Championship by Mania XXX, I see him having a successful title defense. But against who? He just started teaming with Mark Henry, but it would be entirely too early to turn Henry heel against Langston. That wouldn't work anyway. The WWE Universe would side with Henry at this point in time. So it would have to be against someone else. Someone who is a good worker, can carry the still developing Langston to a decent match, and someone who can bump and sell like a pro. May I humbly submit the guy who (in storyline anyway) brought Langston to WWE, Dolph Ziggler. Let's face it, Ziggles face turn has been a total flop. Much like Del Rio's and the Miz's, the way in which the creative team half ass turned him did more harm than good. And what do they do whenever their lame ass babyface turns don't get over? They turn them back heel just as haphazardly as they did babyface. So let's get Ziggler back to where he needs to be.
I can't say who, or in what form, but don't we just know that there's gonna be a multi-diva's tag match? It'll be booked and advertised, but will probably be yanked at the last second just so they can make a new episode of Total Divas.
A fun match that I want to see, just cause, hey, they are both two big bad ass guys that are throwbacks to what wrestlers SHOULD BE…is Sheamus vs. Wade Barrett. No stupid angles, no games, just let these two big dudes beat the crap out of each other.
Of course Brock Lesnar is going to come back for WrestleMania. But who is he going to put over this year? My guess is CM Punk. Lesnar defeated Punk at SummerSlam this year, and he'll be back in time to return the favor. That so far is 7 matches. WWE usually stops at nine, which we're going to get to in my next columns.
WWE hasn't done a Money In The Bank match on a Mania since 2010, and probably won't start again this year. The pre match battle royal will be left for dark match/DVD extra material. So where does that leave guys like Swagger, Cesaro, Tons of Funk, R Truth, Christian, Rob Van Dam, Xavier Woods, Curtis Axel, Fandango, 3MB, Los Matadors, Kofi Kingston, Tyson Kidd and others? I don't know but for the sake of these guys, I wish they would include the Battle Royals on the main show.
Kane and Triple H will surely be involved in the Unification match, if they go that route. So that's what I could potentially see for WrestleMania XXX. But before you start sending me hate mail, saying I overlooked something…just wait for my next part, ok?
What do you think? Post your thoughts, opinions, feedback and comments below.
Thanks for reading.
Wes Adams
Twitter: @WesAdams1980
YouTube: YouTube.com/powerslamproductions
Facebook: Facebook.com/Powerslamproductions
About Wes Adams: Wes Adams is a former WWE official/referee who signed a WWE developmental deal in early 2007, and was assigned to Deep South Wrestling. After working as a official/referee on WWE television, the company released Adams on August 15, 2008. In November 2008 Adams opened his own wrestling promotion "PowerSlam Productions."