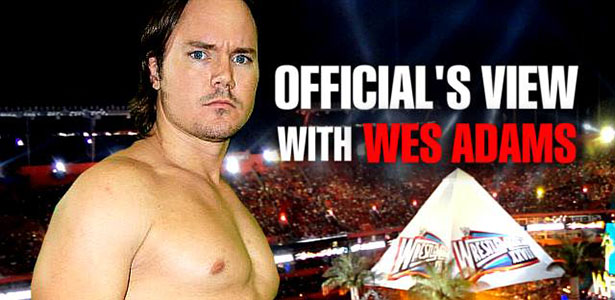 Welcome to another special "EntertainaMania" edition of "Official's View with Wes Adams" on PWMania.com. When I was ten years old, and I got a copy of the 1990 Survivor Series from a buddy at school, the day after it aired live on PPV. My only question at the time was, "What the hell happened to Mean Mark Callous!" I was a huge NWA/WCW fan, and enjoyed the Skyscraper tag team of Sid Vicious and Dan Spivey, and later "Mean" Mark Callous and Spivey. It was a big surprise to me back in those days to see a WWF guy jump to WCW and vice versa, because the internet wasn't mainstream yet, and I had not yet learned what a dirt sheet was. Occasionally, the Apter mags would allude to rumors of guys jumping ship, but wouldn't outright spoil anything. So when Ted DiBiase brought out The Undertaker as his mystery partner for his Million Dollar Team, millions of fans throughout the world collectively stared and probably thought, "Wow, that is one scary MFer." Ten year old Wes Adams is sitting at home thinking, "Why did Mark Callous leave WCW?" Yeah, I was a weird kid. Big Whoop wanna fight about it?
So the WWF spends the next year slooooooowly building up the Undertaker as an indestructible monster, you know, back when they used to have bookers and not "Creative teams". In the process, they stumble across the beginning of what is the last great hold out of an era long gone by, The Undertaker's WrestleMania streak. In 1991, Paul Bearer was added to The Undertaker's act and provided it with the missing piece of the puzzle. Brother Love was a capable manager and a hell of a talker of course, but he just didn't fit with Taker. But Bearer was. And when he lead Taker to the ring, and he destroyed Jimmy "Superfly" Snuka in 4 minutes, we all knew that he was going to be around for years to come.
It seemed that every year, Taker would be in a featured match, and always singlehandedly destroy his opponent. Jake "The Snake Roberts, Giant Gonzales, and King Kong Bundy were the next victims of the streak (which had not been recognized yet). None really had a chance to defeat Taker. The next few years featured real possibilities that Taker might lose at Mania.
The first real threat to the Streak was Kevin "Diesel" Nash at WrestleMania XII. Nash was newly turned heel, and was 7 ft, 300 pounds of pissed off after having his year-long WWF title reign ended at Survivor Series. Now, this is hearsay, and I ain't one to gossip, so you ain't heard this from me. But from what I've heard, and have been told in the past, that serious consideration was being given to Diesel going over on Taker and starting an angle between the two. However, this was at the point where Nash had given his notice to WWF and was heading to WCW, and those plans were scrapped. The next two years featured matches with Sid, and a match with the newly debuted Kane, both matches provided real possibilities that Taker could lose. Unfortunately, no one ever thought that Big Bossman was going to beat Taker in Hell in a Cell at Mania XV. His first match with Triple H at Mania XVII was an exciting brawl, and the following year's match with Ric Flair at Mania X8 was a once in a lifetime chance to see two legends face off on the biggest stage there is. Mania 19 featured a weird handicap match with the Big Show and A Train (Tensai) with the involvement/non-involvement of Nathan Jones. Mania XX featured a revisted feud with Kane, and a return to the Deadman character after a few years as the American Bad Ass. It was about this point in time you just knew Taker wasn't going to lose at WrestleMania. No way, no how.
Randy Orton's Legend Killer gimmick seemed to be the perfect foil for Taker, and would have proved to be a rational candidate for ending the streak, but he didn't, and neither did Mark Henry. WrestleMania 23's World Heavyweight Title Match between Batista and The Undertaker should have been the main event. In my opinion, that match completely stole the show. Shawn Michaels vs. John Cena was good, but Taker/Batista had an epic battle, which featured Taker winning his first championship at Mania in 10 years. Taker and Edge carried the SmackDown brand with exciting TV building up to Mania 24. The two had a great match and was the first time Taker had closed out WrestleMania since Mania 13.
The next two years featured classic matches with Shawn Michaels, with whom people had wanted to see battle Taker at Mania for years. The Mania 25 match was good, but to me wansn't as thrilling at the next years, in which HBK put up his career vs. the Streak. I wasn't that impressed by the Mania 27 brawl with Triple H, especially the ending with Taker being carted off by medical attendants. But the following years Hell in a Cell between the two was captivating TV. The End of an Era match featuring Special Guest Referee Shawn Michaels and the commentary of Jim Ross provided a thrilling contest in which there were times where I actually wondered if Triple H wasn't going to put himself over. But he didn't, and the image of HBK, Taker, and Triple H standing at the top of the Mania entrance way at the end of the match was a great moment in wrestling history.
Last year's match with CM Punk was exciting, but not enough was done to make me believe that Punk was actually going to end the streak. It was a good match for sure but was enough done to make the people think that Taker was ever in real danger of losing? I don't think so.
So that leads us to this year. What's in store for the Dead Man? We probably won't really find out until February, but the options are limited. Who on the WWE roster poses a real threat to end the streak? Nobody! Because they haven't been booked in a manner in which they could be taken seriously. There are two schools of thought when it comes to the streak. First, there are those that think it should never go away. Hard to argue with that. He has been a loyal soldier for WWE, made them money, made superstars out of men for them, and deserves to go out undefeated on the biggest stage of them all. But then, there are some that think that Taker should use the streak to get somebody else over. Taker is old school through and through, and has always done his part to help get talent over. All streaks come to an end.
Baseball hitting streaks, football and basketball undefeated streaks, all come to an end at some point. Taker would never hesitate to put someone over in that spot if it was asked of him, but I firmly believe that he wouldn't do it unless it fully made sense. To me, the only way it would ever make sense, is for his streak to end, someone else's must begin. But Taker's streak isn't going to end this year. And I can only think of one person on the roster right now that would event POTENTIALLY be able to fill that spot, but he wouldn't even be ready until WrestleMania 31. I'll get to that guy in a minute. So who are some potential victims to be the next in line to challenge Taker? Let's look at them one by one shall we?
John Cena: I don't think that we're going to see Taker retire without a WrestleMania match between the two. I strongly believe that this would be a money drawing main event, however, the only thing that could happen with Cena ending the streak is that you can guarantee people are going to complain for years to come. Including me.
Sheamus: Sheamus has said in interviews that he wants to challenge Taker at Mania for the streak. Do it. Please. Sheamus is big, tough, and would pose a serious physical threat to the Dead Man. However, he has lost to the Shield, and to Triple H at past Mania, and was even bumped off of the main WrestleMania 27 card. It would be an intriguing matchup for sure, but The Big Fella wouldn't end it.
Wade Barrett: WWE is slowly killing Wade with this start again, stop again push that they've been doing to him since 2010. He's big, tough, can work, can talk, and is everything that WWE is supposedly looking for in a top talent, but can never get a serious consistent push. Maybe a well booked feud with Taker could help him gain his momentum back.
Damien Sandow: Sandow's gimmick definitely isn't the type to end the streak, but he's big enough and has shown that he can be aggressive enough for a serious challenge.
Brock Lesnar: While I believe that Lesnar will come back and feud with Punk again, I also believe that the idea of Lesnar/Taker at Mania has crossed WWE's minds as well. Taker and Lesnar have had ppv matches in 2002-2003. While the idea of Taker defeating Lesnar is appealing, it really doesn't elevate Taker, since Triple H and Cena have already done it since he's been back, and the part time Lesnar surely won't gain anything from it.
Sting: Oh yes, it's about time for these rumors to start again. Once upon a time, from 1996-1999, Sting was almost the WCW equivalent to Taker. Who doesn't want to see Taker vs. Sting? Nobody can tell me that from this list, Sting is the opponent who would draw more money and interest with Taker. Sting could bring back lost WCW fans for his first (and possibly only) WWE match, something that nobody else on this list can possibly do. He'd be my first choice, if available. It's questionable what kind of match the two would have, but at the end of the day, it wouldn't matter a bit.
Roman Reigns: The only guy with the potential on the current roster to end it, start his own streak, and build his own legacy. Roman will break out from the Shield soon and begin a dominating streak of wins, and will get over quickly. The intensity of his spear, his facial expressions, and his surprisingly decent mike skills will surely develop over the next few months. As soon as he stumbles upon a catch phrase that WWE can print on tshirts and lunch boxes, he is made! The Shield won last year, surely they will defeat the Wyatt Family this year, and he's already at 2-0. Next year, build to Reigns vs. Taker and watch a superstar be born. He's young, so he should have at least 10 or more good years left in him, provided he stays healthy. Let him start his own streak and build you a superstar for years to come. (Roman, if you're reading this, and this happens, you can thank my by either getting me a job on creative up there or paying off my house).
So there you have it. The guys I believe could challenge the streak at Mania XXX and the guy that I think CAN end it in 2015.
However, I left someone off the list. The guy that could have ended it. The guy that SHOULD have ended it. But apparently he's pissed in somebody's cheerios and is so deep in the doghouse that he's sharing a toilet with Snoopy. I'm talking about… Stay tuned for next week!
What do you think? Post your thoughts, opinions, feedback and comments below.
Thanks for reading.
Wes Adams
Twitter: @WesAdams1980
YouTube: YouTube.com/powerslamproductions
Facebook: Facebook.com/Powerslamproductions
About Wes Adams: Wes Adams is a former WWE official/referee who signed a WWE developmental deal in early 2007, and was assigned to Deep South Wrestling. After working as a official/referee on WWE television, Adams opened his own wrestling promotion "PowerSlam Productions."