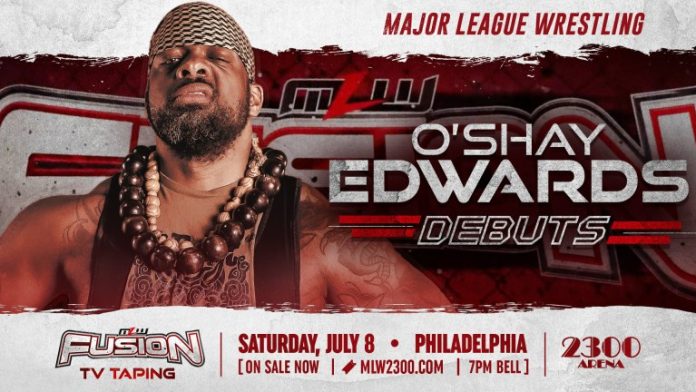 You can officially pencil in a big debut for the upcoming MLW: Fusion – Never Say Never 2023 special event.
On Monday, Major League Wrestling confirmed the in-ring debut of O'Shay Edwards for their event in Philadelphia, PA. on July 8, 2023.
MLW.com released the following announcement:
O'Shay Edwards debuts July 8
Bomaye's newest addition competes on the Fusion TV taping July 8
MLW today announced the singles debut of O'Shay Edwards at the FUSION TV taping portion of the July 8 Never Say Never event Saturday, July 8 at Philadelphia's 2300 Arena.
🎟 Grab tickets at MLW2300.com and the 2300 Arena box office. Tickets start at $15.
The mysterious backer behind The Bomaye Fight Club is making big moves: the "Big Bad Kaiju" O'Shay Edwards is coming to MLW.
League officials have come to terms with the Bomaye Fight Club on the debut of O'Shay Edwards for July 8.
Standing 6-foot-3 and weighing 270-pounds, Edwards made the transition from college football at the University of West Georgia to an impressive career in the squared circle.
With Bomaye Fight Club's already impressive roster of fighting athletes, including top ranked Alex Kane and strongman Mr. Thomas, the addition of Edwards adds depth to compete for the fight team in multiple divisions. It also adds a new dynamic for MLW matchmakers on potential heavyweight bouts.
A powerhouse, frequently lifting 455-500 lbs., this Georgia heavyweight vows death to the fake heavyweights.
A private contractor with the Air Force prior to going pro, Edwards vows to go to war with all who oppose the Bomaye Fight Club… and it starts July 8.
As for who is the mysterious backer pulling the strings behind Bomaye Fight Club's big 2023… Only time will tell if this shadowy figure is revealed.
O'Shay Edwards' bout is a part of the FUSION portion of the card.
See O'Shay Edwards Saturday, July 8 in Philadelphia. Get tickets now at http://www.MLW2300.com.
DAY OF EVENT INFO
The schedule for the event is as follows:
5:30 p.m.: Early entry for front row ticket holders
6:00 p.m.: Doors open for general public (all ticket holders)
7:00 p.m.: Fusion Showtime
8:00 p.m.: MLW Never Say Never premium live event on FITE+
You know what they say about greatness…

…better late than never.

July 8.https://t.co/QMKmBY4eY7 pic.twitter.com/DvnZmFhCcf

— Death To Fake Heavyweights (@BigBadKaiju) June 5, 2023