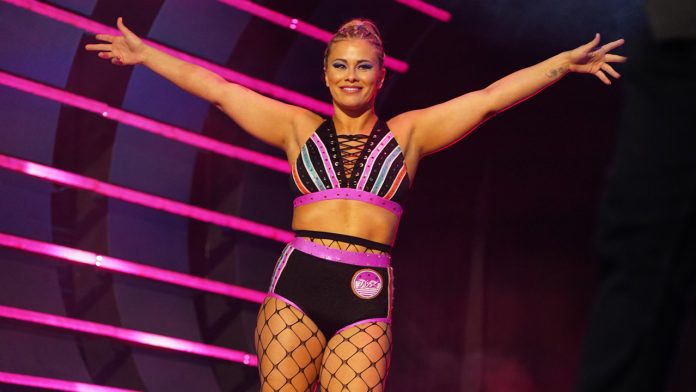 Paige VanZant has gone public about being fat-shamed on YouTube by trolls, but she wants to turn the situation around.
VanZant joined AEW in March after appearing on Dynamite several times. Although WWE was interested in signing her because of the name she created for herself while in the UFC, she chose All Elite Wrestling because of the atmosphere. She also stated that she did not want to be under an exclusive contract because VanZant makes a lot of money doing OnlyFans and bare-knuckle fighting.
American Top Team (Scorpio Sky, Ethan Page, and VanZant) faced Sammy Guevara, Tay Conti, and Frankie Kazarian at last year's AEW Double Or Nothing. This was her first and final appearance for AEW.
The former AEW/UFC star took to Instagram, where she stated that she has gained "probably 20+ pounds" and has been bullied online as a result. She realized, however, that they had actually helped her and vowed to keep the "real" her on social media.
VanZant wrote the following in the Instagram caption for this post:
"I have been really good at putting my best self forward. Making sure the world sees the "prettiest" side of me. Where I fell short is that I never showed the true me. Until now. The truth is, yes, I have gained a lot of weight…. probably 20+ pounds but I also gained strength, power, muscle and a fuck ton of happiness. I see every single comment on my YouTube channel about how I look pregnant, obese, fat as fuck, and won't be able to fit through a door soon. But one thing I have always remembered. Happy people ain't haters and haters ain't happy. So all you haters out there keep on commenting, you're only growing my platform. And I promise from this day forward to show the real me, forever. The fat me, the broken me, the skinny me, and the happiest fucking version of me I have ever been. Social media will never be real but I'll try and be better. Anyway, check out my YouTube channel. Because I'll be damned if I don't continue to profit off of THE BEST HATERS IN THE WORLD. Yours in thickness – PVZ
Yes: all these were taken the exact same time and unedited. Social media is a lie."