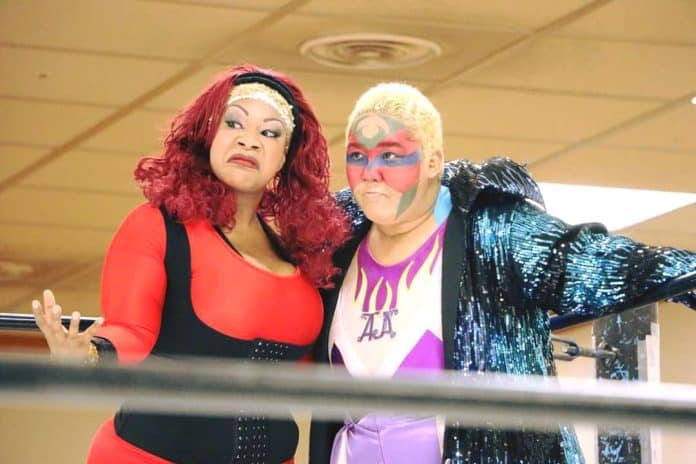 You've heard of the performer's gene, the trait held by those that are seemingly born to be in the spotlight, those that are natural entertainers for a paying audience.
"The Big Bang" Roni Nicole, a grappler that blends her cosmetic beauty with physical brutality for a unique presentation all her own inside the squared circle, was tailor-made for the stage. Regardless of if that stage is the canvas of the ring, the spring floor of the cheerleading circuit, or amongst the scenery of a theatre production, Roni has spent the vast majority of her life under the spotlight.
"I believe my passion for performing and storytelling is what truly led me to pursue professional wrestling. It has always been a dream of mine to captivate audiences in a way that leaves them feeling something long after the performance has ended. Whether I am acting on stage or cutting a promo in the ring. I love the energy that is created when I'm weaving stories for the entertainment of others," Roni explained.
Before she learned the ropes to pummel opponents in spandex in the ring, Roni wore the tights for a more sophisticated venture, as she spent much of her youth studying at the prestigious Lehman Studios. She glided across the floor with lessons in classical ballet, jazz, and contemporary dance styles. In high school, Roni participated in the band programs, with an emphasis on color guard activities, studying under the well-known Karen Prince and Jennifer House during those years before she became an instructor herself. A true jack-of-all-trades, Nicole taught aspiring performers while she still competed in dance and cheerleading competitions.
"I love being on stage and as a plus size dancer, it is often important for me that representation shows dancers of all shapes and sizes who are expressing themselves in moving their bodies in creative and beautiful ways. I've always been a teacher or an instructor of some sort so becoming a choreographer just fit in with everything that I was already doing," she commented.
Her agility, pose, and natural presence transitioned seamlessly to the squared circle, as she always appreciated the mixture of the spectacle and the athleticism. For Roni, professional wrestling was another sport that she could apply her years of skills and training toward. Originally learning the ropes on her home turf of North Carolina, a region with its own extensive wrestling history, more than a decade ago, it wasn't long before her unique look and style were noticed by a much bigger scope.
When Roni was just 12 years old, she popped in a grainy VHS tape, those clunky bricks that used to be the standard media format of the era, and saw the stellar athletes of All Japan Women's, a revolutionary organization that brought an all-action, fast paced style that had an influence that is still seen in the sport today. Manami Toyota, regarded by many wrestling pundits as one of the greatest in-ring performers of all-time, and Kyoko Inoue were just two of the incredible athletes that she saw through the sketchy VCR footage. In one of the full-circle moments, the youngster that was memorized by the Japanese grapplers eventually became the international pro wrestler that shared the ring with them almost two decades later.
Originally offered a one-year contract with World Women Pro-Wrestling Diana, a group founded by Kyoko Inoue a few years earlier, Roni packed her bags to fly to the other side of the world in 2016 unaware that the initial one-year deal would lead to a four-year tenure in the country, which she cites as one of the most rewarding aspects of her career.
"It was so rewarding to be in a country and in a business that embraced all of my ability and helped me to excel at every opportunity. I love the crowds and how much love and acceptance I receive from them in such a short amount of time. Even though the language was one of the harder aspects,as well as, being away from home;I would never trade the numerous years that I spent there learning and honing my craft and building incredible relationships and having wonderful memories," Nicole explained.

In the entertainment business, the tag line "dreams come true" might sound cliche, but for "The Big Bang" she had the chance to stand side-by-side with idols like Aja Kong, and share poster space with some of the same women that she saw on that static VHS tape all those years earlier. Furthermore, she considers her time in Japan as a key part of the experience that shaped her entire career.

"I received extensive training from Karou Ito, Kyoko Inoue, Aono Kieko and Nanae Takahashi. It was an incredible experience and privilege that helped shape the remainder of my career for years to come," she explained.
The international exposure boosted her profile back in the United States as she zigged-zagged across several states upon her return to America with a comeback to Japan planned for the future.
"Roni Nicole is a true professional that excels in her craft, both inside the ring and behind the scenes. Roni is a force in the squared circle, only eclipsed by her charisma that garners the very emotion she wishes to invoke at that given time. Working with Roni behind the scenes was both a pleasure and an honor that I value deeply to this day, said Quinn Magnum, who is a former wrestler that became one of the longest-tenured organizers of the Pittsburgh scene during the course his more than 25-year career.

Similar to many within the sports entertainment business, the global pandemic of 2020 that shuttered most of the world, Roni Nicole saw her upward career trajectory halted. The stage productions she was a key part of saw the curtain down, wrestling venues sat dormant, and the vast majority of international travel was suspended indefinitely. Among the professional setbacks, personal tragedy stuck her as well when her mom passed away after an extensive illness.
Roni was personally shattered, and professionally all of her aspirations were under the bleak cloud of the pandemic. In what she considered a necessary therapeutic step in the healing process, she set out into the North Carolina forrest to a spot known as the "Respite in the Round" to pen the publication RiverSong:Respite Reflections, a collection of poems that focuses on grief and how to endure it in the most healthy way possible.
"After the loss of my mother I needed a way to express all of the complex feelings of grief that I was going through at very dark and challenging time. While that challenged feels no less heavy now, I felt that getting out the parts that needed to be on paper would be helpful to me and hopefully helpful to someone else. Grief is a different experience for each person but it is a universally understood emotion. Writing this book was my way of sharing the love and reverence that I have for my mother with the world and honoring her life. Hopefully this book ends up providing those who are grieving with some sort of peace, I'm finding it can be found in those quiet moments of acceptance of the loss of the one you love," she explained.

After the book's publication earlier this year, Roni emerged from the process more laser-focused than ever before, and among all of her accomplishments, recently added another more media content to her resume. As fans can see during the vlogs on her Youtube channel, Nicole sets her goals high with an importance on how her efforts can impact others, the same way those Joshi grapplers had such a profound impact on the direction of her life during her youth.
"I'm presently enjoying being booked and busy. Performing, wrestling, protesting, working, advocating and changing the world," she concluded.
For more information about Roni
FB:https://www.facebook.com/BigBangRoniNicole
Twitter:@Glitterlicious
IG:roni_nicole_joshiqueen
To order Roni's book https://www.amazon.com/RiverSong-Respite-Reflections-Roni-Nicole-ebook/dp/B0BRTZ4BXQ
What do you think? Share your thoughts, opinions, feedback, and anything else that was raised on Twitter @PWMania and Facebook.com/PWMania.
Until next week
-Jim LaMotta
E mail drwrestlingallpro@yahoo.com | You can follow me on Instagram & Facebook @jimlamotta89