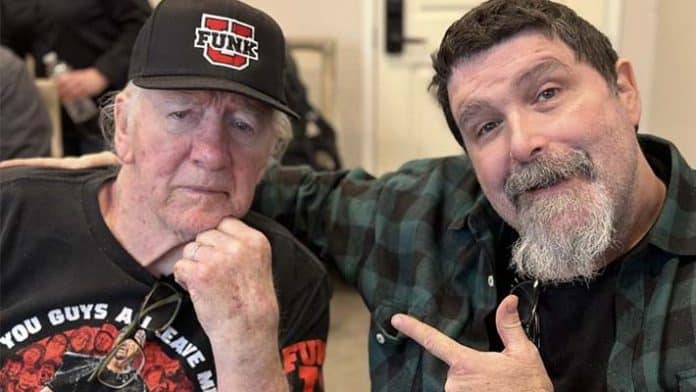 Mick Foley paid Terry Funk a visit in Amarillo, Texas, on Tuesday.
Mick Foley's podcast, Foley Is Pod, shared a photo of the two WWE Hall Of Famers together on Twitter. The post's caption read as follows:
"FOREVER THE FUNKER! Mick told his idol @TheDirtyFunker that whenever he's within 400 miles of Amarillo he'd visit him. Mick had a great time visiting with Terry and his daughter Stacey along with Dick Murdoch's son and daughter."
Due to his dementia, the former NWA World Heavyweight Champion has been residing in an assisted living facility.
Many fans consider Funk to be one of the greatest names in professional wrestling history. Many wrestlers, including Tommy Dreamer and Foley, have looked up to him as a mentor.
FOREVER THE FUNKER!

Mick told his idol @TheDirtyFunker that whenever he's within 400 miles of Amarillo he'd visit him. Mick had a great time visiting with Terry and his daughter Stacey along with Dick Murdoch's son and daughter. pic.twitter.com/TCzceGe3sM

— Foley Is Pod (@FoleyIsPod) January 17, 2023