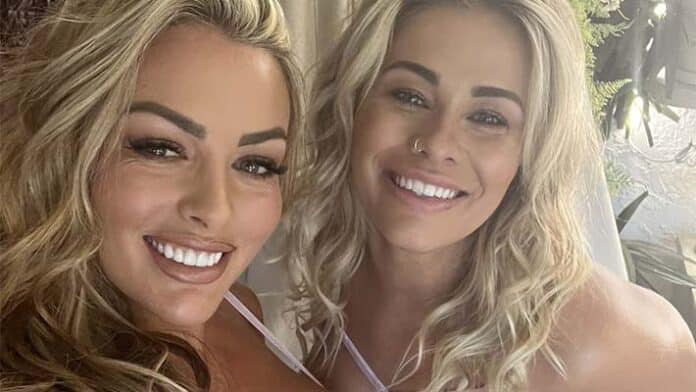 Former WWE Superstar Mandy Rose and former UFC fighter Paige VanZant have agreed to collaborate.
Mandy Rose and Paige VanZant teased adult content coming to their paywalls on their FanTime and OnlyFans accounts, respectively.
Mandy Rose initially posted a photo of herself face-timing with Paige VanZant, causing fans to speculate that a photo drop was imminent. That has now been confirmed, with both Rose and VanZant announcing the news on their Twitter accounts.
Rose tweeted, "Twinning 👯‍♀️😋 @paigevanzant http://Fantime.com/fitmandyinfo"
VanZant later added, Coming soon!!!! @mandysacs http://Onlyfans.com/paigevanzant
You can check out their tweets and a few preview photos from the shoot below:
Twinning 👯‍♀️😋@paigevanzant https://t.co/4hVSEEx2l6 pic.twitter.com/Wo2UfMUXh1

— Mandy (@mandysacs) May 19, 2023
Coming soon!!!! @mandysacs https://t.co/Epa3iJUYIv pic.twitter.com/rGbE3vyr7I

— Paige VanZant (@paigevanzant) May 19, 2023
Twinning 💖💖 @mandysacs pic.twitter.com/UUEb7E9sIb

— Paige VanZant (@paigevanzant) May 19, 2023
Soft eyes, pure heart ❤️ pic.twitter.com/Pfi4pumfsi

— Paige VanZant (@paigevanzant) May 18, 2023