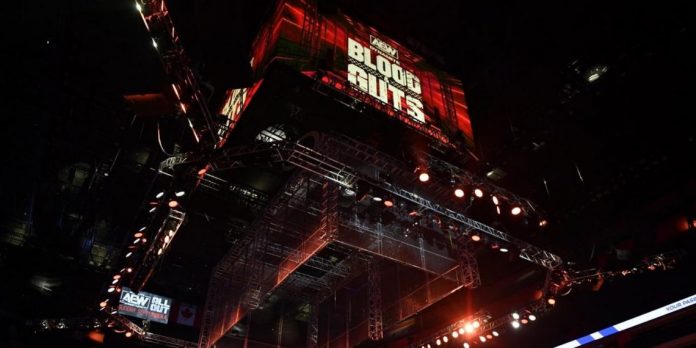 Fans are settling into their seats at the Little Caesars Arena in Detroit as the doors open for tonight's Blood & Guts episode of AEW Dynamite on TBS.
Fans on Twitter have released the first images of the Blood & Guts set and double cage, as seen below. Below, you can also view the brand-new Blood & Guts poster and the official t-shirt for this evening's match.
WrestleTix reports that AEW added certain hard-cam section tickets for sales earlier today. There were 526 tickets left for tonight's Dynamite special as of 6:30 p.m. ET, out of the 11,260 that were issued.
Stay tuned to PWMania.com for more and join us for live coverage at 8 p.m. ET.
From fireballs to haircuts, we've seen it all and at 8/7c on #AEWDynamite the rivalry continues with #BloodAndGuts 😤 pic.twitter.com/uzMqGsZsz5

— AEW on TV (@AEWonTV) June 29, 2022
Are you ready for the violence? The #BloodAndGuts event shirt is available NOW at https://t.co/9hHlXpcSbp. Check it out!#shopaew #aew #aewdynamite pic.twitter.com/bfzaAMI5YK

— ShopAEW.com (@ShopAEW) June 29, 2022
The doors have just opened at the @LCArena_Detroit and #AEWDynamite #BloodAndGuts is almost here!

Tune in to @TBSNetwork tonight at 8pm ET/7pm CT/8pm PT! pic.twitter.com/FsL19sti9D

— All Elite Wrestling (@AEW) June 29, 2022
#AEWDetroit #BloodAndGuts
Arena view.
Cage is up above.
(Ready for that at 930p.) pic.twitter.com/9HVGI09q8L

— AEW Detroit (@Aewdet) June 29, 2022
First AEW show. First AEW Detroit show. Let's go! #BloodAndGuts pic.twitter.com/aRTEVnXbhG

— Danny (@dajosc11) June 29, 2022
Blood & Guts @AEW #bloodandguts #aew #AEWDynamite pic.twitter.com/HQ39zfAA2U

— DynamiteDownload 🧨 (@AEWdynamiteDL) June 29, 2022
I saw a @SexyChuckieT awful waffle in person. Night already made.#AEWDynamite #BloodAndGuts #AEWDarkElevation @kinky_horror pic.twitter.com/BqGyYbG7e1

— 🏳️‍🌈 DARE THE DEAD 🤘💀🤘 (@DareTheDead) June 29, 2022
@BustedOpenRadio @davidlagreca1 @ButlerMBB @TheMarkHenry @THETOMMYDREAMER @MickieJames @thunderrosa22 @GiftofGabSXM watching my first AEW show tonight in person #bloodandguts hoping to get through on tomorrow's show to tell you about it pic.twitter.com/RMsTWixyW2

— Chip Maxey – Toot Toot (@ChipMaxey) June 29, 2022