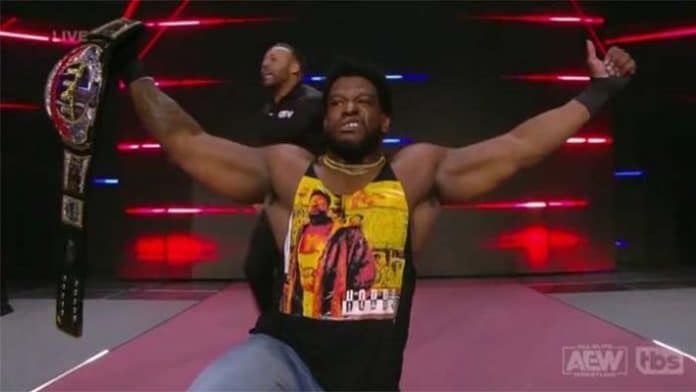 Powerhouse Hobbs recently spoke with Denise Salcedo for an in-depth interview covering all things pro wrestling.
During the discussion, the reigning AEW TNT Champion spoke about capturing the title from Wardlow, as well as what Chris Jericho said to him when he finally won his first title in the promotion.
Featured below are some of the highlights from the interview.
On winning the TNT Championship and what Chris Jericho said to him: "It's wild, it's crazy. I was talking to Chris Jericho the night I won the championship, and then he texts me the next day, and he was like, 'It's almost like a Cinderella story, to go from enhancement talent to TNT Champion.' During the pandemic era, nobody knew who the hell I was besides anybody local to the Bay Area in California, so it's wild. Everywhere I go, I'm getting love, and sometimes I get some dirty looks wherever I go, but it's alright with me. Today is a good day because it's actually Powerhouse Hobbs Day in the city of East Palo Alto."
On all the adversity he overcame to get to where he is: "I knew eventually I would get here. I was told by my grandparents [that] everyone has a purpose in life. I've always felt that this was my purpose, to be a professional wrestler and entertain people. So it took a while, but I'm here, and I'm making the most of it. When we were in the Bay Area for that whole Revolution week, I had so many people come up to me, and it was very humbling and overwhelming that they were telling me they love how I represent the bay. I get that, more in other places as well, but it's one of those things where I sit back when I'm alone, like 'Damn, I'm actually here.' I'm not taking it for granted, I'm making the most of it. This whole journey has been wild since I've been with AEW. I haven't even hit three years yet. Everything is wild, if I sit back and actually think about it."
Check out the complete interview below. H/T to Fightful.com for transcribing the above quotes.