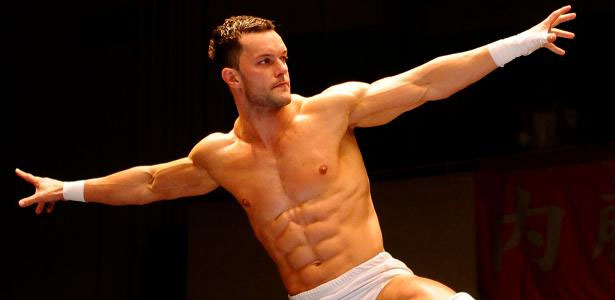 Thanks to the folks at IPW:UK for sending in the following:
IPW:UK, SUNDAY JANUARY 19TH 2014 – TONBRIDGE, KENT: DAISUKE SEKIMOTO OUT – PRINCE DEVITT IN!
– Big Japan star Daisuke Sekimoto has unfortunately had to pull out of this weekend's European tour due to an injury to his meniscus.  We have agreed with wXw that we will be bringing Daisuke over to Europe to make his UK debut later in the year once he has fully recovered.  We wish him all the best in his recovery, and hope it is a swift one!
With that being said, we were forced to go out and find a replacement to take on Dave Mastiff in our co-main event.  With it being Mastiff's featured return to IPW:UK, we wanted to make sure we put him in against the absolute toughest opponent we could find.  Enter, Prince Devitt.
A former 6 time IWGP Junior Heavyweight Tag Team Champion, 3 time IWGP Junior Heavyweight Champion and two time Best of the Super Juniors, Devitt is making his IPW:UK debut and we are absolutely delighted to have him step in at such short notice!
TICKETS, ALTHOUGH LIMITED, ARE STILL ON SALE FROM THE FOLLOWING LINK: http://www.ipwuk.com/events/2014/01/19/hero-vs-sabre-jr
Prince Devitt will not make it to the venue in time for the 4.00pm Meet & Greet, but all VIP ticket holders will be given the chance to meet him at the conclusion of the event.
In-ring printed AND digital download pictures with either Chris Hero or Prince Devitt are available priced at £10 for one, or £15 for both.  Signed posters are available on the day priced at £5.  Chris Hero will have his own merchandise, and IPW:UK have two brand new t-shirts out, priced at £15 each.
– Therefore our full card is as follows:
:: Main-show (5.30pm):
International Singles Main Event #1 – ELBOW vs. ARMBAR
– The returning American star Chris Hero vs. possibly the UK's finest wrestler Zack Sabre Jr!
International Singles Main Event #2 – BASTARD VS. PRINCE
– The UK's baddest heavyweight Dave Mastiff vs. The Real Rock 'n' Rolla Prince Devitt!
IPW:UK Tag Team Bat Fight; Titles vs. Contracts!
– The Bhangra Knights (c) [2 defences] vs. The London Riots
IPW:UK All-England Title Triple Threat Match
– 'The Wonderkid' Jonny Storm (c) [1 defence] vs. 'Party' Marty Scurll vs. 'The Star Attraction' Mark Haskins
British National Championship Round 2 Match
– Kris Travis vs. Rampage Brown
PLUS – the first ever edition of "The Earl's Court", hosted by 'Earl' Jonathan Windsor!
AND – an appearance from new IPW:UK World Champion Paul Robinson!
———–
:: Matinee-show (4.00pm):
British National Championship Round 2 Match
– Martin Kirby (of Project Ego) vs. 'Dazzlin' Darrell Allen (of The Bhangra Knights)
Singles Match
– James Davis (of the London Riots) vs. Lance Lawrence (of The Whizz Kids)
PLUS – a meet & greet with Chris Hero!
TICKETS, ALTHOUGH LIMITED, ARE STILL ON SALE FROM THE FOLLOWING LINK: http://www.ipwuk.com/events/2014/01/19/hero-vs-sabre-jr