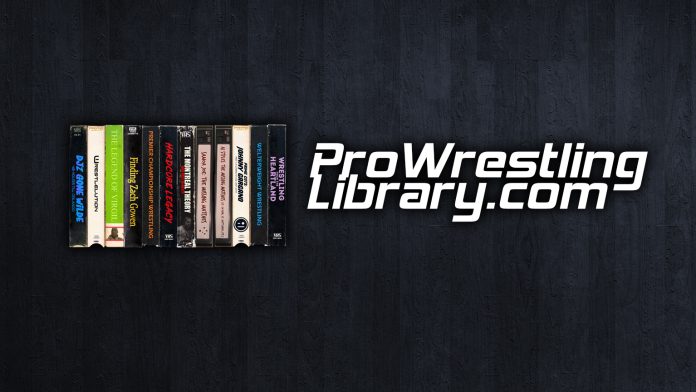 Joe Dombrowski, who many fans know as the American voice of the AAA Lucha Libre organization and Major League Wrestling, is as dedicated a historian of the professional wrestling business as you will find. Joe, who spent Christmas morning early in his youth unwrapping WWF Habros figures, has more than two decades inside the sports entertainment industry, a path that proves truth is stranger than fiction. After quite literally growing up in the sport and spending his entire adult life working around the squared circle, he wore more or less every hat possible. He has done commentary, promoted shows, booked cards, served as an evening's ring announcer, written for press releases, and done about everything someone can without owning a pair of wrestling boots.
Throughout his time calling matches from the age of just 17, Dombrowski's passion for the industry only grew and he became fascinated with the most rare and obscure aspects of the sport. If something was lost to time, Joe wanted to unearth it and deliver it to an audience that could appreciate it as much as he did. If professional wrestling had a version of "Unsolved Mysteries," Dombrowski would've been the perfect host to track down the answers to promotional wars and wrestler disputes. Based in Pittsburgh, a region known almost as much for its wrestling as the steel it once produced, Joe finds himself on the road most weekends, zigzagging throughout different states, and even international work through the previously mentioned lucha connection. It's a tough hustle, as a week's worth of prep work for a commentary position is reviewed on the way to a venue, with gas station food and coffee fueling the grappling aficionado, but he wouldn't have it any other way. With all of that, he had the chance to work with a wide array of figures from the sport that he embraced so early in his life. One weekend, he might find himself in Cincinnati alongside the legendary Les Thatcher to dig through dusty boxes in the former grappler's garage to uncover never-before-seen footage of the lost WWF developmental territory. The following weekend, he might find himself at a merchandise table at a local event while Virgil shameless attempts to sell an NWO lunchbox to anyone in the general vicinity.
After many late nights with tidbits scribbled onto a notebook in front of a computer screen, Dombrowski launched his Pro Wrestling Library streaming service, a platform dedicated to not only the notable independent wrestling content that he produced during his time as a head organizer of different promotions, but also his original documentary series that garnered rave reviews, a few years ago.
"It really wasn't anything I set out to do initially, it was more just the changing of the times. I started physically producing DVDs for PWO/PRIME Wrestling around 2011 or so, and then started producing original content in 2013, and the collection grew as ideas and opportunities came my way. Fast-forward a number of years, and it's clear that streaming and digital content and VOD is the future," Joe explained.
Dombrowski, along with his usual gigs that take him from Chicago to Philadelphia to Las Vegas to Tijuana, produced successful original content that found a niche audience that always anticipated his next release. The Brian Pillman Memorial Anthology, a collection that he put together with his friend, the previously mentioned Les Thatcher, is an all-time best seller for him. The Montreal Theory, an investigative look at the infamous Survivor Series, was a cult hit for the announcer. Plus, countless hours of independent content that he produced during his career that featured the formative years of some performers that went on to achieve national fame highlighted the streaming platform.
Unfortunately, in August of this year, Pivotshare, a platform that hosted Pro Wrestling Library and other groups for several years, abruptly shutdown, with all of the content originally posted there, including hundreds of hours of Joe's content, unavailable to viewers. Being the ambitious entrepreneur he is, Joe jumped into action to get his catalog back online.
"It wasn't quite starting from scratch, but it was close to it. I had two options, re-upload it all through an existing content provider or start to re-build everything myself. I had a few business meetings, considered every option available, but with the sheer size and diversity of what I have, and where I want to take it into 2024, doing my own thing was really the only sensible option. It will take time to rebuild, bandwidth and storage space and the like are not free," Joe said.

After putting a headlock on the technical side of launching a new streaming site and pinning his plans for the future, Dombrowski has painstakingly began to add the archives of his library onto the new streaming platform. As of now, more than 115 hours of footage are available, with the expectation that roughly a dozen hours of new content will be added each weekend until the service reaches its prior standing. But, the MLW wordsmith wanted to take the opportunity of a fresh start to take his collection to the next level, striking deals with a variety of content creators to bring even more obscure footage to fans. Rarities like the Savoldi, Poffo, USWA, infamous Herb Abrams' UWF, Global Wrestling Federation, and even Puerto Rico territories added a completely new aspect to the Pro Wrestling Library service. Similar to any successful small business, Dombrowski knows that there are billion-dollar corporations that compete for the sports entertainment dollar so he makes it a mission to serve his loyal customers with the most unique collection of content possible.

"The deeper you get into content production, distribution, restoration, etc, the more people you meet and the more deals you make. It opens up so many doors to bring classic matches from the territory or early independent days to a new audience hungry for something different that they haven't seen, and may not even know existed. I want to bring that to DVD as well, which will allow me to physically take it on the road and reach new audiences there as well, and people into that style and era of content will still buy DVDs, at least the majority will. In turn, this allows some of my content from PWO/PRIME Wrestling to some of my compilations and documentaries to be exposed to new audiences through their channels and avenues as well. The biggest win goes to the fans who have more access to all of this than ever, and believe me when I say, we haven't even come close to scratching the surface," Dombrowski remarked.

Despite the exhausting process of adding hours of hours of content online, often done while he does laundry in between road trips for television tapings or streaming independent cards, Dombrowski was rejuvenated with the fresh start and looks to make his platform a one-of-a-kind video destination for fans of the genre.
"I've always been one to look for ideas and concepts that are underserved to a mass audience. Is it something they've never seen or done in a way they've never seen it? Is it something they've seen, but we can package it in a more accessible or compelling way ? Is there a talent who is going to be on a huge worldwide stage in five years but we have him here at our disposal now? All of that thinking has gone into making what the library is today. Fans should expect something that caters to them no matter what type of fan they are. I truly want any fan when they come to my website or my merch table, to see something and go 'Oh, I didn't know you had this!' From Johnny Gargano to Randy Savage to Virgil to The Cogar Brothers to Okada to The Von Erichs to Zach Gowen and all points in between, it is somewhere in the Pro Wrestling Library," Dombrowski concluded.
To sign up for the new service and access the rare footage, you can go to https://vimeo.com/prowrestlinglibrary/vod_pages
Anyone that owns the legal rights to footage that they would like to host on the service can contact Joe using JoeDombrowskiPR@gmail.com
What do you think? Share your thoughts, opinions, feedback, and anything else that was raised on Twitter @PWMania and Facebook.com/PWMania.
Until next week
-Jim LaMotta
E mail drwrestlingallpro@yahoo.com | You can follow me on Instagram, Facebook, & Threads @jimlamotta89