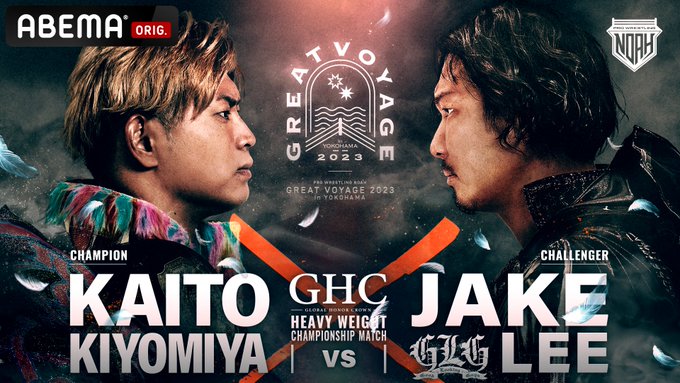 On March 19th, Pro Wrestling NOAH held it's huge Great Voyage 2023 in Yokohama event at the Yokohama Budokan.
The main event for Great Voyage 2023 in Yokohama saw GHC Heavyweight Champion Kaito Kiyomiya making his fifth defense of the title as he faced a tough challenge in former two time AJPW Triple Crown Champion Jake Lee.
When all was said and done, Jake Lee defeated Kaito Kiyomiya to become the GHC Heavyweight Champion. Lee connected with a big boot to Kiyomiya while he was in the corner to secure the victory and become the new champion. Kongo faction member Katsuhiko Nakajima entered the ring to proclaim himself the first challenger for the new champion. Nakajima told Lee that he will show him the real NOAH.
Jake Lee's faction GLG added two more members to it's group. YO-HEY and former Kongo faction member Tadasuke both revealed they had joined GLG prior to the main event. They joined fellow GLG members Jack Morris and Anthony Greene to accompany Jake Lee to the ring.
The GHC Tag Team Championship was on the line as the current champions Masa Kitamiya and Daiki Inaba successfully defended the titles against Kenoh and Manabu Soya. AJPW superstar Kento Miyahara appeared after the match and confronted Kitamiya. Miyahara challenged Kitamiya to be a part of the AJPW vs NOAH 6 man tag match at AJPW Dream Power Series on March 21st. Kitamiya accepted and will be 1 of the 3 NOAH Wrestlers involved in that match.
Here are the full results and highlights for Pro Wrestling NOAH's Great Voyage 2023 in Yokohama:
Main Event GHC Heavyweight Championship: Jake Lee defeated Kaito Kiyomiya (c) via pinfall to become the new GHC Heavyweight Champion. Lee pinned Kiyomiya after hitting a big corner boot.
GHC Junior Heavyweight Tag Team Championship: Yoshinari Ogawa & Eita (c) defeated HAYATA & Chris Ridgeway via pinfall to retain the titles. Ogawa pinned Ridgeway with a flash pin. Ogawa slapped Eita after the match and shook hands then left the ring with HAYATA.
GHC Tag Team Championship: Masa Kitamiya & Daiki Inaba (c) defeated Kenoh & Manabu Soya via pinfall to retain the titles. Kitamiya pinned Soya following a top rope senton bomb. AJPW Kento Miyahara confronted Masa Kitamiya after the match.
Extreme Tiger & Lanzelot defeated GHC Jr Heavyweight Champion AMAKUSA & Ninja Mack via pinfall. Lanzelot pinned AMAKUSA following a sit out power knee drop.
Jack Morris & Anthony Greene defeated Naomichi Marufuji & GHC National Champion El Hijo de Dr. Wagner Jr. via pinfall. Morris pinned Wagner Jr after hitting a Tiger Driver.
Shuhei Taniguchi defeated Takashi Suguira via pinfall following a soccer kick to the head.
Hideki Suzuki & Saxon Huxley defeated Mohammed Yone & Yoshiki Inamura via pinfall. Huxley pinned Yone after hitting a Choke Bomb.
Katsuhiko Nakajima defeated Kinya Okada via pinfall. Nakajima pinned Okada after hitting a Vertical Spike.
Atsushi Kotoge, YO-HEY, Seiki Yoshioka & Alejandro defeated Shuji Kondo, Hajime Ohara, Tadasuke & Hi69 via pinfall. Kotoge pinned Tadasuke with a roll up following a top rope dropkick from Alejandro. After the match YO-HEY took out Kondo, Ohara and Hi69 and shook hands with Tadasuke. YO-HEY and Tadasuke united and attacked Kotoge, Yoshioka and Alejandro. YO-HEY and Tadasuke left the ring together.
Yasutaka Yano defeated Daishi Ozawa via pinfall with a sunset flip.
新GHCヘビー級王者誕生。ジェイク・リー!!! @ABEMA で視聴中 https://t.co/kr6BMmi7vu #noah_ghc #gv2023 pic.twitter.com/gXc3KP7yMH

— プロレスリング・ノア |PROWRESTLING NOAH (@noah_ghc) March 19, 2023
清宮がジェイクへ反撃、場外でのドロップキック!!!  @ABEMA で視聴中 https://t.co/kr6BMmi7vu #noah_ghc #gv2023 pic.twitter.com/xwnS93DMJS

— プロレスリング・ノア |PROWRESTLING NOAH (@noah_ghc) March 19, 2023
宮原健斗「3.21大田区で勝負だ!」 @ABEMA で視聴中 https://t.co/kr6BMmi7vu #noah_ghc #gv2023 pic.twitter.com/mIXgv0l5D9

— プロレスリング・ノア |PROWRESTLING NOAH (@noah_ghc) March 19, 2023
マサ北宮がダイビングセントーン!!!!スリー!防衛!!! @ABEMA で視聴中 https://t.co/kr6BMmi7vu #noah_ghc #gv2023 pic.twitter.com/bD8ZCA7Jt2

— プロレスリング・ノア |PROWRESTLING NOAH (@noah_ghc) March 19, 2023
丸藤がジャベを魅せる!!  @ABEMA で視聴中 https://t.co/kr6BMmi7vu #noah_ghc #gv2023 pic.twitter.com/Md4ngF7AsJ

— プロレスリング・ノア |PROWRESTLING NOAH (@noah_ghc) March 19, 2023
稲村とハックスリーの巨体対決!!軽々稲村を持ち上げる! @ABEMA で視聴中 https://t.co/kr6BMmi7vu #noah_ghc #gv2023 pic.twitter.com/iPiCO03ue9

— プロレスリング・ノア |PROWRESTLING NOAH (@noah_ghc) March 19, 2023
岡田が落ちかける!!中嶋は容赦なく!! @ABEMA で視聴中 https://t.co/kr6BMmi7vu #noah_ghc #gv2023 pic.twitter.com/YtV2zEQjpf

— プロレスリング・ノア |PROWRESTLING NOAH (@noah_ghc) March 19, 2023
【謀反全貌!】

YO-HEY、タダスケが突然の結託‼️‼️‼️‼️‼️

ジュニア正規軍も状況飲み込めぬまま、二人の連携に沈む!!#noah_ghc #gv2023 pic.twitter.com/fIj2l0PCKI

— プロレスリング・ノア |PROWRESTLING NOAH (@noah_ghc) March 19, 2023
ジュニア正規軍が総出の連携!!!  @ABEMA で視聴中 https://t.co/kr6BMmi7vu #noah_ghc #gv2023 pic.twitter.com/6bRqLvRHhB

— プロレスリング・ノア |PROWRESTLING NOAH (@noah_ghc) March 19, 2023