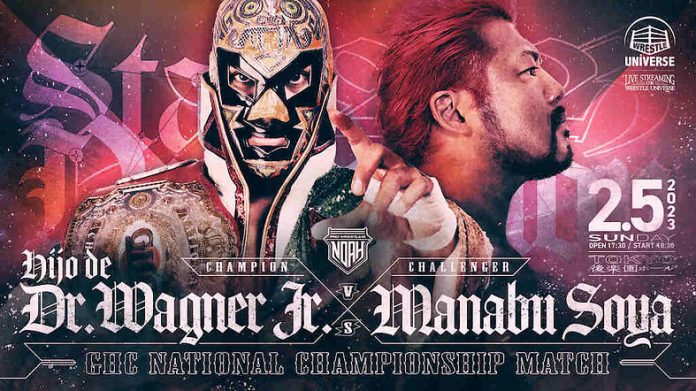 On February 5th, Pro Wrestling NOAH presented Star Navigation 2023 in front of a capacity crowd at Korakuen Hall in Tokyo, Japan.
The main event of Star Navigation 2023 featured a GHC National Championship match as the champion El Hijo de Dr. Wagner Jr defended the title against Kongo faction member Manabu Soya. In a thrilling match, El Hijo de Dr. Wagner Jr defeated Manabu Soya to retain his title.
In other singles action, 1/2 of the GHC Heavyweight Tag Team Champions Satoshi Kojima defeated Masa Kitamiya in a hard hitting encounter.
Here are the full results and highlights for Pro Wrestling NOAH's Star Navigation 2023:
Main Event GHC National Heavyweight Championship: El Hijo De Wagner Jr (c) defeated Manabu Soya by pinfall after hitting a moonsault press to retain the title.
10 Man Elimination Match: Yoshinari Ogawa, Eita, Nosawa Rongai, Chris Ridgeway, and Daga defeated GHC Jr Heavyweight Champion AMAKUSA, Junta Miyawaki, Alejandro, YO-HEY & Seiki Yoshioka. Nobody from the team of Yoshinari Ogawa, Eita, Nosawa Rongai, Chris Ridgeway, and Daga were eliminated.
GHC Heavyweight Champion Kaito Kiyomiya, Naomichi Marafuji, & Takashi Sugiura defeated Jack Morris, Jake Lee & Anthony Greene by pinfall. Kiyomiya pinned Greene with double arm suplex bridge.
Satoshi Kojima defeated Masa Kitamiya by pinfall after hitting a lariat clothesline.
Kenoh, Katsuhiko Nakajima, Shuji Kondo & Hajime Ohara defeated Daiki Inaba, Yoshiki Inamura, Ninja Mack & Atsushi Kotoge by pinfall. Nakajima pinned Inamura after a brainbuster.
Timothy Thatcher & Hideki Suzuki defeated Masaaki Mochizuki & Shuhei Taniguchi by submission. Thatcher tapped out Taniguchi.
Super Crazy defeated Yasutaka Yano by pinfall
Tadasuke & HI69 defeated Kinya Okada & Daishi Ozawa by pinfall
まさに死闘!!
パワー、実力が拮抗するGHCナショナル選手権!!

▼2.5後楽園・WRESTLE UNIVERSEで生配信中!https://t.co/tKad6UHjZ3#noah_ghc #wrestleUNIVERSE pic.twitter.com/PBwX2G3Cje

— プロレスリング・ノア |PROWRESTLING NOAH (@noah_ghc) February 5, 2023
⚔メインイベント・GHC ナショナル選手権試合
イホ・デ・ドクトル・ワグナーJr. vs 征矢学

▼2.5後楽園・WRESTLE UNIVERSEで生配信中!https://t.co/tKad6UHjZ3#noah_ghc #wrestleUNIVERSE pic.twitter.com/a0Y9WNKHpw

— プロレスリング・ノア |PROWRESTLING NOAH (@noah_ghc) February 5, 2023
NOAH初参戦のダガ!!
初戦で吉岡を葬り、鮮烈デビュー!!

▼2.5後楽園・WRESTLE UNIVERSEで生配信中!https://t.co/tKad6UHjZ3#noah_ghc #wrestleUNIVERSE pic.twitter.com/hgrMrNobU2

— プロレスリング・ノア |PROWRESTLING NOAH (@noah_ghc) February 5, 2023
ジェイク念願!
方舟の天才・丸藤正道と初対決!!

▼2.5後楽園・WRESTLE UNIVERSEで生配信中!https://t.co/tKad6UHjZ3#noah_ghc #wrestleUNIVERSE pic.twitter.com/FHQiYZSms7

— プロレスリング・ノア |PROWRESTLING NOAH (@noah_ghc) February 5, 2023
最後のGHCタッグ前哨戦はシングルで!
北宮が小島に渾身のサイトースープレックス!!

▼2.5後楽園・WRESTLE UNIVERSEで生配信中!https://t.co/tKad6UHjZ3#noah_ghc #wrestleUNIVERSE pic.twitter.com/ZTxuFSP4x8

— プロレスリング・ノア |PROWRESTLING NOAH (@noah_ghc) February 5, 2023
⚔第2試合・シングルマッチ
スペル・クレイジー vs 矢野安崇

▼2.5後楽園・WRESTLE UNIVERSEで生配信中!https://t.co/tKad6UHjZ3#noah_ghc #wrestleUNIVERSE pic.twitter.com/U2bOCKfc7V

— プロレスリング・ノア |PROWRESTLING NOAH (@noah_ghc) February 5, 2023