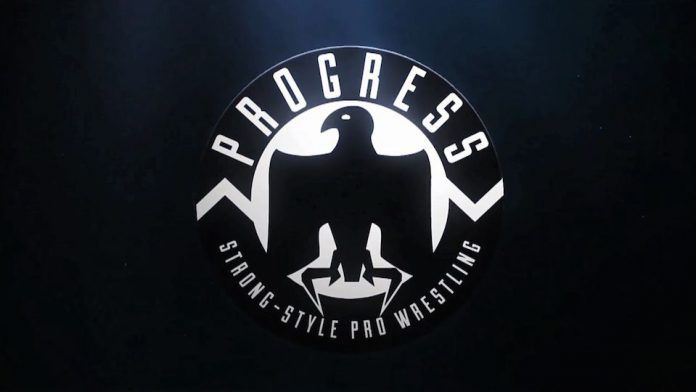 Thanks to Progress Wrestling for sending in the following to PWMania.com:
PROGRESS WRESTLING – CHAPTER 137
THE DEADLY VIPER TOUR – COPPERHEAD
02 Academy, SHEFFIELD, UK
Saturday 13th August 2022
BIG DAMO IS NEW PROGRESS WORLD CHAMPION
SENSATIONAL VICTORY ENDS THE SHORT REIGN OF CHRIS RIDGEWAY
KANJI AND DI MATTEO IN FURTHER CONTROVERSY – KANJI DQ'D BUT RETAINS TITLE
SUNSHINE MACHINE CONTINUE TO SHINE IN TAG TEAM CHAMPIONSHIP WIN
LUKE JACOBS RETAINS THE ATLAS TITLE IN GRUELLING TRIPLE THREAT
GENE MUNNY's WORLD CHAMPIONSHIP BELT DEBUTS
In circumstances that Quentin Tarantino himself would have been proud of, Belfast-born Big Damo captured the PROGRESS World Championship with a stunning victory over Chris Ridgeway.
The opening date of the Deadly Viper Tour of the UK produced an astonishing climax after an already impressive start to the Kill Bill inspired journey.
Big Damo, former WWE star under the name of Killian Dain, was the self-declared underdog entering this match. A firm fans' favourite after his recent Super Strong Style 16 performances, he was under pressure from the bell with Ridgeway dominating the encounter with some brutal hits. The turning point came when Big Damo landed a rib-crunching splash, leading to the crowning PROGRESS's fourth Men's Champion of the year. This is the first time that the PROGRESS Championship has changed hands outside of London, and Big Damo, as the first Irish Champion of PROGRESS celebrated in true classic Stone Cold style with many, many cans of the sweetest Guinness.
The packed 02 Academy had thought the evening's controversy had already peaked with Kanji retaining the PROGRESS Women's belt despite a deeply controversial DQ at the hands of the much frustrated Laura Di Matteo. Increasing bad blood from their previous encounter had remained, and reminiscences of The Bride from Kill Bill were strong from the bell.
Kanji really appears to be struggling to find her previous clarity, and in a crushing chair-assisted move conflicting against her former purity tore into Di Matteo, welcoming the increasingly inevitable disqualification. Di Matteo may have won, but her fury at the result left no doubt that the intensity of this bad blood has reached new levels.
The Copperhead-named show began with what seems to be becoming a series of classic opening matches, and the effervescence of the reigning PROGRESS Tag Team champions the Sunshine Machine did not disappoint. TK Cooper and Chuck Mambo have totally established themselves as the fans' favourite happy, but extremely dangerous, surfing dudes. They had a lockdown rivalry with the Greedy Souls from Cardiff, and at 1-1 neither team wanted to concede. However, not even the WWE Cardiff pre-sale could assist the Greedy Souls, and the Sunshine Machine now have three successful title defences.
As is typical with PROGRESS, wherever they go, they take their titles with them, and Sheffield saw all four titles defended. In slightly more traditional style to the two other singles titles, Luke Jacobs defended his ATLAS belt with a solid match against the ever-smiling and O121 member, Man Like Dereiss, and a delightful rare appearance from past Natural Progression Series Champion and one half of the Aussie Open tag team, Mark Davis.
Not quite hidden amongst this treasure of an event were two appearances from Japan, bringing a pure Japanese strong style to the day, with some striking high flying action.
Konosuke Takeshita, a DDT Pro-Wrestling star, arrived fresh from remarkable fights against Jon Moxley and Claudio Castagnoli (Cesaro), and he and Leon Slater produced an outstanding match of great athleticism. In the first of his only two appearances in the UK this summer (both with PROGRESS) he narrowly pinned the ever-improving Slater. Takeshita now has the unique claim of wins against the two youngest rising stars on either side of the Atlantic after his recent defeat of last month's PROGRESS debutant, Nick Wayne. Slater's 0121 appeared at the bell to restore the morale of their team-mate.
Yohei Hayata, of NOAH, needed all his experience, as the ever impressive Dean Allmark showed once again why he is so highly regarded. Dean will learn something from his defeat, as he will now face Takeshita in the Newcastle chapter of the Deadly Viper Tour.
The bubbling three-way feud between Raven Creed, Eliza Alexander and Lana Austin following Raven being strung up be her straightjacket in the PROGRESS 24/7 show in London, shows no sign of being settled. Lana emerged the victor this time, but the manner of the win drew pure scouse venom from Eliza, and the feud continues in a straight fight with Raven in Newcastle. Lana Austin rather wisely kept in the background hatching her next plan.
Not content with four title belts being on show in what turned into yet another PROGRESS classic, we had the slightly surreal introduction of the GENE MUNNY CHAMPIONSHIP.
The ever popular Munny never fails to delight and confuse the fans with his many personas, and the emotion generated by his passion to be in the Super Strong Style tournament. Munny is the only British fighter since Nigel McGuinness to hold a victory over a Ring of Honour Champion (his defeat of Jonathan Gresham at PROGRESS) and he strode into the ring declaring "I am already a World Champion" as he debuted his own special Championship Belt at PROGRESS. Unique to its holder, and to be defended somewhere, sometime against someone, and whilst we may never fully understand, it led to a match of fine drama against the striking Maggot, whose entrance alone is worth the admission price.
So, PROGRESS showed that once again that they deliver world quality shows, wherever the venue. The Sheffield fans were delighted to see the first title change outside of London, and in Big Damo it is clear that PROGRESS have a very impressive new World Champion.
NOTES
PROGRESS Wrestling, under its new ownership, continues to go from strength to strength with Strong Style action, complex storylines, and showcasing some of the best talent in independent wrestling from across the UK and beyond.
Next up as part of their 5 city UK tour is Newcastle with Chapter 138 – Cottonmouth – at the Boiler Shop on Sunday 14th August, followed by Chapter 139 (Warriors Come out to Play) at the Electric Ballroom on 28th August.