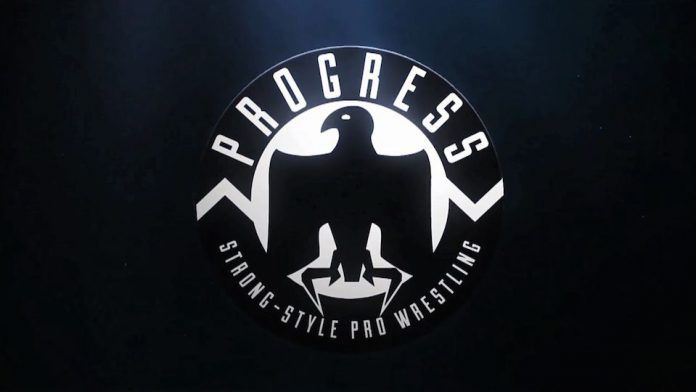 Thanks to Progress Wrestling for sending the following to PWMania.com:
PROGRESS WRESTLING – CHAPTER 139 – WARRIORS COME OUT TO PLAY
ELECTRIC BALLROOM, LONDON, UK – Sunday 28th August 2022
NEWLY CROWNED PROGRESS CHAMPION BIG DAMO IS DETHRONED AS SPIKE TRIVET TURNS THE KEY.
TRIVET BECOMES NEW CHAMPION AS HE UNCEREMONIOUSLY DEFEATS BIG DAMO.
KANJI RETAINS HER TITLE – BUT DI MATTEO IS FAR FROM HAPPY.
SUNSHINE MACHINE OUTSHINE CPF FOR 4th TITLE DEFENCE.
ATLAS CHAMPION LUKE JACOBS RETAINS TITLE AGAINST MAN LIKE DEREISS.
EDDIE DENNIS IN EMOTIONAL RETURN TO PROGRESS AND ANTHONY OGOGO, the GUV'NOR, STAKES HIS CLAIM.
FORMER US PRESIDENT, Ronald Reagan was a huge fan of the original Warriors movie, and this latest Chapter of PROGRESS Wrestling had many of the diverse elements of that 1970's iconic film, with warriors arriving from many lands and even a number of intriguing American perspectives thrown in too.
The PROGRESS World Championship had never changed hands in the UK outside of London until earlier this month in Sheffield when Belfast's Big Damo (the former WWE star Killian Dain) overcame Chris Ridgeway. Fresh from his first defence in Chicago against Kevin Ku at Black Label Pro, Big Damo took on the 0121's Dan Moloney who had impressed Damo at PROGRESS'S Deadly Viper Tour in Newcastle.
This was proving a mighty battle, with Big Damo on the verge of losing his second defence, when the Bête Noir and nemesis of PROGRESS, the Sovereign Lord, Spike Trivet intervened in the most audacious fashion. Moloney had the pin in his hands, a count of two over a beaten Damo never became three as Spike's bottle to Moloney's head ended his challenge. Trivet then called for his THUNDERBASTARD gained opportunity to be honoured. Jangling THE KEY, PROGRESS'S version of MONEY IN THE BANK, he demanded his title shot at the very point of near-exhaustion for Damo – and in the following short moments, he won the belt with the easiest of highly undeserved pins after a complete and utter brutal beat down.
This was not in the slightest, a popular outcome amongst the lively Bank Holiday audience who were craving a long reign for the popular Damo.
The brutal tone of the day's Championship defences had begun with Kanji somehow retaining her title once again against the spirited onslaught of the Italian, Laura Di Matteo. The bad blood between these two was hardly dissolved by this battle as ring crew held back both combatants before the bell. This fight delivered everything that had been brewing in this feud for many months, and Di Matteo's parting actions suggest it was not a happy ciao to Kanji.
The ever-effervescent Sunshine Machine continued their reign as Tag team Champions with a beautifully delivered victory over one half of the CPF in Danny Black and the returning Joe Lando. The up-and-coming youngsters took their high flying skills to TK and Chuck, but couldn't stop the charismatic their fourth title defence.
The day had started with another stunning encounter as ATLAS Champion Luke Jacobs drew himself and Man Like Dereiss away from their amazing 6-man tag match in Newcastle, and showed why he is one of the UK's best over 205lb wrestlers. With chants of 'This is PROGRESS' and 'Fight Forever' heard loud around the Ballroom, Deriess was applauded at what was universally acknowledged as his finest single's fight to date.
Not content with four title fights, PROGRESS then showed why it is what it is, with a range of such diversity and entertainment – but where to start?
Perhaps with Raven Creed in the first female strait-jacket fight in the UK, as she looked to wreak psychotic damage on Lana Austin. An amusing start, with Austin unwilling to fight due to a prior Sushi engagement, was heading Creed's way until a brutal intervention by Skye Smitson led to Austin becoming the strait-jacket Queen of Mean.
Then there was the popular return to PROGRESS with the 'pop of the day' from former Champion and NXT-UK, Eddie Dennis, who declared that he was still the unbeaten champion for 2019, having had to relinquish his PROGRESS world title through injury. The Son of Nothing, Maggot, who himself is quickly becoming a huge fan-favourite, showed little respect for that, but still succumbed as Dennis made a triumphant PROGRESS comeback. He then declared his intent for a World Championship title fight in Cardiff on 4th September after the WWE show the day before.
Also returning to PROGRESS was London's finest, the Guv'nor, Olympic Boxing Medallist and AEW star, Anthony Ogogo for his third PROGRESS fight, matching another CPF member, the up-and-coming Callum Newman. Ogogo may have won here, but after a brutal intrusion by Malik and Kosta there lies further challenges ahead, and Handshakes & Cheeseburgers on 18th September will see some further surprises…
After calling out the tag-team division, Kid Lykos and Kid Lykos II set out their reasoning for why they deserve their shots at championship gold. Greedy Souls await Lykos Gym in Cardiff for 'Wrestling, Golf, Madrid in that order' at Chapter 140, but it was announced live that Lykos would be coming up against 'The Bad Boy' Joey Janela next time everyone is back at the Ballroom for Chapter 141. What can we expect from Janela now that he's back in a PROGRESS ring?
Finally, it's also good to acknowledge the confidence of a professional wrestler – it's a vital ingredient as they enter the ring. There is then a fine line towards arrogance, and … and … and then there is delusional. Gene Munny, self-appointed World Champion of the Gene Munny Championship and Tate Mayfairs, he of "Tateness is Greatness" and the self -styled "Greatest Professional Wrestler to ever walk Planet Earth" (seriously – search google for confirmation) appeared to bring some evidence to the merits of that last quality. However, it cannot be argued that it didn't bring a fight of the greatest humour and entertainment, and perhaps pretty much summed up a world in which a movie star could become a President of the United States. Mayfairs' debut win in PROGRESS was helped by transatlantic interference by Matt Cardona as he called for a fight with Munny at the next Ballroom show.
PROGRESS once again delivered – and showed it's not just beaches and funfairs that provide entertainment of the highest value on Bank Holiday weekends.
NOTES
PROGRESS Wrestling, under its new ownership, continues to go from strength to strength with Strong Style action, complex storylines, and showcasing some of the best talent in independent wrestling from across the UK and beyond.
The next PROGRESS show is right after the WWE show in Cardiff on Sunday 4th September for 'Wrestling, Golf, Madrid in that order', and they return to the Electric Ballroom on 18th September for HANDSHAKES & CHEESEBURGERS, with Matt Cardona, Effy, Joey Janela, Nick Wayne and more on the card, and what may be the next stage of Anthony Ogogo's feud with Malik. Plus who knows what malice the new PROGRESS WORLD CHAMPION, Spike Trivet may have in store as he goes up against PROGRESS original Eddie Dennis in Cardiff for Chapter 140.