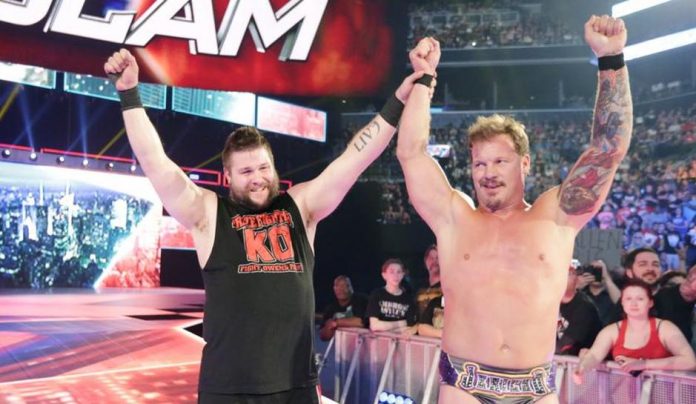 "You're the #GOAT!"
"Yeah, you're the DONKEY!"
"Yeah, fine whatever…"

Oh, the memories…. #WWERideAlong @FightOwensFight @IAmJericho pic.twitter.com/dLAVpLNBCx

— WWE (@WWE) June 27, 2017
– Above is video of Chris Jericho and WWE United States Champion Kevin Owens riding together and having a good time on last night's WWE Ride Along episode. This was filmed last December before the two split up.
– Monday's WWE RAW ranked #2 among series & specials for the night in Nielsen's social media TV ratings, behind the NBA Awards. RAW had 199,000 interactions with 76,000 unique authors on Twitter. This is up from last week's 122,000 Twitter interactions with 25,000 unique authors. RAW also had 255,000 Facebook interactions with 173,000 unique authors, up from last week's 189,000 interactions with 125,000 unique authors on Facebook.
– As noted, The Revival returned to action at last night's pre-RAW WWE Main Event tapings. They faced Luke Gallows and Karl Anderson. Sasha Banks tweeted the following on Scott Dawson and Dash Wilder making their returns:
The #TheRevival are so damn good! Make sure you all watch main event this week.

— $asha Banks (@SashaBanksWWE) June 26, 2017