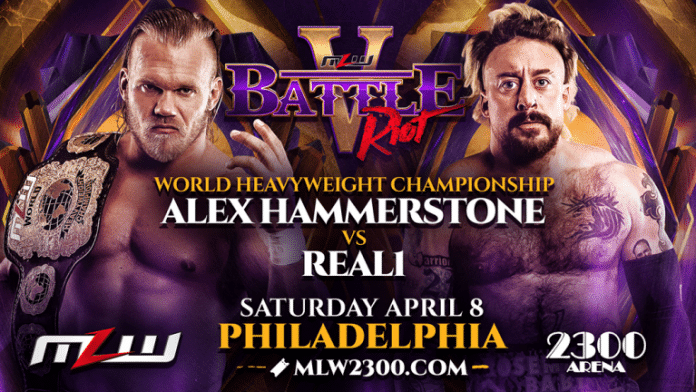 The next Major League Wrestling world title showdown is now official.
On Wednesday, the promotion confirmed Real1 vs. Alex Hammerstone for the world title at their upcoming April 8 show at 2300 Arena in Philadelphia, PA.
MLW.com released the following announcement:
Real1 vs. Hammerstone World Title Fight in Philly April 8
Who you got?
MLW today announced a World Heavyweight Championship title fight: Alex Hammerstone (champion) vs. Real1 for Battle RIOT V when MLW returns to Philadelphia's 2300 Arena on Saturday, April 8.
🎟 Grab tickets at MLW2300.com and the 2300 Arena box office. Tickets start at $15.
The trash talking "Certified G" looks to get gold as he bids to dethrone Alex Hammerstone and end his 535-day reign as champion in Philadelphia on April 8th.
Emerging as a top ranked competitor, with controversial clashes with Jacob Fatu and a recent high-profile win over Mance Warner, Real1 was the finalist in last year's Battle RIOT, a match he continues to protest and claim he won.
Exhausting league officials politicking for a title fight, matchmakers have finally acquiesced.
Now that big bout is official as Hammerstone takes on a different type of challenger than any before. Known for his gift to gab, will Real1 get inside Hammerstone's head with his trash talking?
Could Real1 distract Hammerstone and create a critical opening to topple the Phoenix powerhouse and claim the World Heavyweight Championship?
See Real1 vs. Hammerstone for the first time ever live in Philadelphia on Saturday, April 8 at the 2300 Arena. Buy tickets at http://www.MLW2300.com.
Real1 vs. Hammerstone World Title Fight in Philly April 8 https://t.co/XiAXe5c0oq

— Major League Wrestling (@MLW) March 22, 2023