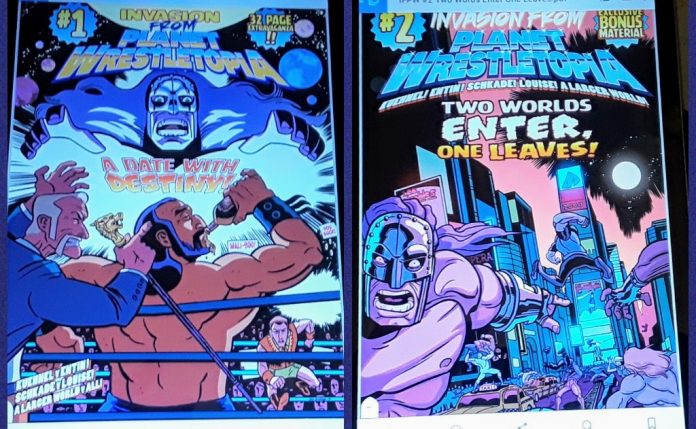 Just finished reading the first issue of the new comic book series "Invasion from Planet Wrestletopia" by Suspicious Behavior Productions. The comic features fantastic artwork by Dan "the Body" Schkade. I also enjoyed the writing by Ed "the Carnage Artist" Kuehnel & "Masculine" Matt Entin.
The artwork reminds me a bit of the style from the video game GTA, which is very cool and familiar. The story is enthralling. A wrestler declares himself the galactic wrestling champ, and an alien wrestling champion in outer space takes offense to it.
I really liked some of the inside jokes and lines too, such as one of the commentators pulling from Gorilla Monsoon with a "would you stop?!" The essence of the promoter is picture perfect, he only sees ratings and profits. Overall, "Invasion from Planet Wrestletopia" is a delight!
"Invasion from Planet Wrestletopia" is available on Amazon Kindle and paperback, iBooks, Comixology and ComixCentral!