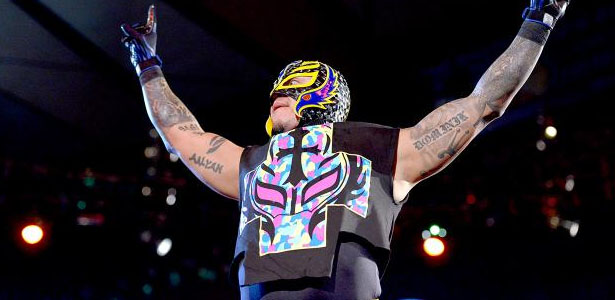 DUNDEE, Scotland – November 9th 2015
Massive Announcements From Team Behind 5 Star Wrestling
Serious Parody Ltd, the Dundee games development studio behind the 5 Star Wrestling video game series, today announced that former WWE World Heavyweight Champion Rey Mysterio, has signed on to be a character in their newly announced PlayStation 4 title – 5 Star Wrestling: ReGenesis.
Billed as the "The Pro Evolution Soccer of Professional Wrestling Games", ReGenesis is set to launch in early 2016 and will look to focus on fun yet strategic gameplay. "We here at Serious Parody have huge plans for 5 Star Wrestling and signing the absolute greatest high flyer of all time, Rey Mysterio, is not only an incredible step in the right direction for our company but on a personal level, as a life long wrestling fan, it's a dream come true to work with one of the very best wrestlers in history. Rey Mysterio could sign with the WWE at anytime but he has chosen to work with us instead; it's truly surreal and hopefully a sign of big things to come." said Serious Parody Founder & CEO: Dan Hinkles.
That's not all.
Serious Parody have launched 5 Star Wrestling as a major new wrestling promotion and today have announced the 5 Star Wrestling: ReGenesis Tour, kicking off January 13th in the Newcastle Metro Arena, before moving to the Sheffield Arena on the 14th of January and then hosting a 5 Star show at the Liverpool Echo Arena on Friday the 15th. "We are aiming to smash records with the 5 Star Wrestling: ReGenesis Tour. These are by far the biggest wrestling shows that a UK promoter has ever hosted and we've signed an army of the best wrestlers from around the world to host 3 incredible nights of 5 Star Wrestling entertainment."
If the first match announcement is anything to go by, it's no exaggeration either.
On January 14th, for the first time ever, former WWE World Heavyweight Champion Rey Mysterio, will take on the former IWGP and TNA World Heavyweight Champion: AJ Styles, in a truly historic dream match that has never been possible before now. "AJ Styles is arguably the greatest wrestler on the planet today. Top tier wrestling personalities including Stone Cold Steve Austin, Taz and Jim Ross, have all recently pointed out that he should be applying his trade in the WWE. To have him go one-on-one with Rey Mysterio… there honestly isn't a bigger match that a wrestling promoter other than Vince McMahon himself could make right now. It's never been possible before and who knows if it will ever happen again and I'm so excited to be able to give wrestling fans an opportunity to see this match." said Hinkles.
Tickets for these historic events, go on sale Thursday, November 12th, over on 5StarWrestling.co.uk and wrestling fans should pay close attention to the 5 Star Wrestling Facebook page, as several major announcements will be made over the coming weeks in relation to the shows and the video game series. "We have done everything we can to sign the ultimate roster for these events and there are more historic matches still to be announced."
Info
Facebook is our main place to communicate with the 5 Star community. We tend to post most of our news out there first and we try to read every comment, responding where needed.
f: Facebook.com/5StarWrestling
t: Twitter.com/5starwrestlin <————(no g in wrestling)
Press Contact
Contact Dan via Press@5StarWrestling.co.uk
Tickets
www.5starwrestling.co.uk
From Thursday the 12th of November at 10am
Show Info
All three shows will feature Rey Mysterio, AJ Styles and a host of world class wrestlers from all around the world.
Jan 13th: Newcastle Metro Arena (Main Event, yet to be announced)
Jan 14th: Sheffield Arena – Rey Mysterio vs AJ Styles (First Time Ever!)
Jan 15th: Liverpool Echo Arena (Main Event, yet to be announced)
Doors open at 6:30pm for all three events
Ticket Prices
Standard Ticket: £30
Floor Seat: £45
VIP Package: £150 Guaranteed seat in front 2 rows + Exclusive meet and greet with Rey Mysterio + Limited Edition Merchandise signed by every member of the 5 Star Roster.