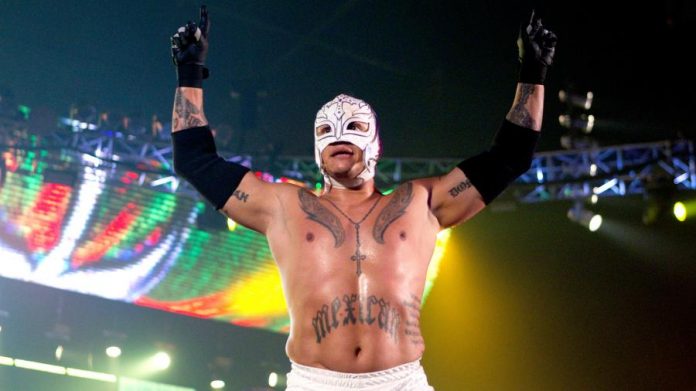 WWE announced the departure of Rey Mysterio from within the company on February 26, 2015.  During Mysterio's absence from WWE, he has made appearances in NJPW, AAA, Lucha Underground, and various independent promotions around the globe.  
Mysterio made appearances for WWE in January's Royal Rumble and April's much talked about Greatest Royal Rumble in the Kingdom of Saudi Arabia.  WWE confirmed Mysterio's return to the company with a new contract on September 19.
It has been 1,301 days between Mysterio's two contracts with WWE, and a lot has gone down in the company.  Many new talent have been brought up from NXT. Another brand split has occurred in the company. Other nostalgic acts have also been brought back, such as Shane McMahon and Kurt Angle.  With Rey Mysterio returning to the company, I began to think of the possibilities of matches for "King Mystery" that I would love to see happen.
A Phenomenal Program for the WWE Championship
The first match that came to mind would be Rey Mysterio going one-on-one with WWE Champion AJ Styles.  I know this match has taken place before, in the United Kingdom, shortly before Styles signed with WWE.  However, both men are in totally different places in their lives and careers.
Styles has had the WWE machine building him up to their audience in such a grand way, in my opinion he is in the same ranks as a Shawn Michaels.  Mysterio versus Styles could be a huge money maker for the company. It would be a fresh program for TV viewers.
Get These Hands on the 6-1-9
Another match that comes to mind for the master of the 6-1-9 would be against Braun Strowman.  I'm sure after reading that many will call me crazy. A big guy taking on a little guy, that is the story of Rey's career, especially in the WWE, right?  Look at Rey's history with big men in WWE. Big Show, Great Khali, and Mark Henry.
With all due respect to those men, they aren't known for their grace in the ring.  Not to say Strowman is as tight with his ability as a seasoned ballerina; Strowman is at a point in his career that he's able to go the distance and is willing to take chances a guy his size normally couldn't.
A Glorious Match for Rey Mysterio
Finally, I would absolutely love to see Rey Mysterio take on Bobby Roode.  Roode hasn't been showcased that well since being brought up to the main roster from NXT, which has been the case for a lot of former NXT talent.  However, if there is anybody that could be paired with Roode in a program that could bring him back to prominence it would be Rey Mysterio.
Mysterio and Roode have an interesting clash of styles, which make for an interesting match up.  In terms of character and personality, Roode has worked better as a heel than a babyface in the past, and this program would absolutely have to be Mysterio working babyface with Roode as the heel.
There you have it, three matches that I would personally love to see Rey Mysterio have during his return to the WWE.  If these programs and matches were paced accordingly, this could give WWE nearly two years of fresh content. I plead to the WWE, please let Rey Mysterio work with AJ Styles, Braun Strowman, and Bobby Roode.  This is a small and humble request from a WWE fan of thirty years.