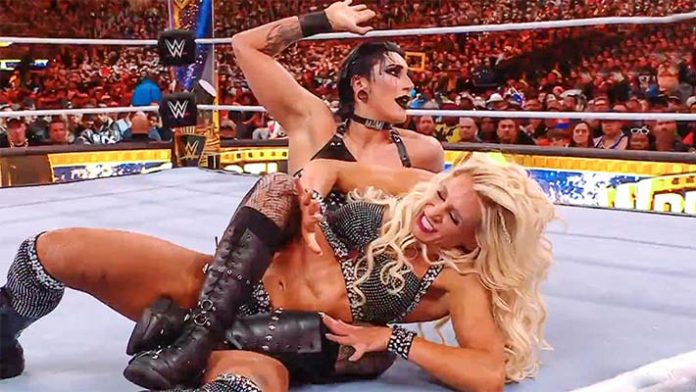 Your new WWE SmackDown Women's Champion is Rhea Ripley.
Ripley defeated Charlotte Flair to win the SmackDown Women's Title at Saturday night's WrestleMania 39 Night 1 Premium Live Event.
This is Ripley's first reign as the blue brand champion. Flair began her seventh reign on December 30, 2022, when she defeated Ronda Rousey. Flair held the title for 91 days in a row.
Click here for full WWE WrestleMania 39 results. Several highlights from Saturday night's title change at the SoFi Stadium in Los Angeles, CA are below:
Mami makes the walk for the biggest match of her life.@RheaRipley_WWE 😈#WrestleMania pic.twitter.com/p0n5MYNd3n

— WWE on BT Sport (@btsportwwe) April 2, 2023
The Queen is looking to defend her throne.@MsCharlotteWWE 👑#WrestleMania pic.twitter.com/HlaMV0XXWj

— WWE on BT Sport (@btsportwwe) April 2, 2023
BIG. FIGHT. FEEL.#WrestleMania pic.twitter.com/QtJYby0GcP

— WWE on BT Sport (@btsportwwe) April 2, 2023
Rhea has her game face on.#WrestleMania pic.twitter.com/8phFewWlKG

— WWE on BT Sport (@btsportwwe) April 2, 2023
#SmackDown Women's Champion @MsCharlotteWWE & @RheaRipley_WWE clash on the Grandest Stage of Them All!#WrestleMania pic.twitter.com/GfMDTsVm30

— WWE (@WWE) April 2, 2023
What a counter by @RheaRipley_WWE in this #SmackDown #WomensTitle Match! 😲😲😲😲😲#WrestleMania pic.twitter.com/RXkrjnvKUi

— WWE (@WWE) April 2, 2023
#MamiMania pic.twitter.com/gyR6hQGUKN

— WWE (@WWE) April 2, 2023
Woah! 🥵#WrestleMania pic.twitter.com/N4d8RFJiRu

— WWE on BT Sport (@btsportwwe) April 2, 2023
What a visual.#WrestleMania pic.twitter.com/I0LJlqSnuY

— WWE on BT Sport (@btsportwwe) April 2, 2023
Torch. Passed.@MsCharlotteWWE 👏#WrestleMania pic.twitter.com/dMmeEss5IR

— WWE on BT Sport (@btsportwwe) April 2, 2023
You did it @RheaRipley_WWE 😈 🏆#WrestleMania pic.twitter.com/f2VTd76Uix

— WWE on BT Sport (@btsportwwe) April 2, 2023
This means everything to her.#WrestleMania pic.twitter.com/IiQT1q0oON

— WWE on BT Sport (@btsportwwe) April 2, 2023