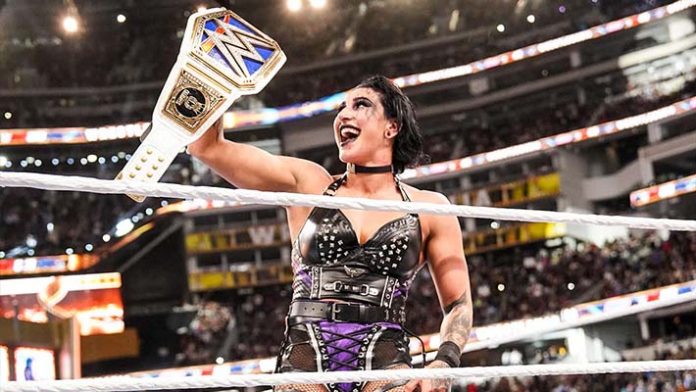 WWE SmackDown Women's Champion Rhea Ripley appeared on the Battleground Podcast to discuss a variety of topics, including her original plans for her entrance at WrestleMania 39, where she defeated Charlotte Flair for the title. As she approached the ring, she was supposed to have Motionless in White play her theme song.
Here are the highlights:
Original WrestleMania 39 entrance:
"So I'm not sure [when asked about a live performance of her theme song]. I might have to wait a bit because I have Chris Motionless singing my song right now. So I would absolutely love the Motionless in White to perform me out to the ring. We were trying to do it for WrestleMania 39, but unfortunately, they had a tour in Germany I believe, which was already rescheduled from the COVID era. So they had to do that. They couldn't pull out again. But maybe someone slam or some sort of? Maybe they'll be there to pull me out to the ring, because I would love to be on the stage with my musically talented twin, Chris Motionless and the rest of the Motionless in one," Ripley said.
Defending SmackDown Women's Title against Zelina Vega at Backlash:
"Being in that match with Zelina was so incredible, like the feeling that you got from the crowd when she did her entrance was just like no other. It felt like WrestleMania. It really did. So I'm so happy that she got that opportunity to get the crowd behind her and feel that special feeling that we get to feel at Mania because she hasn't really had her WrestleMania moment. So it was really cool to see the excitement and genuine emotion on her face in her entrance and then to know that she's going for my SmackDown Women's Championship, but like I'm glad that she felt special in the moment and she got that moment for herself in her career because she has been going at it for a long time. So I'm glad that she got that," Ripley stated.
Watching the Street Fight between Bad Bunny and Damian Priest at Backlash:
"Then to go into Damian Priest with Bad Bunny, I was watching it at the back and man, I was happy for him too, because he also didn't get a WrestleMania moment this year at WrestleMania 39. Like Dom faced Rey, Edge and Finn went at it and then I faced Charlotte. Balor didn't get a match but he was still there supporting us. So it was really cool to watch him go out there and get that reaction from the crowd and have such an amazing match and we were all there supporting him as well. He got his WrestleMania moment there in Puerto Rico at Backlash. So it was very special actually. I was watching out the back and I got really emotional watching him just because I'm really proud of him and how far he's come and watching him get cheered or booed didn't really matter. But some sort of reaction out there was really amazing to watch," Ripley stated.
You can check out the complete interview below:

(h/t to WrestlingNews.co for the transcription)