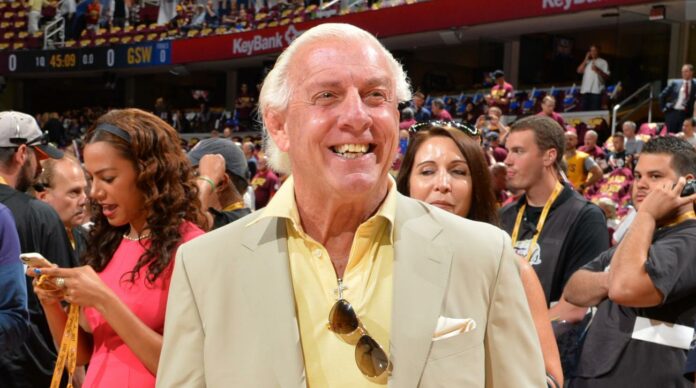 Ric Flair sent out a message today on Twitter thanking fans for their support and assuring them he'll be seeing them again soon.
Flair, wearing a T-shirt that reads, "i ain't dead yet mother f***ers," has made an amazing recovery after coming close to dying a few weeks ago.
I'm Backkkk! Thanks To Everyone For The Support These Past Couple Weeks. I Ain't Dead Yet Mother F**ckers! WOOOOO! https://t.co/1ZgKVjFH8x pic.twitter.com/AHSSyE8JT1

— Ric Flair® (@RicFlairNatrBoy) September 2, 2017
"Hey, to all my fans out there, let it be known worldwide that Nature Boy is back up and running looking as only I can look," Flair said.
"I want to tell all my fans out there thank you for all the love and support and I will see you in the very, very, very, very, very, very near future."
Earlier this week, Charlotte Flair gave an update on her father and thanked fans for their support of her family.
"It's probably the hardest two weeks I've had, but man, my dad's a fighter. I just want to thank everyone. [laughs] He's got nine lives. I just really want to thank everyone for the messages, the prayers… Twitter, Instagram, Facebook, text messages… it really means a lot to me, I know it means a lot to my family and most importantly I know my dad would really appreciate," Flair said.
"He has a long road. I'm not saying he's gonna be back next week strutting, but definitely the prayers and the positive vibes help. And I wouldn't be here if I didn't think it was okay, so everything's good. This is where I belong and I'm glad to be back."