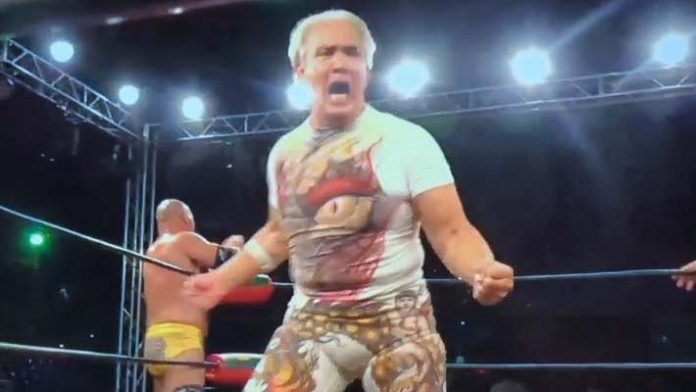 WWE Hall of Famer Ricky "The Dragon" Steamboat wrestled in his first match since 2010 on November 27 at Big Time Wrestling's Return of the Dragon event.
He teamed up with FTR to take on Brock Anderson, Jay Lethal, and a mystery partner (Dax Harwood and Cash Wheeler). Prior to the match, Arn Anderson confirmed Nick Aldis, a former NWA Worlds Heavyweight Champion, as the third opponent.
Everyone tapped out after Steamboat and FTR locked in stereo Figure-Fours.
Below are several shots from the match:
#RickySteamboat wins his return match! #returnofthedragon #bigtimewrestling pic.twitter.com/6HEidCbtes

— Timothy Floyd (@InfamousTim) November 28, 2022
2022 is a damn good year for FTR @CashWheelerFTR @DaxFTR #ReturnOfTheDragon pic.twitter.com/h4Iuicd1Cs

— maddie ⭐️Top girl.. out ✌🏻 (@revivalcountry) November 28, 2022
Wildest part of the match for me.

Down Goes @TheArnShow!#ReturnOfTheDragon pic.twitter.com/d9ssyIs5Mz

— JJ Williams (@JJWilliamsWON) November 28, 2022
Honestly this Ricky Steamboat & FTR show looks really fun… #ReturnOfTheDragon pic.twitter.com/gXX7DBDqrY

— Will Mahoney (@HeelWillMahoney) November 28, 2022
The legend is here for one last ride🐉🐉🔥🔥#ReturnoftheDragon is LIVE on #FITE.

👉🏼 https://t.co/tY16ps5vIN pic.twitter.com/Y5r7boq39D

— FITE (@FiteTV) November 27, 2022
The Dragon and The Axe.@DaxFTR #ReturnOfTheDragon pic.twitter.com/LcsrLB9Owj

— JJ Williams (@JJWilliamsWON) November 27, 2022
.@RealNickAldis is the mystery partner for Jay Lethal and Brock Anderson in the #ReturnOfTheDragon MAIN EVENT.

LIVE on #FITE.https://t.co/tY16ps5vIN pic.twitter.com/zN6ynUeL0A

— FITE (@FiteTV) November 27, 2022