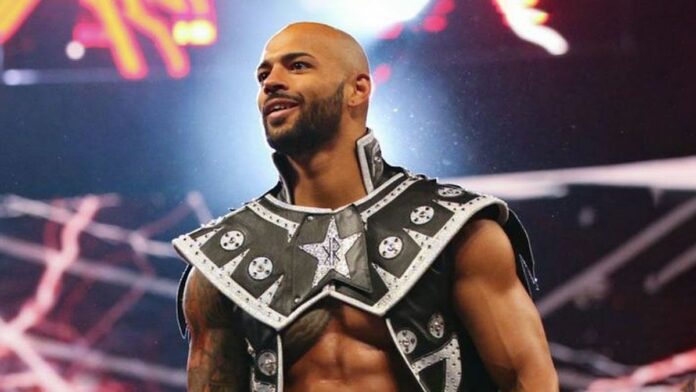 Everyone remembers "Stone Cold" Steve Austin pushing his hands in the mat as blood poured out of his face while he was trapped in the Sharpshooter by Bret "The Hitman" Hart at WrestleMania 13.
It was the single greatest "double-turn" in WWE history.
Ricochet remembers it well.
During his recent Miracle On 34th Street Fight match on WWE Friday Night SmackDown, the SmackDown World Cup Tournament winner was busted open so bad that he thought he could recreate a similar moment.
Featured below are some of the highlights from a recent Metro U.K. interview where the WWE Superstars touches on this topic with his thoughts.
On how he thought he could recreate the Steve Austin WrestleMania 13 bleeding moment since he was busted open: "Honestly, because it was bleeding a lot, obviously the doctors are gonna come out and check on you. I was trying to actually [copy] Stone Cold, WrestleMania 13, [nodding vigorously] put it over my head, you know what I mean? They were like, 'No, we can't do that.' Obviously, because they're the doctors, they're like, 'We gotta make sure you're ok, what are you doing?' I'm like, 'Stop wiping the blood,' and they're like, 'No, we can't, what are you doing?!' I'm going on 20 years now, which is pretty crazy. I think after doing it so long, I think you can judge the severity of a situation. Honestly, I think it looked worse than it was because of the blood and everything."
On how the injury healed up very quickly: "Literally, it healed up within days, it was so easy! It was just a freak accident, and it didn't even hurt. I mean, it hurt, but I didn't get knocked out and I didn't see stars."
Check out the complete Ricochet interview by visiting Metro.co.uk.