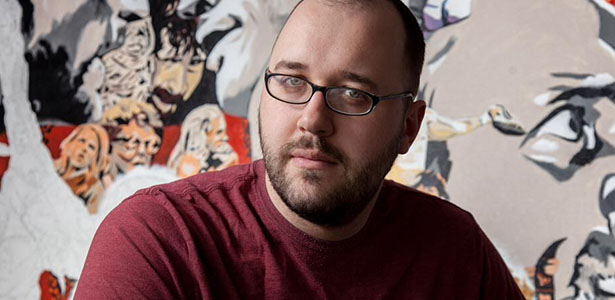 The WWE are firmly on the Road To WrestleMania and like every year, all industry eyes are turned towards the product. With uncertainty surrounding the main event again this year there is perhaps more attention being paid than usual. The names Roman Reigns, Daniel Bryan and Brock Lesnar are being bounced around constantly, not to mention the likes of Sting and Triple H. Like all the top names in the WWE, past and present, they look to make themselves immortal by making a mark on the grandest stage in their profession.
One man in charge of making these men immortal is Rob Schamberger, WWE's in-house artist, whose work adorns the walls of wrestling fans and superstars alike. Rob is currently working on a WrestleMania Retrospect series of canvases for the WWE looking back at each of the 30 WrestleManias passed. You can follow his progress through his weekly YouTube video series 'Canvas 2 Canvas' and for those lucky fans going to this WrestleMania Axxess this year, you will get the opportunity to see him paint live.
Recently I had the chance to speak to Rob about his work, WrestleMania, his experience with The Ultimate Warrior, NXT and more.
You painted live before WrestleMania XXX, as well as SummerSlam and before a Monday Night Raw, what was that experience like?
It was, especially with WrestleMania, really life changing. There's kind of my life before I did that and my life after. It was really incredible, very taxing. I was there for every day of WrestleMania Axxess. But I met so many incredible people from all around the world and getting to be able to share what I do with so many people was really great. Also a lot of people within WWE that I had only corresponded with over email I got to meet in person, which was great. One of the cooler things that happened was that while I was painting, all of a sudden it looked like the lights were flashing and I'm like 'That's not a good sign, power's about to go out' and I turn around and it's a wall of photographers all taking my picture at the same time. [laughs] That was an experience I hadn't had before. My wife and I had been staying at, not at the WWE hotel, another one and we didn't have time to go to a restaurant or anything, so we just ordered a pizza and I go down to the lobby of the hotel to get the pizza and there were some fans down there and they started bowing to me. [laughs] It kind of went into a Wayne's World moment, 'You're worthy. You're worthy.' [laughs] Then when I came back home to Kansas City after that, still I'd get stopped on the street 'You're Rob Schamberger!' I'm like, 'Do you have a subpoena with you or something?' [laughs] and they're just people familiar with my work and it's just built on it from there. Really tremendous.
You got to meet the Ultimate Warrior and watch WrestleMania from his skybox, what was that experience like?
It was really surreal. A couple of months before the show his agent reached out to me to see if I'd be interested in painting the jacket he would wear and of course I was like 'Yeah, of course!' Then time goes by and it was like 'Plans change or whatever.' Weeks before WrestleMania, meanwhile I'm doing all this preparation for painting there as well, and I get another email from the agent asking 'Hey, sorry time got away. Would you still have interest in doing this? Would you be able to do this?' In my mind I'm like yes and no. Yes, I'd love to do this; no, I do not have time. It's not an opportunity to pass up on. So I respond 'Yes, absolutely, no problem.' Then there's going to be two jackets. Meanwhile I'm 'Oh no.' 'And Warrior will call you later today or tomorrow.' Meanwhile in the back of my head I'm thinking this has got to be some kind of elaborate practical joke that someone is pulling on me. Someone has hacked Ultimate Warrior's email address and they're pulling a big rib on me [laughs] But a few hours later, Warrior calls me and it was a really cool conversation. He was an artist himself, so we were mostly talking about technique and he spoke about how he watches my videos every week and daydreams about being in the studio with me and learning how to paint with me and I'm just picturing him as WrestleMania VI Ultimate Warrior, shaking everything. [laughs] We talked quite a bit and he threw out all these ideas he wanted for jackets and the plan was, because he had just signed a long-term deal with WWE, for every appearance he would have a different jacket and he wanted me to be the guy doing that. And so, originally I did two – one for WrestleMania itself and the other for Raw. The plan originally was for him to come out wearing the jacket at Mania, and so I get down there and I have to keep these jackets secret. One fan saw me bring them into the hotel and I'm like 'Oh god. I'm sure he's calling Dave Meltzer right now to tell him about it' but I made it through. Unfortunately I didn't actually get to meet him, I spoke with him on the phone and dealt with his agent quite a bit, and they'd rented a house for him in New Orleans – they called it The Warrior Compound, which was great – but I was so busy, he was so busy, our schedules just didn't mesh up. So a WWE staffer took his jackets over to him and I got a message right away that he loved them.
Axxess was done, I'm back at the hotel doing some reports on sales for WWE and I get a note from Warrior's agent asking if my wife and I would join them in Warrior's private box at WrestleMania. That whole experience, I got to see how the 1% live. [laughs] It was a completely different experience, first we got to stay in the WWE hotel [it was] five star, everything was perfection. I went in the rest rooms and the paper towels were individually monogrammed with the hotel logo on them. My wife went in the ladies room and instead of stalls there were individual bathrooms. I'm standing at the urinal and next to me is Carlos Colon [Sr.] Go back to the bar to wait for the buses to turn up and it's a who's who. There's Jake the Snake [Roberts] and DDP, there's Ric Flair. Throw a name out and they were there. Jim Ross and Stone Cold sitting there. I coached my wife quite a bit 'Be cool, be cool' and meanwhile in my mind I'm having a lot of trouble being cool here. [laughs] Then we get on the bus, they had chartered these tour buses to get friends and family over to the Superdome, and we get in and we pull up to a corner. We're there for a long time, traffic is crazy, 75,000 people trying to get to the Superdome and then all of sudden I see all these police lights go by and I look out the window, it's all these motorcycle cops and I turn to my wife 'We have a police motorcade!' and she's like 'Shut up!' They shut down traffic for us to get there! [laughs] This isn't even how the other half live, this is the 1%. We have our own entrance into the Superdome. There's a private club where the friends and family are hanging out to watch the show and again looking around – there's Bruno Sammartino, there's that person. I'd become friends with Rusev and Lana a while before, there they were. He debuted on Raw the next night, so I got to introduce them to my wife which was cool. We went up to the box and then again, unfortunately Warrior wasn't able to make it up, but we were hanging out with all his friends there – great people, which speaks a lot about him. You can judge a lot about someone by the people they surround themselves with, very quality people. We had a blast at the show. That was when I finally sat back and let myself experience everything. Before, I was just sort of disassociated, just working so hard. Then the agent told me they changed the plans, that it wouldn't be right to come out in his coat – essentially his gimmick – while everyone else is in a suit, which I was fine with.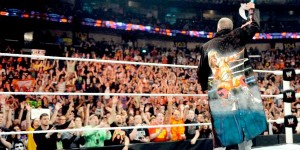 So we were driving back on Monday, we didn't stay in town for Raw, and it was a long drive from New Orleans to Kansas City, it's about a 12-13 hour drive and the van I was renting to carry everything didn't cruise control. Around 9 o'clock my Twitter blows up and my text messages start blowing up 'He's wearing your coat! He's wearing your jacket!' Luckily my wife was driving so I could pay attention and there he is, wearing it and people are sending me pictures they took of their TV and that was just amazing. So we got home that night and fast-forwarded to see the segment with Warrior, we had planned to watch the whole show Tuesday night, we're about to get to his segment and I get a text from Hornswoggle, who I'm friends with, and he said Warrior died. And I'm 'Is this carny speak that I don't know yet or something?' So I jumped online and saw the news and WWE's confirmation of it and we just sat there in silence for about an hour. It's crazy to think that it has been almost a year now and his agent – the reason everything slowed down for a bit with getting the jackets done – his dad had recently passed away. He was close with Warrior and obviously his father as well, my heart really reached out to him and I did a painting of Warrior wearing the jacket and used some of the same paint as I used on the jacket for him. The highest of highs and lowest of lows, and all the time I'm just thinking about his family and how tough this year has been for them.
It's been good of WWE to reach out to them and do the documentary with them.
Yeah, I heard that they sent Stamford down there to take care of everything down there for them with arranging everything. [It] made me proud to be associated with the company.
You talked about making jackets for the Ultimate Warrior, is there any current WWE superstar you'd like to make gear for?
I don't know about gear, but it would be cool to design something for maybe Finn Balor – the war paint that he does. They apply with an airbrush, which I'm not good at, so I guess I'd have to design it for someone else to apply it. Or do the face paint for The Usos, that's on my bucket list.
There has been talk about NXT being involved in WrestleMania, is that something you would want to see?
Absolutely. I'm a fan of NXT. Something else that's cool to think about is that at least one person there, there's a good likelihood that five years from now that they'll be main eventing WrestleMania. I've become friendly with a lot of the people down there, when I've been backstage at Raw and SmackDown and they're on tour with them. Everybody's just been so cool. There's a real cool vibe with what they're doing there. As far as the actual WrestleMania show, I guess the important thing is that it's the right introduction for them. It's not just some Battle Royal; letting them show what they can do. But also, they get to perform at all the Axxess sessions which is great for the fans. A lot of them aren't too far removed from their time in the indies so they really know how to put on a show for a small crowd, at Axxess it's something special.
Who leaves WrestleMania as WWE Champion: Brock Lesnar, Roman Reigns, Daniel Bryan or Seth Rollins?
Oh boy that's tough! That's one my wife and I talk about quite a bit. Luckily I married a woman who shares my passion for wrestling, so it makes life a lot easier, she puts up with all the different wrestling that I watch all the time. Even though I'm involved with the company I try to stay far away from spoiling myself on anything creative. If I'm talking to guys behind it about the show that night I'm like, 'Don't tell me!' I just want to enjoy it. So I've really no insider information for everyone to know. But all those people involved are worthy to be champion and it will be fun to see how it plays out. Cop out answer but that's the one I have. [laughs] It's a fun time to be a fan I think.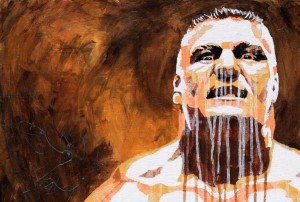 Which has been your favourite WrestleMania to relive during your 'Canvas 2 Canvas' WrestleMania Retrospect series?
That's like asking me to pick my favourite child! [laughs] Each one represents a different challenge to me because I push myself to not have them look the same. It's something easy to do when you're doing a series and also when you have a bunch of people together, to kind of fall into a 'Here's a group shot. Here's another.' So I push myself to do different things with each one. So it's whichever one I'm working on at the time. [laughs] Although the piece that I did last year at WrestleMania Axxess was 30 years of WrestleMania, so the first 29 WrestleManias. That was a lot of fun. I worked with Ben Brown, WWE's archivist, putting that list together and we emailed a lot back and forth. I sent my initial list, he sent more; it wasn't a case of 'You can't have this.' Then I took stuff out just thinking about how it would all look together. Initially the plan was for me to have it all done by WrestleMania, starting at the first day of Axxess, but that quickly turned out to not be the case. Especially since I knew it was going to be going up in World Headquarters in Stamford, so it ended up taking about a month. So I think that one, out of WrestleMania pieces I've done, is the one I'm proudest of.
What was your favourite WrestleMania overall?
When we were putting that list together, for the longest time my favourite was for WrestleMania XX. Not just because of the main event, I just thought the whole card did a great job. They put all these storylines together over the course of the prior year and it all paid off. But then when we looked back, WrestleMania XIX was huge. There was a lot – a lot of great moments, a lot of great matches. But currently the one that is favourite to me obviously has got to be [WrestleMania] XXX, just because of my ego. [laughs] My involvement in everything there, that's going to be a hard one to top. Although ask me in April after 31 and we'll see! [laughs]
What about favourite WrestleMania moment or match?
That's tough again! As far as a moment, I think the opening to WrestleMania XXX with those three guys standing there – Stone Cold, The Rock and Hulk Hogan all in one ring together, that was really special. My wife had never seen any of those three in person or experienced the crowd reaction that each of them brings, so it was cool to see that through her eyes. There's a massive reaction for Hulk Hogan but I really thought the roof was going to blow off that place when Stone Cold came out; it was just such a huge surprise. As far as matches go, Kurt Angle versus Brock Lesnar (XIX) was pretty dang huge. Also Eddie Guerrero against Kurt Angle (XX) was pretty special. And of course, the TLC matches. Especially the first one, that was pretty dang good. I don't have a specific one, sorry!
In your videos you've mentioned Roman Reigns tattoos as hard to recreate; has there been anything in the WrestleMania Retrospect series that has proven specifically difficult to recreate?
A few guys likenesses are always tough, like Stone Cold is always tough to draw. You don't think that because he's such an iconic figure but you're always thinking of him in motion – climbing up the turnbuckle or flipping the bird, dropping a Stunner – those are all things that are in motion. But doing one static image of him? One, he's bald. Two, he's a natural fair complected blonde person, so depending on how the light hits his eyebrows and facial hair can totally disappear. [laughs] What little is left there I have to get exactly right or it's strange, he'll come out looking like Kane. [laughs] Poor Glen! [laughs] But yeah, you have to get it exactly right or it doesn't quite look like him. So I try to find a shot or an angle where I can at least get the goatee in there, it's a little bit of artistic short hand. But otherwise, it's trying to do different layouts for each one. That's been the biggest struggle, but that's the kind of thing I enjoy doing.
Like the WrestleMania 21 one with Hogan in front of the flag, that's quite creative.
Thank you, that was fun, some people got upset but that's part of it. 'Hogan wasn't the biggest part of that!' and everyone is like 'You don't have my favourite wrestler!' or 'Why don't you have this wrestler in?' Well sorry, this is who I had, keep it in mind for when you do yours. [laughs]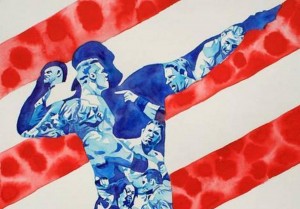 You have some experience making movie posters; have WWE ever approached you about making a poster for a Pay-Per-View event?
We talk about it here and there but a lot of it is, they point those out for the different carriers quite a bit in advance. So the card's not settled yet or anything and since I do everything by hand it's not like all of a sudden 'This person's injured, they're not going to be in there. Can you change it?' 'Well no, I'd have to do a whole new painting.' But we have thrown the idea out there, but it's very early, nothing to write home about or anything, but maybe doing a DVD cover or something. It's something I'd be interested in. Or something like the True Giants DVD that came out last year – on WWE Shop they have a package that you can get that comes with a little postcard size prints of each of the giants. So something like that I'd love to do, it's just finding the right fit for it.
Is there anything else you would like to add?
Why I'm so awesome? I don't know? [laughs] No, just mentioning that we've got prints up on WWE Shop and there's a lot more coming real soon. And also WrestleMania Axxess coming up, I'm painting there again. We'll have prints and painting and stuff available there as well.
–You can find Rob's work auctioned on the WWE Shop site, as well as auctioned on his own website. His latest 'Canvas 2 Canvas' video is a piece focused on WWE NXT's TakeOver Rival event and can be viewed here.