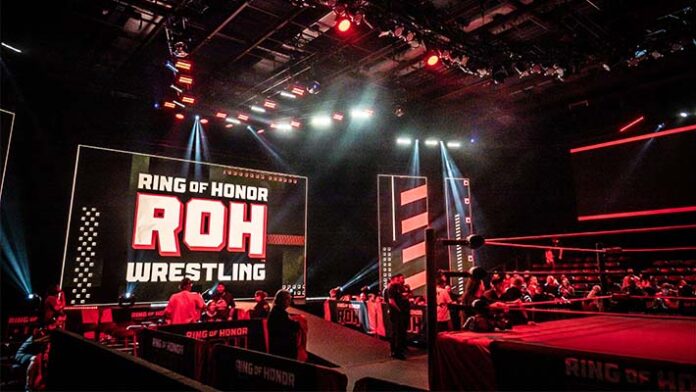 ROH TV Results – March 16, 2023
Proving Ground Match
ROH World Champion Claudio Castagnoli vs. Willie Mack
Mack must win or survive the 10 Min Time Limit.
After an early feeling out process, Willie Mack sent Claudio Castagnoli to the floor with an armdrag. Back in the ring, Mack hit a headscissors for a near fall. Mack loaded up Castagnoli for a suplex but Castagnoli powered him up for a suplex of his own. Castagnoli sent Mack off the ropes but Mack came back with a running kick for a 2 count.
Castagnoli cut off a uranage attempt, sending Mack into the corner and drilling him with forearms. A lariat gave Castagnoli a near fall and a butterfly suplex scored another near fall on Mack. Mack caught Castagnoli with a pop up Samoan Drop. After a double down that almost resulted in a double knockout, Mack nipped up and hit a standing moonsault for a near fall.
A forearm exchange ended in a spinebuster from Mack for a near fall. Mack went to the top for a frog splash but Castagnoli moved and knocked Mack out with a running uppercut to score the victory.
Winner: ROH World Champion Claudio Castagnoli (7:13) (Since Mack lost he doesn't get a ROH World Title Match)
Dante Martin vs. Mike Bennett
Mike Bennett refused the Code Of Honor to start this match off before Dante Martin & Bennett quickly got into a chop exchange that Martin won before drilling Bennett with a dropkick and a plancha to the floor. Maria Kanellis Bennett got in Martin's way, which allowed Bennett to hit a rebound forearm. Bennett drops Martin with a piledriver on the ramp before booking it to the ring for the count out. Martin made it back in at 17 with Bennett going for a quick cover that only got a one count.
Bennett drops Martin with a hammerlock DDT. After jawing at Darius Martin on the floor, Dante did his evasion springboard before hitting a big enzuigiri. Martin got Bennett into package piledriver position before pulling him up into a powerbomb for a near fall. They traded strikes before Bennett cut Martin in half with a spear. Martin kicked out of the cover, but Bennett immediately transitioned into the London Dungeon submission.
Martin got to the ropes to break the hold. Bennett went to the top rope but Martin cut him off with punches and a gamengiri. Martin went to follow him, but Bennett got him on his shoulders. Martin got up just enough to hit a hurricanrana before hitting a frog splash for a near fall. Bennett tried to catch Martin with a kimura, but Martin turned it into a pinning predicament that forced Bennett to kick out. Martin hit a full nelson slam to score the win.
Winner: Dante Martin
After the match Matt Taven attacks Dante but Darius Martin cut him off quickly and sent them packing.
Tag Team Match
The Trustbusters (Ari Daivari & Slim J) vs. Blake Christian & Metalik
Metalik got the 1st advantage with a backbreaker and a slingblade bulldog. Metalik hit the ropewalk dropkick for a near fall. Ari Daivari got the advantage with a back elbow after Metalik involved himself with Slim J before a double suplex on Metalik got a near fall for the Trustbusters.
Metalik escaped a back suplex to get a tag out to Blake Christian & he runs wild on The Trustbusters before Slim J cut him off and hit a body slam on the floor. Back in the ring, Slim J hits a springboard reverse DDT for a near fall on Christian.
Christian hits a handspring kick to Daivari before getting the hot tag into Metalik. Slim J cut Metalik off with a rana and a big move in the corner for a near fall. Slim J missed a moonsault, allowing Metalik to hit a moonsault of his own as Christian took out Daivari on the floor with a Fosbury Flop Metalik hits Metalik Driver for the win.
Winners: Blake Christian & Metalik 
We got a video package hyping up Samoa Joe vs. Mark Briscoe for the Television Title as the match is made official for Supercard Of Honor.
Mark Briscoe challenges Tony Nese for next week to clear up his issues with Mark Sterling and his Varsity Athletes before Supercard Of Honor.
We get a recap of Mark Briscoe's appearance on Rampage announcing the Reach For The Sky Ladder Match for the ROH World Tag Team Titles at Supercard Of Honor.
Eddie Kingston vs. Jeeves Kay
Eddie Kingston quickly took the match to the outside in Claudio Castagnoli's direction, throwing Jeeves Kay into the barricade in front of Castagnoli. Castagnoli stood up with coffee all over his shirt, clearly upset before leaving ringside.
Kay hits a suicide dive on Kingston while he was distracted. Kay followed it up with a frog splash for a near fall. Kingston took control right back as he locks in Stretch Plum & Kay has no choice but to tap out.
Winner By Submission: Eddie Kingston
Lexy Nair interviewed the Trustbusters. Smart Mark Sterling tried to talk away the losses, but Daivari angrily challenges Metalik & Blake Christian to a 6 Man Tag Team Match if they could find a partner.
Proving Ground Match
Women's Champion Athena vs. Hyan
Hyan must win or survive the 10 Min Time Limit.
Athena drilled Hyan with a forearm to start before clubbering on her in the corner. Hyan went for a set of flash pins before landing kicks that only scored a 1 count. Athena caught Hyan off the ropes with a spinning chokeslam before menacing the referee.
Hyan fired up landing a front slam and a leg drop on Athena that scored another one count. Athena cut Hyan off the top rope with a forearm. Athena drops Hyan off the apron with a powerbomb to the floor. She sent Hyan into the stairs before throwing her into the ring for a near fall. Athena immediately locks in the crossface for the submission win.
Winner: Women's Champion Athena (4:44) (Since Hyan lost she doesn't get a Women's Title Match)
After the match Athena threw Hyan face first into the Women's Title before celebrating with the Women's Title.
Backstage Lexy Nair is with Metalik & Blake Christian. Christian introduced their partner for next week AR Fox before letting everyone know that they would keep an eye on the 6 Man Tag Team Title match tonight.
Silas Young vs. Marcus Kross
Marcus Kross counters a Silas Young suplex with an inside cradle for a near fall & that led to a pinning predicament, which ended with Young taking Kross down with a lariat. Young drops Kross with a heavy Irish whip into the corner. Kross countered another whip before hitting a springboard crossbody. Young cut off Kross and hit the Pee Gee Waja Plunge for the win.
Winner: Silas Young
After the match Young took the mic and hyped himself up after calling himself the best Television Champion in history Shane Taylor steps up. He took issue with Young's claim and made a challenge for next week.
Lexy Nair interviewed Women's Champion Athena. Athena took the mic and asked Lexy the whereabouts of Yuka Sakazaki. Athena said that since Sakazaki was wrestling in Japan despite being injured at Athena's hands that meant that Sakazaki was afraid of her. Athena challenged Sakazaki to a Women's Title match at Supercard Of Honor.
6 Man Tag Team Titles Match
The Embassy (Brian Cage,Toa Liona & Kaun) (c) vs. The Boys (Brandon Tate & Brent Tate) & Dalton Castle 
Kaun & Dalton Castle started this match off & Kaun quickly catching him with a suplex then The Boys tags in to hit trios offense but Kaun quickly took control of Brent Tate. Toa Liona tags in and mauled Brent before Brandon Tate got a quick tag in. The Boys & Castle works on Liona with their work only scoring a one count. Castle got caught in the wrong corner, but evaded to make a tag to Brandon.
Brian Cage tags in and caught Brandon on a springboard with a slam as Liona sent Castle into the ring steps. The Embassy isolated Brandon with Kaun dropping him with a backdrop on the top rope. Liona crushed Brandon with a senton on the apron before Cage took him up and over with a superplex after hitting a trios pose Liona dumps Brandon with a spinebuster for a near fall.
Brandon avoided a Liona charge to get a tag out to Castle who sends Cage & Kaun flying with suplexes. Castle got Kaun in position for Bang A Rang but Prince Nana cuts it off. Cage took out Castle with an F5 before The Boys hit tandem offense to take Cage out. Liona and Kaun double teamed The Boys before slamming Brandon onto Brent to score the win.
Winners & Still 6 Man Tag Team Champions: The Embassy (STILL CHAMPIONS!!!!)
After the match The Embassy put the boots to Castle & The Boys before AR Fox,Metalik & Blake Christian makes the save.
Trish Adora vs. Madison Rayne
Trish Adora took Madison Rayne over with a northern lights suplex out of an arm lock for a near fall. Rayne tried a Crucifix Bomb but Adora held her up and rolls through into a pinfall for a two count. Rayne got a boot in for a near fall, but Adora caught Rayne off the ropes with a back elbow. Adora hit another Northern Lights with control of the arm for a near fall.
Rayne countered the Lariat Tubman with a DDT for a near fall. Rayne eventually hit a Cloud Cutter for a near fall before hitting the Crucifix Bomb for another near fall. Adora works her way out of the Cross Rayne by yanking on the bad arm before hitting the Lariat Tubman for the win.
Winner: Trish Adora
Backstage Lexy Nair is with Top Flight. Darius Martin let Matt Taven know ahead of their singles match next week that this Kingdom was theirs for the taking.
Tag Team Match
The Outrunners (Truth Magnum & Turbo Floyd) vs. Christopher Daniels & Matt Sydal
The Outrunners double team Christopher Daniels to start. Daniels works his way to the corner to get the tag to Matt Sydal, who quickly took Turbo Floyd down with a cross legged slam. Daniels & Sydal took them both out before Sydal hits Floyd with Lightning Spiral for the win.
Winners: Christopher Daniels & Matt Sydal
After the match, Aussie Open made their way to the stage. Kyle Fletcher stated their desire to be ROH World Tag Team Champions before making the challenge for a future tag team match after they left Daniels made sure to accept.
Pure Title Match
Wheeler Yuta (c) vs. Clark Connors
Clark Connors overpowers Wheeler Yuta, laying him out with shoulder blocks. Yuta baited Connors into throwing a shot before tying him up with a submission, forcing Connors to use his 1st rope break. Connors caught Yuta with a vertical suplex for a near fall. Connors went for the Trophy Kill but Yuta kicks Connors and caught him with a Cobra Twist. Connors walked to the ropes and used his 2nd rope break.
Yuta threw his wrist tape to the side, distracting the referee so he could land an illegal closed fist punch on Connors. Yuta worked on Connors' arm and shoulder, sending him into the turnbuckle in a hammerlock for a near fall. Yuta tried his rebound into the ring, but Connors cut him off with the Jeep Flip. Connors ran wild but Trophy Kill got countered again with Yuta hitting a drop toe hold into the corner.
Yuta hit a forearm off the top rope before following it up with a German suplex. Connors came out of the corner with the Trophy Kill, but couldn't make a cover because he hit it with the bad shoulder both men rose to their knees before engaging in a strike exchange, but Yuta cut off Connors with a dropkick.
Yuta locks Connors' legs under him and taunted him, leading Connors to hit a closed fist punch to escape. Yuta followed it with a closed fist his 2nd of the match but the 1st seen by the referee. Connors counters the Hammer & Anvil elbows with a roll up that he turned into the ankle lock. Yuta used his 1st rope break but Connors followed quickly with a set of suplexes.
Connors lost him on a 3rd suplex with the bad arm and Yuta transitioned it into a crossface with the arm. Connors went to use his 3rd rope break but Yuta caught his arm and transitioned into the Seatbelt to put Connors away.
Winner & Still Pure Champion: Wheeler Yuta (STILL CHAMPION!!!!)
After the match Yuta restated his claim that the Blackpool Combat Club was the best training academy in wrestling after beating a New Japan Dojo student, he now wants to graduate to the teacher. Yuta made the challenge official he wants Katsuyori Shibata. Claudio Castagnoli comes out to celebrate to close out this week's ROH TV.