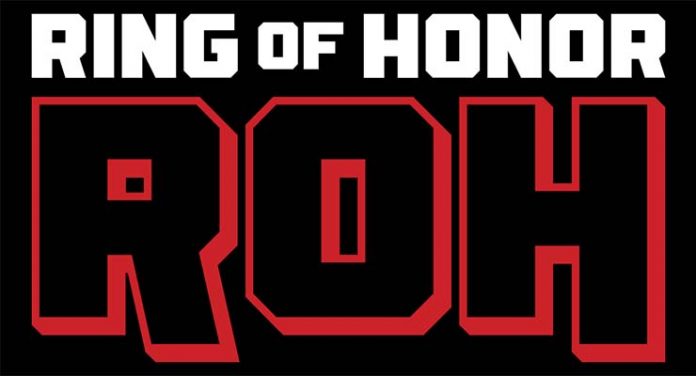 ROH TV Results – March 2, 2023
ROH World Tag Team Champion Mark Briscoe vs. Slim J
Mark Briscoe & Slim J adhered to the Code of Honor, with Slim J quickly kicking Briscoe's arm away after the handshake. Briscoe quickly chopped Slim J out of the ring in response. After a lockup Mark Sterling distracted the referee, allowing Slim J to low blow Briscoe to take control. Briscoe quickly regained control with a boot in the corner and a basement dropkick. Briscoe went for a chair assisted dive to the floor but Ari Daivari pulls Slim J out of the way.
Back in the ring Briscoe chops Slim J into the corner. Sterling cut off an Iconoclasm attempt, allowing Slim J to hit a hurricane kick out of the corner for a near fall. Briscoe tried fighting back but Slim J hit a springboard reverse DDT for another near fall. Slim J took the referee's attention allowing Daivari to lay the boots to Briscoe on the floor.
Briscoe fought out of a Slim J side headlock with some Redneck Kung Fu, and caught Slim J with a dropkick. Briscoe hits a neckbreaker for a near fall. A pair of running forearms led to the Redneck Boogie for another near fall. Briscoe hit the Spicolli Driver before a Froggy Bow attempt was avoided. Briscoe hit a big boot follow by Jay Driller gets the win.
Winner: ROH World Tag Team Champion Mark Briscoe
Backstage Lexy Nair interviews Tony Deppen, who has a Television Title match next week against Samoa Joe. Deppen read a pre written statement, noting that he will beat Joe for the Television Title with one of his two submission holds, either the STF or the Classic Chicken Wing.
Tag Team Match
The Kingdom (Matt Taven & Mike Bennett) vs. The Infantry (Carlie Bravo & Shawn Dean)
Mike Bennett & Carlie Bravo started the match then after some quick tags, Matt Taven took control of Bravo with a big dropkick. The Kingdom took control of Bravo with a tag team combination that ended in a Purple Thunder Bomb from Taven for a 2 count. Another tag team combination ended in a Taven elbow for a near fall.
The Infantry came back after a tag to Shawn Dean, laying into Bennett with 2 on 1 offense. They went for tandem superkicks but Taven yanked Dean out of the ring. Taven crotched Bravo on the top rope, leading to the Proton Pack for the win.
Winners: The Kingdom
A video aired with words from both Blake Christian & NJPW Television Champion Zack Sabre Jr., hyping the NJPW Television Title match
NJPW Television Title Match
Zack Sabre Jr (c) vs. Blake Christian
Blake Christian works his way out of Zack Sabre Jr's submission holds, scoring a near fall with a crucifix. ZSJ took Christian up & over by the arm before ripping at Christian's arm and wrist. Christian fought out with a Lucha armdrag, and scored another near fall with an inside cradle. Christian sent ZSJ to the floor and went for a Fosbury Flop but ZSJ caught Christian in a cravate before torqueing his neck on the apron.
Christian landed on his feet out of a snapmare and sent ZSJ into the ropes, hitting a bottom rope 619 and a springboard crossbody. ZSJ caught a kick, but Christian hit a shotgun dropkick that sent ZSJ into the corner. Christian had an offensive flurry that ended with a back suplex for another near fall. Sabre caught Christian in a facelock and took Christian over with a suplex.
ZSJ took some time to gloat with Christian in control but Christian got on the offensive with a spear on the apron and a successful Fosbury Flop. Christian hit a springboard knee, but Sabre countered the follow up with a Cobra Twist. ZSJ turns it into a Dragon Sleeper style hold, but Christian got to the ropes to break the hold.
ZSJ piefaces Christian but Christian came back with chops to the chest. Christian caught ZSJ with a Spanish Fly for a near fall. ZSJ hooks Christian's arm in a fireman's carry, but Christian landed a Death Valley Driver and a brainbuster for a near fall. ZSJ ducks a springboard, but Christian effortlessly moved into a handspring high kick. Christian went for a springboard 450 Splash but ZSJ caught him by the neck and transitioned into a reverse Triangle Choke for the submission win.
Winner & Still Television Champion: Zack Sabre Jr (12:28) (STILL CHAMPION!!!!)
Lexy Nair was backstage with Smart Mark Sterling,Ari Daivari & Konosuke Takeshita. Sterling tried to talk Takeshita out of a match with his charge Josh Woods, but Takeshita turned down the offer.
Christopher Daniels cut a promo, stating that despite being a Ring Of Honor original, he had a lot more to do in ROH.
Christopher Daniels vs. Rohit Raju
Rohit Raju took control early, getting a cover with a running elbow drop. Christopher Daniels countered a hip toss and laid out Raju with a leg lariat. A vertical suplex from Daniels scored a near fall. Jora Johl cuts Daniels off in the ring and laid him out with a clothesline on the floor as Raju took the referee.
Raju swept the leg of Daniels before scoring a near fall with a standing double stomp. Raju hit a pair of shoulder blocks, but Daniels caught him on the 3rd one and turned it into a Saito suplex.
Daniels hit an overhead throw before Raju cut off an Angel's Wings attempt with a jumping knee. Raju missed a top rope double stomp, and Daniels laid him out with a uranage then Best Moonsault Ever for the win.
Winner: Christopher Daniels
Lexy Nair was backstage with The Foundation & they hyped up their accomplishments and went to leave before being called back into frame by Aussie Open. Kyle Fletcher made the challenge for a tag team match next week, which was quickly accepted.
Konosuke Takeshita vs. Josh Woods
After an early exchange of holds Konosuke Takeshita & Josh Woods traded unsuccessful shoulder blocks. Takeshita eventually won the exchange before hitting the 10 punches in the corner. Woods shoved Takeshita onto the ropes before hitting a gutwrench suplex for a near fall. Woods worked on Takeshita's midsection, wrapping him in the ropes and stretching him against the ropes with a fisherman's hold.
Takeshita reversed a kitchen sink knee with a roll up for a nearfall before following up with the jumping clothesline. Takeshita dropped Woods with the Helluva Kick, but Woods shoved him down off of the top rope before he could follow up. Takeshita took control back with a DDT on the apron. A springboard maneuver from Takeshita missed, but a Blue Thunder Bomb didn't, scoring a near fall. Woods ducked another Helluva Kick, kneeing Takeshita in the face. Woods landed a Doctor Bomb and another heavy knee for a two count.
Woods went to the top rope, but Takeshita caught him with a boot. Woods went back to the midsection with strikes before taking Takeshita down with a corkscrew suplex for a nearfall. The men traded suplexes before taking each other down with elbows. Woods went for the Chaos Theory, but Takeshita cut it off with a rollup. Takeshita went for the Chaos Theory, with Woods doing the same counter, but Takeshita held onto the waist and hit a big Wheelbarrow Suplex for the win.
Winner: Konosuke Takeshita
Lexy Nair interviewed ROH World Champion Claudio Castagnoli before his ROH World Title defense against AR Fox. Castagnoli says that Fox may have cost him some money at Christmas time but no one would spoil his defense or his mood on this debut episode of ROH television.
Non Title Match
6 Man Tag Team Champions The Embassy (Kaun,Brian Cage & Toa Liona) vs. Joe Keys,LSG & Rex Lawless
Gates Of Agony took out Rex Lawless & Joe Keys on the floor before the bell rang. Brian Cage caught LSG on a springboard dive and drove him into the corner. Cage gorilla press slammed LSG into the corner. The Embassy destroyed LSG with offense, eventually putting him out of his misery with an assisted powerbomb for the win.
Winners: 6 Man Tag Team Champions The Embassy
Ari Daivari vs. Metalik
Metalik quickened the pace early, hitting Lucha arm drags before hitting his rope walk dropkick. Slim J took Metalik's attention when Ari Daivari ducked a basement dropkick, allowing Daivari to send Metalik into the post. Daivari grinded down Metalik with short range knees for a near fall. Daivari quickly cut off a Metalik comeback with a back elbow for another near fall.
Daivari took Metalik to the top rope, but Metalik knocked him down before hitting a ropewalk crossbody. Metalik ran wild, sending Daivari to the floor with a handspring elbow. Metalik followed Daivari to the outside hitting a step up senton. A springboard splash from Metalik got a near fall.
Metalik went for another springboard, but Daivari cut him off with a superkick to the back of the head. Daivari went for a splash of his own, but Metalik moved and scored a near fall with a rollup.
Sterling took the referee, which allowed Slim J to interfere. Slim J held up Metalik for a lariat but Metalik ducked. Metalik went for a roll up but Sterling still had the ref. Daivari caught Metalik with In Trust We Bust for the win.
Winner: Ari Daivari
Lexy Nair, earning her paycheck interviewed AR Fox. He talked about trying out for ROH a decade ago and not getting a callback. 10 years later, he's gonna try to win the ROH World Title on the debut episode of ROH.
Tag Team Match
The Renegade Twins (Robyn & Charlette) vs. Skye Blue & Madison Rayne
Robyn Renegade & Skye Blue starts this match off with Blue outworking Robyn then after a tag to Madison Rayne, Robyn pulls Rayne to her corner to make a tag out to Charlette. Rayne & Blue worked over Charlette before Blue hit a running kick for a near fall. Charlette hooked Blue into the ropes, allowing Robyn to hit a boot to take control. A double suplex attempt got turned into Blue rolling up both women for a near fall.
Blue fought to make a tag to Rayne, who ran wild on The Renegade Twins, hitting a cutter on Robyn for a near fall. Robyn fought out of a Cross Rayne attempt, tagging out to Charlette who hit a Michinoku Driver for a near fall. Both teams hit big strikes to lay each other out. Rayne tags out to Blue, who hit a top rope crossbody for a near fall. Rayne hit a spear to Robyn to send her to the floor. Blue hit Skyfall on Charlette for the win.
Winners: Skye Blue & Madison Rayne
Ian Riccaboni welcomed Pure Champion Wheeler Yuta to the ring. Yuta took offense to Riccaboni calling him the junior member of the Blackpool Combat Club stating that he worked hard to get where he's gotten to in Ring Of Honor. He made a challenge to anyone who wanted a Pure Title match, a challenge which was answered by Timothy Thatcher.
Willow Nightingale vs. Lady Frost
Willow Nightingale drops Lady Frost with a set of shoulder blocks. A low crossbody from Nightingale scored a 2 count. Nightingale hit a pair of lariats and a bodyslam, before Frost came back with a neckbreaker. Frost used her agility to land a headscissors and a crucifix pin for two count. Both woman hit dual high kicks to take each other down.
Nightingale charged Frost in the corner before laying her out with a big boot. A spinebuster scored a near fall for Nightingale but Frost took her down with a kick in the corner. Frost went to the top and hits a moonsault for a near fall. Frost went for a tackle in the corner, but Nightingale caught her in a gutwrench and nails Frost with Doctor Bomb for the win.
Winner: Willow Nightingale
After the match Ian Riccaboni interviewed Nightingale & she noted that she's won on the last 2 pay per views, and with this win tonight, she feels that she's earned an Women's Title match. Women's Champion Athena joined proceedings to accept the challenge for next week.
ROH World Title Match
Claudio Castagnoli (c) vs. AR Fox
Claudio Castagnoli & AR Fox traded holds then after early exchanges, Castagnoli drops Fox with an uppercut and a big leg drop for only a one count. Fox fought out of a powerbomb attempt, hitting a wheelbarrow bulldog. Fox went to the top rope but Castagnoli hit a base jump dropkick. Castagnoli went to toss Fox off the top rope but Fox caught him in a headscissors. Castagnoli was successful in cutting off a springboard attempt.
A gutwrench suplex scored a near fall, leading to Castagnoli putting on a hold to Fox's bad knee that Fox quickly used the ropes to break. Castagnoli tossed Fox with another gutwrench suplex and a vertical suplex before putting a single leg crab on in the middle of the ring. Fox reached the ropes, so Castagnoli drags him over the apron and double stomped him in the back.
Castagnoli laid in shots to Fox's lower back. Fox sent Castagnoli to the apron and hit a DDT to cut him off. Fox fired up with shots, landing a cutter out of the corner for a near fall. Fox hit a running clothesline into the corner, before following up with a superman dive to Castagnoli on the floor. Fox hit a top rope senton for a near fall. Castagnoli hits a big boot out of the corner for only a 2 count.
Castagnoli faked a strike that Fox fell for. Fox went for the kip up counter, but Castagnoli caught Fox in the giant swing that sent Fox to the floor. Castagnoli hit a Gran Naniwa style ropewalk elbow for a near fall. Castagnoli locked on a Sharpshooter, and transitioned into a Crossface. Fox rolled him up for a near fall leading to a Castagnoli lariat for another near fall.
Castagnoli took Fox to the top rope. Fox snuck out and landed two big kicks to Castagnoli on the top before landing a running DVD. Fox hit the 450 splash for a close near fall that got the crowd to their feet. Both men traded elbows, before Fox caught an uppercut into a backslide for a near fall. Fox went for a springboard, but Castagnoli cut him off in mid-air with an uppercut for the win.
Winner & Still ROH World Champion: Claudio Castagnoli (STILL CHAMPION!!!!)
After the match both men follow the Code of Honor then all the sudden Eddie Kingston made his way to the ring. Kingston said he promised Jon Moxley that he wouldn't fight Castagnoli in AEW but this isn't AEW. Kingston made a challenge for the ROH World Title but Castagnoli blew him off to close this week's ROH.