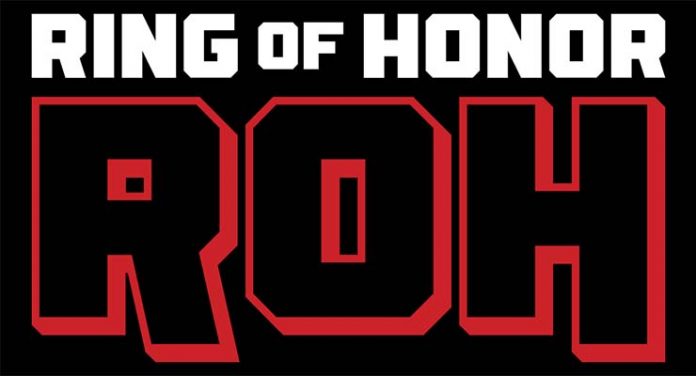 ROH TV Results – March 30, 2023
Tag Team Match
Aussie Open (Mark Davis & Kyle Fletcher) vs. Ari Daivari & Tony Nese
Kyle Fletcher & Ari Daivari starts this match off then Mark Davis tags in and took down Daivari & Tony Nese before Fletcher came in to hit tandem offense on both men. Aussie Open were set up for the double forearms but Mark Sterling hooked Davis' leg as Davis was tied up with him, Nese & Daivari works on Fletcher on the outside.
Nese & Daivari isolated Fletcher in their corner, losing the advantage when Daivari missed a top rope splash. He made the hot tag to Davis who ran wild on Nese & Daivari with big strikes. Nese escapes a Waterslide attempt but ran right into a pop up powerslam from Davis for a near fall. Fletcher tags in and went for the Dental Plan but Daivari got in the ring to cut it off.
Aussie Open isolated Nese for the Corealis but Sterling got on the apron and cuts them off. Nese dumps Davis out of the ring, allowing Nese & Darivari to get tandem offense in on Fletcher. Nese caps off the offensive flurry with a 450 Splash, but Fletcher kicks out.
Fletcher fought off them off long enough for Davis to get in and hit the Dental Plan on Nese. They hit an assisted cutter on Daivari then ran Nese & Daivari into each other on the floor. They superkick Sterling then the forearm smashes on Nese then Corealis gets the win.
Winners: Aussie Open
Miyu Yamashita vs. Shazza McKenzie
Miyu Yamashita took control early laying in the kicks to Shazza McKenzie's midsection. McKenzie trips her up and scored a near fall with a bulldog. McKenzie hit a set of kitchen sink knees before hitting a northern lights suplex for a two count. Yamashita fought out of an Octopus hold before hitting a triangle corner kick for a near fall.
A forearm in the corner got Yamashita another near fall. Yamashita countered an O'Connor Roll and hit a running kick for a two count. McKenzie got Yamashita tie up in the ropes and hit a set of kicks before getting a near fall with a high crossbody. Yamashita caught McKenzie with a set of mid kicks before hitting Skull Kick to score the win.
Winner: Miyu Yamashita 
Non Title Match
6 Man Tag Team Champions The Embassy (Brian Cage,Kaun & Toa Liona) vs. Arjun Singh,Dak Draper & JD Griffey 
Brian Cage & Dak Draper started with Cage powering around Dak Draper after a Cage German suplex, JD Griffey & Kaun tags in. Griffey rocks Liona with some strikes but Liona sent Griffey flying with a beel.
Arjun Singh tags in but got caught with a crossbody from Liona. Kaun tags in and hit a backbreaker on the top turnbuckle. Liona follows it with a senton on the apron before Cage hits Singh with the outside in superplex to score the win.
Winners: 6 Man Tag Team Champions The Embassy
Tag Team Match
The Infantry (Carlie Bravo & Shawn Dean) vs. AR Fox & Metalik
Shawn Dean & Metalik starts this match off with Metalik hitting his signature offense on Dean. Metalik hits Dean with a tilt a whirl & Dean hits tandem offense with Carlie Bravo on Metalik soon after. Bravo hit ten punches in the corner on Metalik before sending Dean into Metalik in the corner. The Infantry hit an offensive flurry of splashes and elbows for a near fall.
The Infantry did more work on Metalik with Dean hitting a Sky High on Metalik for a near fall. Bravo puts Metalik on the top rope, but Metalik got out and hit a sunset flip powerbomb. AR Fox tags in and ran wild on Bravo. He hit a twisting suplex on Dean before dropping Bravo with an enzuigiri. Fox hit the roll through cutter on Bravo for a near fall.
Metalik took out Dean with a springboard moonsault but back in the ring, Bravo rolls into a facebuster for a near fall then Fox hits Lo Mein Pain on Bravo before Metalik followed it with a rope walk elbow drop for the win.
Winners: AR Fox & Metalik
Women's Title Match
Athena (c) vs. Emi Sakura
Emi Sakura brought the fight to Athena to start this match off sending her to the apron with forearms and sending her to the floor with a crossbody. Athena sent Sakura into the post before dropping her with a side suplex on the apron. Athena hit a shotgun dropkick that sent Sakura into the apron.
Suruga tried to hit a crossbody on Athena, but Athena caught her and dropped her with a body slam on the floor. Sakura took advantage of the distraction and sent Athena into the steps, before hitting a crossbody into the steps.
Back in the ring, Athena cut Sakura off on a moonsault attempt and stuck her in the tree of woe. Athena drills Sakura with kicks before clobbering on her in the middle of the ring. After a pair of splashes from Athena, Sakura cut off a third with a chop. Sakura hit a delayed butterfly backbreaker for a near fall. Sakura hits a top rope moonsault but only scored a two count.
They engaged in a forearm battle that devolved into a chop battle that Sakura won with a lariat. Athena cartwheeled out of Sakura's reverse DDT and hits a big boot for a near fall. Athena went to the top rope for the O Face but Sakura caught Athena and hit the reverse DDT for a near fall. Sakura followed up with a Tiger Driver for another near fall.
Sakura hammered Athena with palm strikes before Athena cut her off with a forearm. Athena hit Sakura with the double knee facebuster and transitioned into the Crossface for the win.
Winner & Still Women's Champion: Athena (STILL CHAMPION!!!!)
After the match Athena went after Sakura's knee and trapped it in the stairs after Mei Suruga tried and failed to cut Athena off, Yuka Sakazaki fought Athena off. They got into a pull apart brawl with Athena beating up security for stopping the fight. Sakazaki hits a crossbody into Athena and a bunch of security before standing tall with the Women's Title.
8 Man Tag Team Match
La Faccion Ingobnrable (Rush & Dralistico) & The Kingdom (Matt Taven & Mike Bennett) vs. Top Flight (Dante Martin & Darius Martin) & Lucha Bros (Pentagon Jr & Rey Fenix)
After some glove frivolity with Matt Taven & Pentagon Jr the match quickly devolved into a brawl. The Kingdom cut off a Top Flight dive allowing La Faccion Ingobnrable to take out Lucha Bros on the floor. LFI & The Kingdom isolated Pentagon with The Kingdom hitting tandem offense on both Lucha Brothers. Pentagon tags out to Dante Martin, who LFI quickly cut off. Mike Bennett tag in with Taven hitting Just the Tip on Martin for a near fall.
Penta tagged in, and the Lucha Brothers hit superkicks to all four of their opponents. A wheelbarrow splash from Fenix got a near fall on Taven. Taven hit the Kick Of The King on Fenix to set up the Proton Pack but Pentagon cut them off and kicks them away. Darius Martin tags in with Top Flight hitting tandem offense on LFI. Dralistico hit a springboard codebreaker and followed it with a springboard destroyer. Rush followed up with the Bull's Horns for the win.
Winners: La Faccion Ingobnrable & The Kingdom
Mark Briscoe made his way to the ring. He talked about how he wasn't going to win the Television Title just for himself. He was going to win it for himself, for his kids, for Jay's kids, and for everyone who has ever rolled with The Briscoes. Briscoe said that winning the Television Title was his destiny. Television Champion Samoa Joe interjected on the video screen. He said that Briscoe had forgotten who Joe was but Joe would quickly remind him at Supercard Of Honor.
Dasha Fuentes interviewed Jay Lethal, who asked for this time. He wanted to say something to Mark Briscoe, who was coming back from the ring. Lethal wished Briscoe luck in his title match against Samoa Joe.
Pure Title Match
Wheeler Yuta (c) vs. Leon Ruffin
Wheeler Yuta quickly ties Ruffin up with a single leg crab but Ruffin slips out into a pin cover. Yuta caught Ruffin on an evasion attempt and drops him with a German suplex. Yuta tied Ruffin up with a Cobra Twist forcing Ruffin to use his 1st rope break.
Yuta tied Ruffin up with a dungeon leg lock, before walking Ruffin closer to the ropes so Ruffin would have to use his 2nd rope break. Ruffin dodges a charge and hit a neckbreaker.
Ruffin used springboards to get away from Yuta but Yuta knocks him out of the sky with a forearm. Yuta locks in a crossface to get the submission win
Winner & Still Pure Champion: Wheeler Yuta (STILL CHAMPION!!!!)
After the match Yuta ran down the names he's beaten before saying that Shibata's efforts wouldn't be enough. Katsuyori Shibata then made his way to the ring. Yuta tried running him down but Shibata rips the microphone out of his hands and went nose 2 nose with him before Yuta left the ring.
El Hijo Del Vikingo vs. Blake Christian
They started fast with no one gaining a clear advantage. El Hijo Del Vikingo sidesteps a dropkick and hit a running shooting star press for a near fall. Vikingo hits a handspring into the corner before hitting a step up hurricanrana. Vikingo follows it up with a springboard inverted 450 to the floor.
Back in the ring Vikingo laid some shots into Christian. Christian came back with a low dropkick and a bottom rope 619. Christian hit a handspring kick that sent Vikingo to the floor, then followed him to the outside with a Fosbury Flop.
Christian brought Vikingo back into the ring and scored a near fall. Christian laid on Vikingo with a chinlock then Christian sends Vikingo into the ropes, but Vikingo bounced off the ropes with his arms and hit a Hurricane Kick.
Vikingo caught Christian on a dive and hit a uranage. He followed it with an outside in Phoenix Splash for a near fall. Vikingo went up for the inverted 450 Splash but Christian cut him off and took him down with a German suplex. Christian met Vikingo on the apron and lifted him up in an electric chair but Vikingo took him down with a poisonrana.
Vikingo went for a Shooting Star Press to the floor, but Christian moved and hit a Spanish Fly. Christian followed it with a 450 splash in the ring but only got a two count.
Vikingo fought out of a suplex. Vikingo set Christian up on the top rope before following him to the top. Vikingo went for a reverse Spanish Fly, but they both landed on their feet. Christian hit a lariat and went to follow it with a powerbomb, but Vikingo rolled through with a Frankensteiner for the win.
Winner: El Hijo Del Vikingo (Recommend)
After the match Christian & Vikingo shook hands and adhered to the Code of Honor.
Dasha interviewed Blake Christian in the back. Christian was quickly cut off by Prince Nana who asked him to bail on tomorrow's 6 Man Tag Team Titles match before getting his heart broken. Christian said no, so The Embassy jumped him before AR Fox & Metalik ran them off.
Eddie Kingston vs. Christopher Daniels
Eddie Kingston cuts off Christopher Daniels with a back elbow before hitting a kitchen sink knee and a butterfly suplex for a near fall. Kingston hit a Saito suplex and calls for the Backfist but Daniels ducked it and hit a neckbreaker. Daniels tied Kingston up in the ropes and clobbered on him before sending Kingston into the corner with a hard Irish whip.
Daniels hit the STO for a near fall. Kingston peppered Daniels with strikes to the knees, but Daniels hit a facebuster and transitioned into a Koji Clutch. Kingston got to the ropes and initiated a forearm battle that Daniels cut off with a knee to the bread basket. Kingston fought out of an Angel's Wings attempt and laid in the chops to Daniels. Daniels drops the straps and laid in the chops to Kingston. We then got a chop battle.
Kingston ducks a chop and hit an enzuigiri, following it with a big boot for a near fall. Kingston hits a T Bone suplex that sent Daniels into the corner. Daniels cut off the Machine Gun Chops in the corner before pulling the straps back up. Kingston hit another enzuigiri before hitting connecting with 2 Backfists for the win.
Winner: Eddie Kingston
After the match Daniels shook Kingston's hand before ROH World Champion Claudio Castagnoli comes out.
Kingston & Castagnoli went face 2 face as Castagnoli held the ROH World Title up high. Kingston challenges Castagnoli to a ROH World Title match right here in St. Louis. Castagnoli disrobed and looked ready to fight but bailed at the last second. Kingston got a mic and called Castagnoli an upside down diamond.
Kingston said that if the fans didn't order the PPV, they would feel like crap. Kingston said he couldn't give his mother a daughter in law or a granddaughter because he was too focused on pro wrestling. He said that Castagnoli met his parents and shook their hands, but didn't do business for Kingston when it was time to do it. He left to dress up like a f*cking clown and be an entertainer. Kingston said that the spirit of ROH and former champions like Daniels, Homicide, Xavier & Low Ki ran through him, and that he would win the ROH World Title.
Supercard Of Honor Card (March 31st)
ROH World Tag Team Titles Reach For The Sky Ladder Match
Lucha Bros (Pentagon Jr & Rey Fenix) vs. Top Flight (Dante Martin & Darius Martin) vs. The Kingdom (Matt Taven & Mike Bennett) vs. Aussie Open (Mark Davis & Kyle Fletcher) vs. La Faccion Ingobnrable (Rush & Dralistico)
Television Title Match
Samoa Joe (c) vs. Mark Briscoe
ROH World Title Match
Claudio Castagnoli (c) vs. Eddie Kingston
AAA Mega Title Match
El Hijo Del Vikingo (c) vs. Komander
Women's Title Match
Athena (c) vs. Yuka Sakazaki
Pure Title Match
Wheeler Yuta (c) vs. Katsuyori Shibata
6 Man Tag Team Titles Match
The Embassy (Brian Cage,Kaun & Toa Liona) (c) vs. AR Fox,Blake Christian & Metalik
Hiroshi Tanahashi vs. Daniel Garica