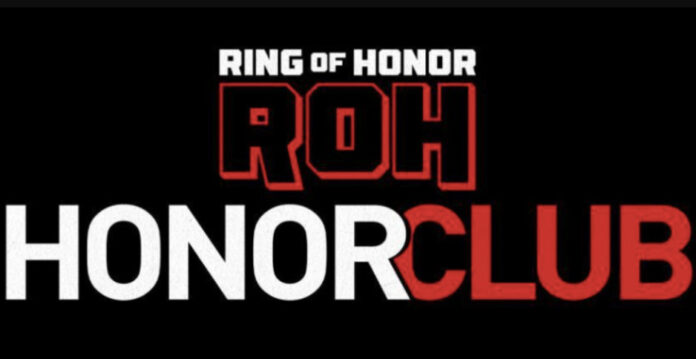 ROH TV Results – May 4, 2023
Pure Rules Match
Rocky Romero vs. Lee Moriarty
Rocky Romero immediately caught Lee Moriarty in an armbar, forcing Moriarty to use his 1st rope break. Romero hit a dive to Moriarty on the floor before hitting a rana in the ring for a near fall.
Moriarty escaped a hammerlock by using the ropes to reverse the hold but because he used the ropes, the referee counted that as his 2nd rope break. Moriarty complained but kept control of Romero. Romero fought out but Big Bill swiped his foot while the referee was distracted. Romero then punched Moriarty with a closed fist getting an official warning from the referee.
Moriarty brought Romero to the corner and hit palm strikes but Romero slips out and took his legs out from under him. Romero fired up by hitting a tornado DDT for a near fall. They jockeyed for position before Romero caught Moriarty in the Diablo Armbar forcing Moriarty to use his final rope break.
Back in the ring Romero hit a standing Sliced Bread for a near fall. Both men traded palm strikes before Moriarty countered a traditional Sliced Bread into the Tiger Driver 18 for a near fall. Romero ducked a side kick and hit a jumping knee. Romero got Moriarty to the top rope and brought him down with the Diablo Armbar. Moriarty got to the ropes but with no more rope breaks to use Moriarty had to tap out.
Winner By Submission: Rocky Romero
Proving Ground Match
Women's Champion Athena vs. Angelina Risk
Athena adhered to the Code Of Honor before immediately hitting a bicycle kick. Risk got a boot in before Athena swiftly took her down again countering a 619 before dropping Risk down on her face. Athena superkicks a kneeling Risk. Risk got a roll up but Athena kicks out and hits a dropkick to Risk.
Athena yells at referee Mike Posey, but ran into a boot from Risk. Risk brought Athena down by the hair before hitting a 619. Risk went up the ropes for a crossbody but Athena caught her and hits 3 consecutive Wastelands then she brought Risk down with Gory Bomb into the knees before making Risk tap out with the crossface.
Winner By Submission: Women's Champion Athena (5:07)
After the match Athena calls out Skye Blue before hitting Risk with the Skyfall onto the Women's Title.
Television Title Match
Samoa Joe (c) vs. Christopher Daniels
Samoa Joe takes Christopher Daniels down with a back elbow before driving Daniels into the corner with jabs. Daniels tried to fight out but Joe brought him back into the corner before hitting the body splash/enzuigiri combo for a near fall.
Joe slapped on a nerve hold, snapmaring Daniels down when he tried to get up and hitting a series of heavy strikes for a near fall. Daniels peppered Joe with strikes but Joe caught Daniels with a powerslam for a near fall.
Joe went for the Coquina Clutch but Daniels slips down and hooked Joe in a pin cover for a near fall. Joe kicks out but Daniels followed up with an STO. Joe took Daniels down with a complete shot off the ropes for another near fall.
Daniels called for the Angel's Wings but Joe powers out. Joe sent Daniels up and over with a suplex before landing the Muscle Buster to get the win.
Winner & Still Television Champion: Samoa Joe (STILL CHAMPION!!!!!!)
ROH World Title Match
Claudio Castagnoli (c) vs. Robbie Eagles
Robbie Eagles used his speed to take down Claudio Castagnoli by sending him to the floor with a hurricanrana then he slaps Eagles in the face before driving him into the corner with uppercuts. Castagnoli sent Eagles up and over with a gorilla press before hitting a leg drop for a near fall.
Eagles fought out of Castagnoli's grip before going after Castagnoli's knee. Eagles hit a big dive to the floor before continuing the offense in the ring, hitting running knees into the corner for a near fall. Eagles laid in the kicks but Castagnoli took him down. Castagnoli went for the Giant Swing but Eagles pulls himself up and over before locking in the Ron Miller Special.
Castagnoli got to the ropes but Eagles continued the offense by landing a standing Sliced Bread for a near fall. Eagles went for the 450 to the bad leg but Castagnoli moves and hits a Michinoku Driver for a near fall. Eagles avoided a big uppercut before going for a series of flash pins but none of them are working then Castagnoli cuts him off with a lariat for a near fall.
Eagles got more kicks in but as he went for another Sliced Bread but Castagnoli powers him into position for the Riccola Bomb then lands it for the win.
Winner & Still ROH World Champion: Claudio Castagnoli (STILL CHAMPION!!!!) (Recommend)
Backstage Dasha is with Skye Blue. She took issue with Athena sticking her nose in everyone's business and bullying the locker room and challenges her to an Women's Title match.
10 Man Tag Team Match
Varsity Athletes (Tony Nese, Josh Woods & Ari Daivari) & The Kingdom (Matt Taven & Mike Bennett) vs. Best Friends (Trent Beretta & Chuck Taylor), Action Andretti, Darius Martin & Stu Grayson
Best Friends, Action Andretti, Darius Martin & Stu Grayson took down Matt Taven with a train of offense, ending with a moonsault from Grayson. Tony Nese cuts off Trent Beretta from the apron then tags in and sent Beretta into the ropes with a Irish whip. Nese went for it again but Chuck Taylor hops into the corner to take the impact, allowing Grayson to tag in and run wild.
Nese cut Grayson off with a knee, which began a train of offense that everyone got in on. It ended with Grayson & Josh Woods in the ring with Woods sending Grayson off the top rope with a suplex. Andretti hit a dive onto everyone on the floor. Taven went to the top but Beretta cuts him off and hit a superplex to the pile of bodies on the floor.
Grayson & Daivari were the first back in the ring. Grayson set up a tag move with Andretti but The Righteous came out to distract him. Grayson went up the ramp but Andretti was able to hit his hanging neckbreaker to score the win.
Winners: Best Friends, Action Andretti, Darius Martin & Stu Grayson
We go backstage where Dasha is with Women's Champion Athena & she blindly assumed she was the other interviewer Lexy Nair. She shooed her away before accepting Skye Blue's challenge.
Preston Vance vs. Rich Adonis
Preston Vance took Rich Adonis down with a clothesline out of the Code Of Honor then Vance took Adonis on a tour of the barricades on the outside.
Back in the ring Adonis got a little offense in, staggering Vance with a single leg dropkick. Vance caught Adonis with a wheelbarrow suplex before hitting a big boot. Vance locks in the Full Nelson before spinning Adonis into the discus lariat for the win.
Winner: Preston Vance
In the back, Action Andretti & Darius Martin were talking about their win before getting jump by The Kingdom. They left them laying before mockingly shaking their hands.
Skye Blue vs. Robyn Renegade
Skye Blue & Robyn Renegade quickly got into a pinning predicament before Renegade hit a boot to cut it off. Blue sent Renegade to the floor with an armdrag. Renegade caught Blue's foot on an apron kick and dragged her to the floor face first.
Renegade sends Blue into the post before sending her back into the ring. Blue fought her way back up before hitting two hurricanranas. Blue hits a rising knee and a single-leg dropkick for a near fall.
Renegade avoided a kick from Blue before driving her down and scoring a near fall. Renegade drops down out of the Skyfall for a flash pin attempt but Blue kicks out and hit the Skyfall for the win.
Winner: Skye Blue
6 Man Tag Team Champion Brian Cage vs. Brock Anderson
Brian Cage took down Brock Anderson with a shoulder block before taking him down with a powerslam. Anderson got out of the way of a splash and hit the DDT. Anderson got some shots in before dropping Cage with a body slam.
Cage caught Anderson on a boot and locks on a sharpshooter. Anderson got to the ropes, so Cage followed with a spinning lariat and the Drill Claw for the win.
Winner: 6 Man Tag Team Champion Brian Cage
Willow Nightingale vs. Steph De Lander
Willow Nightingale took down Steph De Lander with a shoulder block then she followed with an enzuigiri but De Lander cuts her off as she went to the top rope. De Lander hit a big boot and a suplex for a near fall. De Lander hit a cannonball into Nightingale for a near fall.
Nightingale avoided a charge and took De Lander down. Nightingale hit a cannonball into the corner. De Lander fought her way up but got hit with a spinebuster for the win.
Winner: Willow Nightingale
Komander vs. Angelico
Angelico followed the trend by locking Komander into a submission but Komander escaped and hits an tornado armdrag. Angelico cuts off Komander before sending him into the corner with a whip. Komander avoided a running knee that sent Angelico to the floor. Komander followed him to the floor with a corkscrew moonsault.
Angelico rolled to the other side of the ring, but Komander followed him with a double jump springboard crossbody. Back in the ring, Komander hit a big sunset flip for a near fall. Angelico went for a Lucha pin of his own but only got a near fall. Angelico went for the Razor's Edge into the corner but Komander reversed it into a sunset bomb for a near fall.
Komander hits a rise up rana for a near fall. Angelico rolls to the floor but Komander followed him again, this time with the rope walk plancha. Back in the ring Komander hits the rope walk Shooting Star Press for the win.
Winner: Komander
After the match Angelico feigned respect for Komander before Serpentico jumps Komander from behind. They laid the boots to him before Orange Cassidy & Bandido ran them off.
Matches Of The Night
Pure Rules Match- 7/10
Television Title Match- 7/10
ROH World Title Match- 8/10
Komander vs. Angelico- 7/10