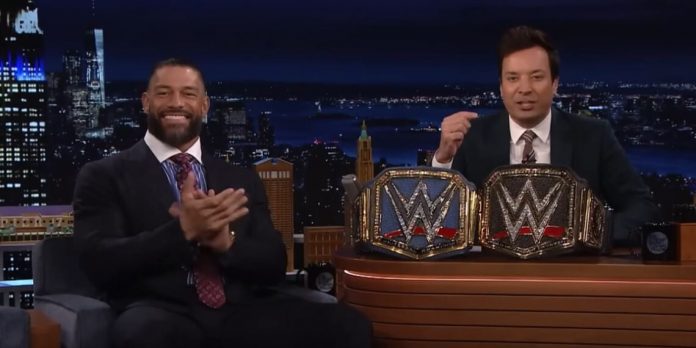 Friday night, WWE Universal Champion Roman Reigns appeared on The Tonight Show with Jimmy Fallon to hype the WWE Royal Rumble and his match against Kevin Owens.
Reigns was asked about the possibility of him and Dwayne "The Rock" Johnson facing off at WrestleMania 39 in April.
"That's been the rumors, a huge buzz on that for years now, but it's really picked up in the last couple of years. I believe he just came out with a statement saying he's not going to be ready in time, which that's the kind of face everyone's making, like, hold on, he trains every single day. He's huge. To his defense, it's one thing to train with weights and bodybuilding to look the part but to get into the ring to do a main event match, an Undisputed WWE Universal Championship match. It takes a lot of conditioning. It beats up your body. There's more that goes into it than just training in the weight room. It's a professional athlete situation. You have to condition. He does two out of the three things perfectly. His nutrition and his weight training is on point, but you have to condition yourself, and you have to be ready to be ready to fall down. You can never get away from that.
Reigns went on to say that there's a big difference between looking physically fit and conditioning your body to take hits ahead of a high-profile main event match like this.
"That's number one, Dwayne," Reigns said. "When you're going up against Roman Reigns, you better get ready to fall down."
According to recent reports, The Rock told WWE officials that he will be unable to get his body in shape for a match with Reigns. However, Rock is believed to make an appearance at the Royal Rumble tonight.
Reigns also spoke about Owens and their upcoming match at The Rumble. When it comes to strategy, the Tribal Chief has stated that he will not change anything. He went on to say that he has defeated Owens so many times that it's almost as if it's in his DNA.
On The Tonight Show, Reigns also played Password with Claire Danes. Both clips are available below: