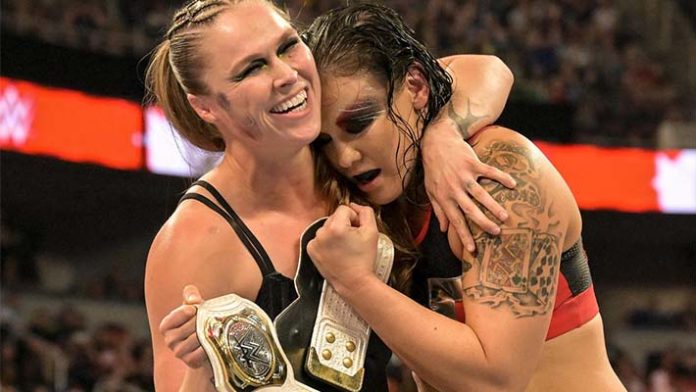 "Rowdy" Ronda Rousey has some stroke behind-the-scenes in WWE.
Shayna Baszler has seen it first-hand.
"The Queen of Spades" recently appeared on the Cheap Heat podcast and revealed that she and Rousey being paired together and capturing the WWE Women's Tag-Team Championships were done per a demand made from the former UFC champion.
"Ronda is Ronda, right? She's been main title, she main-evented WrestleMania," Baszler began. "She still gets one of the loudest pops when we walk out. This was something she demanded. We'd been asking for it forever, but she finally put her foot down and went to the office and said, 'Listen, we've been asking for this forever. You keep telling us, 'After, after, after this [and] this.' I honestly don't know if she hadn't done that, if they ever would have got to it."
Baszler would go on to credit Rousey for using her status to help elevate the WWE Women's Tag-Team Championships and division as a whole.
"I wasn't in a position yet to be elevated to a Ronda level, so the fact that Ronda said, 'No, stop. I've done this. I want to do this because this is why I started wrestling.' So I think that's huge," she said. "She could be main-eventing SummerSlam. She doesn't have to be where she is, which is elevating these titles."
Check out the complete interview at Spotify.com. H/T to Fightful.com for transcribing the above quotes.