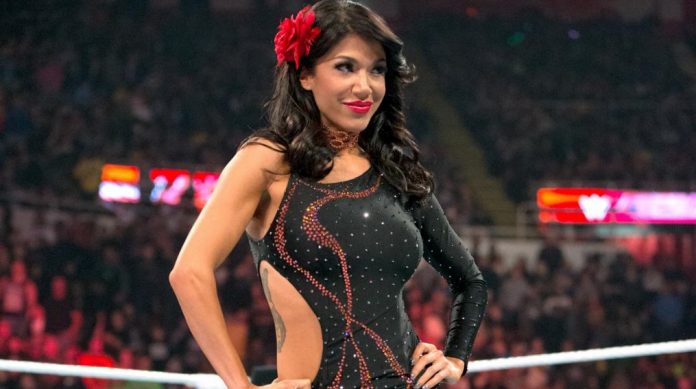 During a recent interview with Sportskeeda, former WWE star Rosa Mendes — real name Milena Roucka — said she has plans on returning to the ring this week. As planned, Mendes got back in the ring this week for some training sessions at MCW Pro Wrestling's Training Center in Joppa, Maryland.
MCW tweeted this photo of Rosa at their Training Center, saying she's on the 'comeback trail.'
#RosaReturns@LaRosaMendes hits the comeback trail at the #MCW Training Center! pic.twitter.com/lewkWgyQwq

— MCW Pro Wrestling (@MCWWrestling) March 2, 2018
Mendes tweeted the following after her first training session.
Fell asleep early, and now I'm up thinking about how I can't wait to get back in the ring tomorrow, being in that ring is the best feeling in the world, although I'm so sore. It's so worth it ??

— MilenaRoucka (@LaRosaMendes) March 1, 2018
So excited!! Just getting that rust off first. It's been a year. @MCWWrestling is the best. It's worth the long drive.

— MilenaRoucka (@LaRosaMendes) March 1, 2018
Mendes has not said yet what she has planned for her wrestling comeback.
Mendes stopped wrestling in April 2015 and announced a few months later that she was pregnant. After giving birth to her first child, a daughter named Jordan Elizabeth on February 13, 2016, Mendes announced her retirement from WWE exactly one year later. On how life has been for her away from wrestling, she told Sportskeeda:
"It's been so different. Becoming a mother has been the most amazing experience that I have ever had, watching my daughter grow into this little intelligent, wonderful, and caring human being has made me feel like I'm doing a really good job as a mom, Totally Fit Mama has been doing so well, we are launching our recipe book very soon. I miss the travel, can you believe that? I never thought I would ever say that, but most of all I miss the fans."
Mendes made her first appearance at an independent wrestling event last month for MCW, as she introduced The Four Horsemen (Ric Flair, Arn Anderson, Tully Blanchard, Barry Windham and J.J. Dillon). Here is video of her ring entrance.
@LaRosaMendes at @MCWWrestling's Horsemen Anniversary Show last night! pic.twitter.com/LTu9wtg5Ep

— Chris Renn (@wwedude1990) February 18, 2018