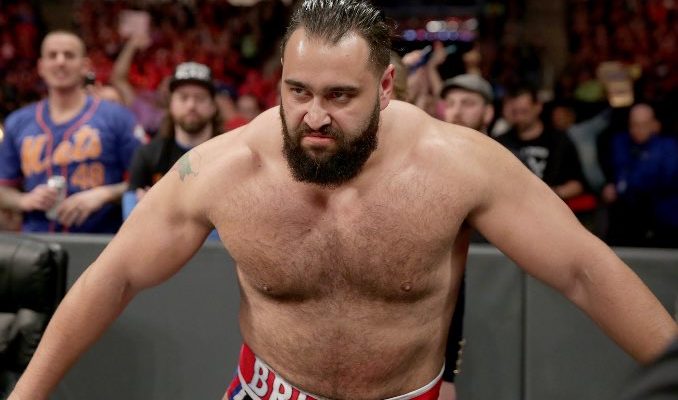 – Above is video of Rusev visiting Real Madrid at Santiago Bernabéu Stadium before the WWE live event in Madrid, Spain earlier this week.
– As noted, this week's "Flashback Friday" line-up on the WWE Network will focus on Veteran's Day. Below is the line-up:
* 3pm – SmackDown Flashback, 7/4/2012: SmackDown celebrates The 4th of July with a Star-Studded Great American Bash, featuring a Monster 20-Man Battle Royal and much more.
* 4:25pm – Prime Time Wrestling, 3/2/1987: Join Gorilla Monsoon and Bobby 'The Brain' Heenan as they discuss WrestleMania III and host an exciting lineup of wrestling action! (NEW)
* 6pm – Legends with JBL: JBL sits down with Brian James to discuss life as a Marine, his battles with personal demons and his current role behind the scenes at WWE.
7pm EST – The Mae Young Classic: Round 1 of the Mae Young Classic concludes with Kairi Sane vs. Tessa Blanchard, Taynara Conti vs. Lacey Evans, and much more!
8pm EST – Tuesday Night Titans, 7/5/1985: Vince McMahon hosts Tuesday Night Titans with Lord Alfred Hayes. Guests include Jesse 'The Body' Ventura and Bobby 'The Brain' Heenan.
– As noted, John Cena has been named to Team SmackDown for the 5-on-5 Traditional Elimination Match at WWE Survivor Series. It will be Cena, Team Captain Shane McMahon, Randy Orton, Shinsuke Nakamura and Bobby Roode vs. Team Captain Kurt Angle, Jason Jordan, Finn Balor, Samoa Joe and Braun Strowman. Below are videos of Roode, Rusev and Aiden English announcing to the Cena announcement: