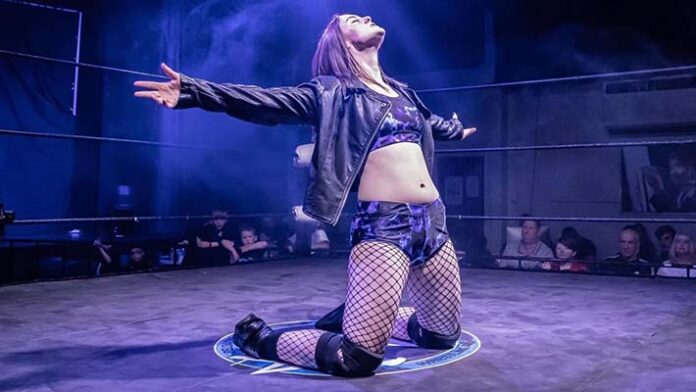 This coming weekend, the fantastic Pro Wrestling: EVE presents two nights of top-quality action to celebrate their 13th anniversary. Lucky 13 emanates from The Dome, Tufnell Park on Friday 5th, and Saturday 6th May, and has the best female wrestlers around, including a huge future prospect in 19-year-old Safire Reed.
PWMania.com's Lee Tarrier (@leeseedub) got to speak to Safire Reed this week as she prepares for a huge match on night one of the two-show extravaganzas against another young talent making waves in the form of Billie Starkz.
You can check out the complete interview below:
Safire, this coming weekend is a big celebration for Pro Wrestling EVE, with it being their 13th anniversary. Are you excited?
Definitely. I didn't expect to be where I am already. Like, I've only really been having matches at the shows for like a year and a half. So yeah, it's mad.
How did you get to this big stage, what's been your wrestling journey to become a 19-year-old talent labeled a major future prospect?
Well, my whole family used to watch wrestling when they were younger. My dad always used to just have it on when I was little because he's still a fan to this day. So he would just have it on if he was babysitting us and I just gravitated towards it for whatever reason. I was like 6 or 7 and I just really got into it and thought it was the coolest thing ever.
Since then, I've fallen more in love with watching it as I got older and I was like, oh my god, I could do this. Like this is really cool. I really want to try this. I was begging my dad to learn to wrestle, and I was only 13 at the time. I was like, please Dad, I really want to do it. When I started, there wasn't as many schools as there are now which is really cool as there's a lot more progression with how many schools there are around. But yeah, I was 13 when I started training.
So, when you were watching, who was it that inspired you?
It's got to be John Cena. I just felt I was that in that era, John Cena was such a good guy. I don't know, I just fell in love with the heroes like Randy Orton and Rey Mysterio. Then I started getting into the independent scene, and I loved Zack Sabre Jr., Pete Dunn, Tyler Bate, so a bit of a mixture. Yeah, that's great. As I got a bit older because, I think around 12, I got into indie wrestling and I went to my first indie show.
I remember me and my dad went to our first Wrestlemania and then we came back and people were saying 'Have you heard of Rev Pro or Progress?' and we hadn't. We had never heard of those promotions, so as soon as we got back, I started to watch their stuff and thought it was so cool. And I didn't realize how much there was out there until we started going to all of these other shows and you know, I mean, like not just WWE and all of the main ones but all the good indies, so yeah, I watched everything I could.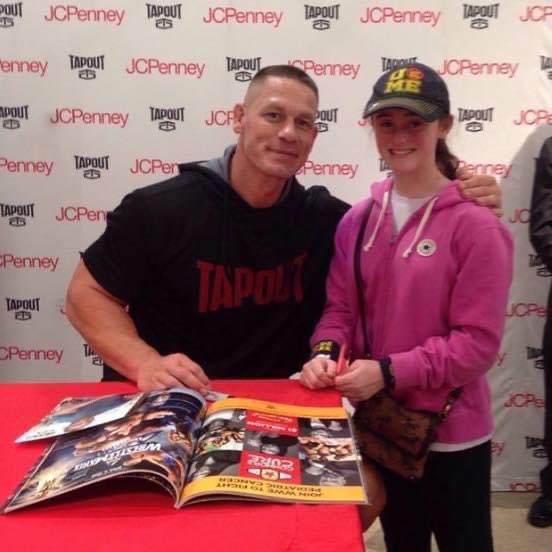 So is this when you started to train?
The first school in Croydon where the main trainers were Terry Thatcher and Liam Dunn and Al Snow. I was in the prospects class, so I never really got to meet Al a lot because he worked with the more advanced classes. But it was super cool to meet him and especially to walk into a six-sided ring.
I wasn't allowed to bump as you had to be over 16, I did some on crash mats, but instead, I was working on lock-ups, technical wrestling roles, all of that stuff. I then went to the progress train school, which obviously isn't open anymore and that's where I learned to properly bump, and I loved it. I just wanted to keep doing it even though it hurt the first time, but you kind of get used to it, I guess.
Do you think it helped you having to do a lot more than technical stuff first?
Oh, 100% I'm really I'm glad that I did. You need to learn the fundamentals, I'm so glad that I did that first. And as I spent so many years doing it, I feel like it shows more in my matches and the way I am wrestling. I'm just glad I did all of that first and didn't jump straight into doing all the big things. So yeah, yeah, it just gives you different elements to your style.
Billie Starks is young like yourself, being just 18, and has had a lot of mainstream coverage within the global wrestling community. Can this match on Friday make many realize a lot about yourself like they have done Billie?
I hope so. I feel like there'll be quite a few eyes on this match. And I think as we are both very young, very early in our age, it's a big stage as you don't really see a lot of people out there our age wrestling each other on a big show. She's climbing to the top already, so many people want to be in her position, and she's doing amazing.
So, like, it's great that I get to wrestle someone like her as we're both very similar. It's going to be a great match, but I've also got a bit of an advantage based on where we are, but we've kind of been training for the same time and she's obviously more successful. It's going to be one match to watch and I can't wait, I really can't wait because there's so much hype about her. I've seen her and she's great and I just can't wait to get in there and see what I can do.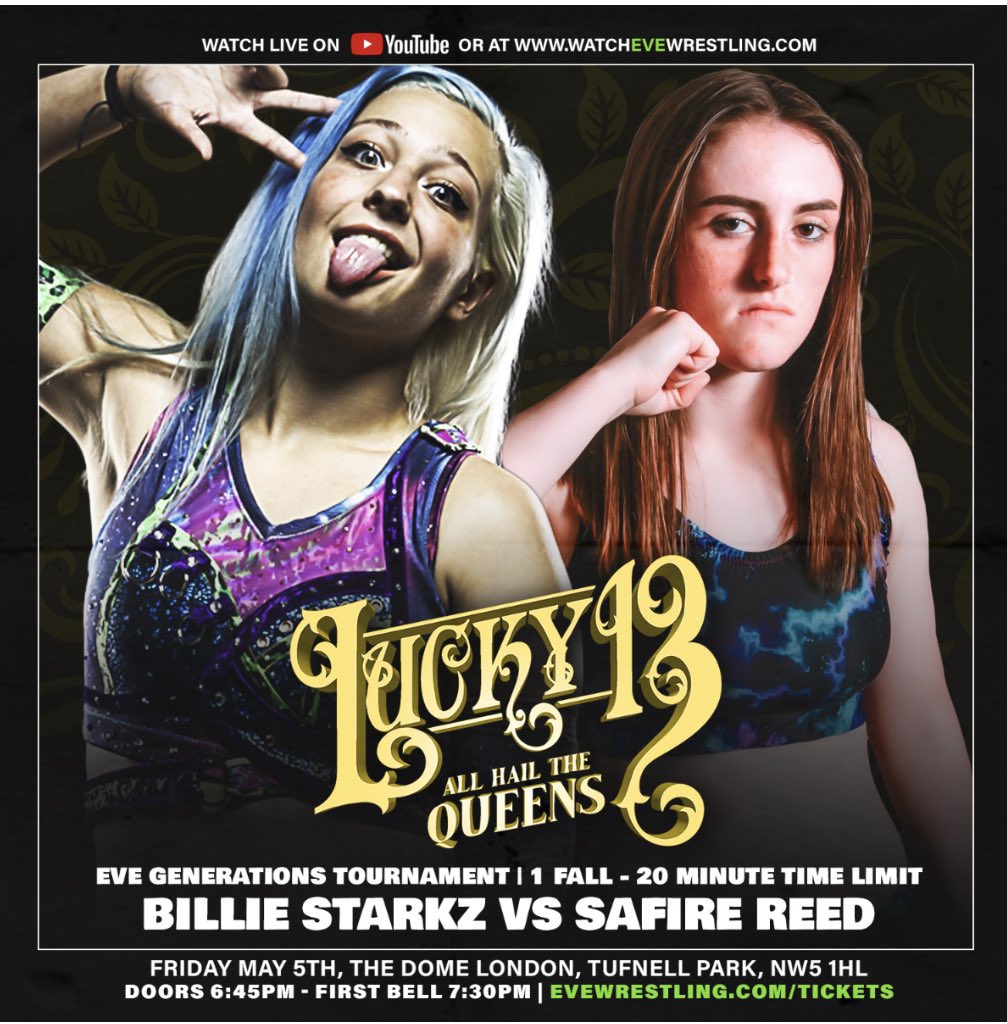 Are you enjoying working for Pro Wrestling Eve?
Oh, it's great. The first time I was there, I think it was last May or June, and it was literally me at the beach with my friends. Then Dan messaged me and was like, 'Are you available tomorrow?' and I was like 'yes!' and it was a tag match at the Electric Ballroom with amazing talents like Alex Windsor and Charlie Morgan. The little girl inside of me was very excited for that.
I can tell just from looking back at my matches now, how much I've improved by being in the ring with people like Emeren Jayne, Charlie Morgan, Alex Windsor, and like, obviously I've not won a match there yet. Still, I feel like every time I'm in that ring with those girls, I gain something from it because it's like, they've been doing this for such a long time. And I feel like I've learned something so huge from every match, which is obviously an advantage and it's always good to have.
Starting with Friday and Saturday, how do you see the rest of 2023 playing out for you?
I think traveling the world more this year would be great. I've gone to Wales, Spain, and Denmark so I would love to travel around more of Europe by the end of the year. More debuts and more promotions. Maybe another championship, who knows?
I feel like there's so many things, but I want to be realistic as 2023 is about me getting my name out there even more across the UK, going up North, and everything like that. And also, just more training and trying to get better.
Finally, if you could name some dream opponents that you'd make your wish list of matches to include, who would it contain?
I would love to take on anyone, but on my list would definitely be Pete Dunne. He is great. Millie McKenzie too, I would love to take her on and wanted a match against her for ages. I remember seeing her at PROGRESS, and she was amazing. She was really young at 17 and doing it, and that inspired me, so a match against her would be great.
And more matches against the women at EVE, so Charlie Morgan, Emersyn Jayne, they just teach me so much and so I'd love to wrestle them again to see how I've developed from before. The roster is great, so I'm really excited to fight more and more of them.
It's really clear to see that Safire is loving her career, and it's just getting started. The platform she has on Friday will be one that will be amazing for her and one for fans to watch. I'm sure we will be talking to her again soon as she vies for championships and main event slots in years to come.
You can catch everything from Lucky 13, both in attendance or online:
Day One – Friday May 5 – The Dome, Tufnell Park, London
Tickets at EVEwrestling.com/Tickets
Watch live online via the EVE YouTube Channel and www.WatchEVEwrestling.com
First half FREE – second half exclusive to channel members
7:30pm UK / 2:30pm EST USA
Announced Card Thus Far:
Main Event:
EVE Championship – 30 Minute Iron Woman Match
Miyu Yamashita (C) vs Millie McKenzie (1)
Co-Main Event
EVE Generations Tournament Final
1 Fall – 20 Minute Time Limit
Billie Starkz / Safire Reed vs LDM / Emersyn Jayne
EVE Generations Tournament
Future Block Match
1 Fall – 15 Minute Time Limit
Billie Starkz vs Safire Reed
Modern Era Block Match
1 Fall – 15 Minute Time Limit
Laura Di Matteo (3) vs Emersyn Jayne (4)
Tag Team Match 1 Fall – 20 Minute Time Limit
"The Unbreakables" Rhio & Lucy Skye vs "The M62 Wrecking Crew" Alexxis Falcon & Lizzy Evo
+ The Nina Samuels Show, "The Royal Aces" Charlie Morgan & Jetta, Skye Smitson (14) and more!
*****
Day Two – Saturday May 6 – The Dome, Tufnell Park, London
Tickets at EVEwrestling.com/Tickets
Watch live online via the
EVE YouTube Channel
at
watchEVEwrestling.com
First half FREE – second half exclusive to channel members
7pm UK – 2pm EST USAAnnounced Card Thus Far:Main Event
EVE Tag Team Championship Match
1 Fall – 30 Minute Time Limit
"The Rock N' Rome Express" Rayne Leverkusen & Laura Di Matteo vs "The Royal Aces" Charlie Morgan & Jetta
Co-Main Event
1 Fall – 20 Minute Time Limit
Miyu Yamashita vs Billie Starkz
1 Fall – 15 Minute Time Limit
Emersyn Jayne (4) vs Janai Kai (EVE & UK Debut)