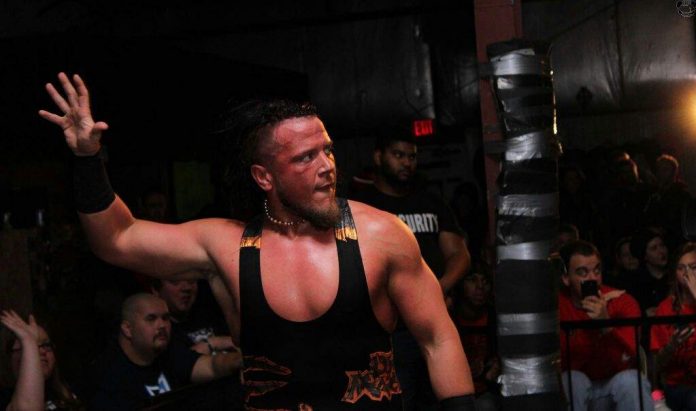 Sami Callihan recently spoke with Interactive Wrestling Radio. Here are the highlights:
On his debut at Impact's Bound for Glory:
"It was great, man! One of the things I really pride myself on is I like to be unpredictable. You don't know when or where I'm going to show up. I can legit show up anywhere. I think that kind of adds to my aura and makes me cool."
On the negative media attention towards Impact:
"Well, the first week I was there man, it is pretty bad ass. They are pretty much giving us the opportunity. I think the big thing is management hasn't always been the best. The best way I can describe it is if you were a fan of WCW back in 1992-1993 when people were running WCW that wasn't wrestling fans, that didn't know wrestling. That kind of thought, "I'm going to run this company and do what I want." I kind of attribute it to that. That kind of is where TNA (Impact) was for a while. But now, they have smart people on top. They have guys on top that were on top when TNA was at their best. Now, Scott D'Amore is helping with, majorly helping with the company. Sonjay Dutt, majorly helping with the company. Abyss, majorly helping with the company. These are guys that were helping with the company when it first was amazing. Change doesn't happen overnight. But, these guys are slowly putting plans into motion to change TNA back to what it was. Within the next year, TNA is going to totally pull a 180 and people are going to start noticing it again."
On his upcoming no rope barbed wire match on Impact:
"It is the first time that a no rope barbed wire match will ever be shown on national television, on broadcast television. It has been on pay per view once. But, it has never been on broadcast television. It truly is history."
On his relationship with the members of OVE:
"It is pretty bad ass, at the end of the day, that I get to be on national TV with my absolute two best friends on the planet. Two guys that are my absolute brothers with Dave and Jake Crist. I don't even care what I'm doing with them as long as I can continue doing stuff. I remember seeing the first pictures of us coming out as OVE and it almost brings me to tears. We're 3 messed up kids from Ohio that went to bat for each other and had each other's back when we don't really have family. We're each other's family. Like I said, three messed up kids from Ohio are together and changing the wrestling world."
On the history of OVE:
"A lot of people don't realize about them, they broke out before I did. They used to go by Irish Airborn until 2008 or 2009. They were one of the first people ever offered an ROH contract and Dave Crist blew out his knee and was out for almost a year and a half. That kind of messed that up. At one point, they were going to get signed to WWE and another one got hurt. That happened. Every little thing that could ever happen to those guys always went wrong. Now, finally, everything has come together. Before I came back to the indies, Jake had actually retired. He was having his retirement tour. We all talked him into staying. We kind of revamped ourselves as a unit together. We've been off to the races ever since."
On wrestling outside of WWE:
"I think wrestling outside of WWE is the new wrestling boom. In the 80's, it was the Hogan era. In the 90's, it was the Attitude Era. In the 2000's, it was the Ruthless Agression John Cena that really peaked business again. But, now, it is independent wrestling. It is all these other companies from around the world that now have the access to the fans through the Internet, through social media, and screaming devices. Right now, I truly believe that everything else is what is booming the wrestling business and is making everything better as a whole."
On being one of the first to request to leave WWE:
"I don't think I was a trendsetter. I just was… mediocrity is dead with me. I'm not complacent just sitting around collecting a paycheck. It really didn't matter about being a trendsetter. I wasn't going to jsut sit around collecting a paycheck, even though it was a very good paycheck to do nothing. I was ready to go out and show them why hired a 5'7 kid in the first place."
On his take of the Lucha Underground product:
"I thought it was amazing. That is the way wrestling is going. I love that style of wrestling. I love to be in a fictitious world where zombies can exist and undead goblins, dragons, and time travelers… I love that aprt of pro wrestling. Thinking of it in a logical way, I'd like wrestling to have more in common with Game of Thrones than an actual sporting event. It doesn't change the fact that we're going out there and doing some of the coolest things on the planet and are some of the greatest athletes on the planet and can do everything in one take. But, the whole back end of it, that is the kind of wrestling that I love."
On his story with Mil Muretes and if it was told as planned:
"Ivelisse broke her ankle. That was real life. People think that was part of the character. No, she broke her ankle for real. It sucks because I'm sure the story line would have went somewhere else. But, something happened in a match, she rolled her ankle real bad. She was out for the whole mid-part of the season. But, I like how it all ended up turning out. I had a really cool story line. They put a lot of faith in me."
On if he will return for Lucha Underground Season 4:
"You never know, man. That's the thing about me. You never know where I'm going to be. I love to have that secrecy, that aura. Like, the Undertaker never got on social media for years upon years upon years. That is why he had such a cool aura. Sure, I have social media. I run my mouth a lot. But, I also like to be unpredictable. People don't know where I'm going to show up. One day I'm in California, the next day I'm in Maine!"
On how CZW has stayed afloat all these years:
"It is just that it is different. Believe me, man. When I took over… I'm not the only creative force behind Combat Zone, there's a whole committee that I kind of oversee and we get things going. But, Combat Zone, no matter what, is always going to be in the forefront even if it is just people shitting on the product. CZW is the red-headed step-child of wrestling where even if they do something amazing, it is a fun company and a cool company but people find something to pick apart on. Or, they'll do something ridiculous and get a whole bunch of heat for no reason. Their tag line is "Wrestling Fears CZW" and it is kind of true. They are always in some kind of tabloid-esque news story because they're just the company that everybody loves to pick on. It is one of the hardest projects I've ever had to run in my life. It's its own different animal." He continues, "They (CZW) should have blown up years upon years upon years ago. They have had so many opportunities. They were in the movie The Wrestler as a main company. They have had a vice documentary about them. They've been on multiple television shows. It always seems like there is just one thing holding them back that won't let them just click into the mainstream. That is what I'm trying to do. The haters can continue to hate. But, CZW is going to continue to be around like it always has been." He concludes, "People don't realize, if it wasn't for CZW, there wouldn't be Dean Ambrose. There wouldn't be Luke Harper. There wouldn't be Kevin Owens, Sami Zayn, Claudio (Cesaro).. Pretty much everyone came through CZW at one point or another."
On what makes him different:
"I always wanted to be different. I consider my style controlled chaos. I've learned that style from a bunch of different times and influences throughout my career. Like, I remember at one point in my career I wanted to be a Junior Heavyweight and I wanted to do a bunch of flips. And then, I wanted to be like a big guy and do power moves. Oh, I want to be a hardcore guy and do hardcore stuff. Oh, I want to be a lucha guy and do lucha stuff. Somehow, going through those phases of my career, I somehow found the right recipe of what Sami Callihan is and it just seems to work."
On Petey Williams' recent shout out to him:
"Yeah, man. I love me some Petey Williams. I had told him, because he had kind of retired, semi-retired for a couple years and he has just recently come back. I told him, "Dude, you have such an opening right now to blow the lid off the wrestling world. You don't even realize the Canadian Destroyer is everywhere on the indies. It is the most used on the planet now! It is the new Superkick. You have such an easy written in storyline. Like, all you kids want to do this stuff? Well, I'm the originator. I'm the OG of this shit!" Now that he's come back, he killed it at the Impact tapings. He's really going to blow up again, I think. And, he's a nice human being too which is always a plus.