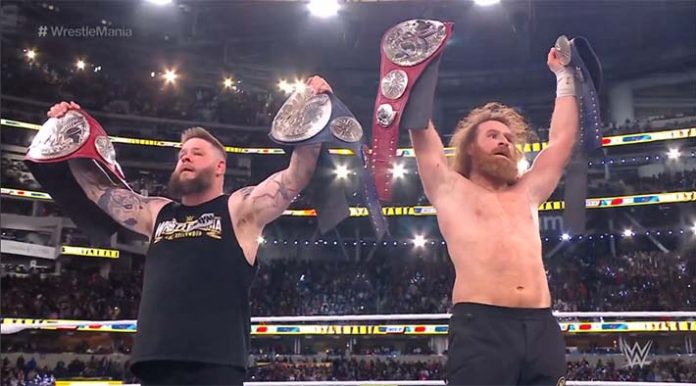 Your new Undisputed WWE Tag Team Champions are Sami Zayn and Kevin Owens.
Owens and Zayn defeated The Usos to capture the Undisputed WWE Tag Team Titles at Saturday night's WrestleMania 39 Night 1 Premium Live Event.
This is Zayn and Owens' first WWE reign together. On July 18, 2021, Jimmy Uso and Jey Uso began their fifth reign as SmackDown Tag Team Champions by defeating The Mysterios at Money In the Bank. On the May 20, 2022 episode of SmackDown, they defeated RK-Bro to unify the blue brand titles with the RAW Tag Team Titles. The Usos have held the RAW/Unified and SmackDown straps for a total of 315 recognized days and 621 days, respectively.
Click here for full WWE WrestleMania 39 results. Several highlights from Saturday night's title change at the SoFi Stadium in Los Angeles, CA are below:
Uzi Vert x WWE#WrestleMania pic.twitter.com/6y07xRW7Mh

— WWE on FOX (@WWEonFOX) April 2, 2023
WHAAAAAAT, MY MF GOAT UZI AHHHH #WrestleMania pic.twitter.com/PViDwmzQDW

— s̑̈ (@uwublonded) April 2, 2023
WHO YA GOT?#WrestleMania pic.twitter.com/UEXn9wcqEv

— WWE on FOX (@WWEonFOX) April 2, 2023
622 Days (and counting?)@WWEUsos #WrestleMania pic.twitter.com/sE9sxjy36e

— WWE on BT Sport (@btsportwwe) April 2, 2023
❤️❤️❤️❤️❤️❤️❤️@SamiZayn and @FightOwensFight are here at #WrestleMania and READY! pic.twitter.com/3YQSpljCXO

— WWE (@WWE) April 2, 2023
Full steam ahead with WrestleZAYNia! ❤️@SamiZayn #WrestleMania pic.twitter.com/104lXIVZ91

— WWE on BT Sport (@btsportwwe) April 2, 2023
As @SamiZayn delivers the hot tag, @FightOwensFight is ALL kinds of fired up here!#WrestleMania pic.twitter.com/e36wooO7pz

— WWE (@WWE) April 2, 2023
Undisputed WWE Tag Team Champions @WWEUsos drove @FightOwensFight through the announce table at #WrestleMania! pic.twitter.com/hRcytCmf7q

— WWE (@WWE) April 2, 2023
There goes another Spanish announce table 💔#WrestleMania pic.twitter.com/W0QGcs15Kn

— WWE on BT Sport (@btsportwwe) April 2, 2023
He did the thing again! ☝️@SamiZayn #WrestleMania pic.twitter.com/fBEB2ClWeD

— WWE on BT Sport (@btsportwwe) April 2, 2023
That was INSANE!!!#WrestleMania pic.twitter.com/UwM6VIVtA7

— WWE (@WWE) April 2, 2023
THEY DID IT!@FightOwensFight and @SamiZayn are your NEW Undisputed WWE Tag Team Champions at #WrestleMania! pic.twitter.com/CXzg5KYDcc

— WWE (@WWE) April 2, 2023
Dangerous.@WWEUsos #WrestleMania pic.twitter.com/oWoz7jhcfL

— WWE on BT Sport (@btsportwwe) April 2, 2023
Hollywood! Cinema! #WrestleMania pic.twitter.com/hvmGZNnEoo

— WWE on BT Sport (@btsportwwe) April 2, 2023
Long. Time. Coming.@SamiZayn #WrestleMania pic.twitter.com/OE65yc4Cxt

— WWE on BT Sport (@btsportwwe) April 2, 2023
Through all the highs and lows, @FightOwensFight and @SamiZayn EARNED their #WrestleMania moment together. pic.twitter.com/sFwvWfbh9f

— WWE (@WWE) April 2, 2023
KO takes out The @WWEUsos!@FightOwensFight #WrestleMania pic.twitter.com/FhTNnjxnPR

— WWE on FOX (@WWEonFOX) April 2, 2023
DOWN GOES KO!#WrestleMania pic.twitter.com/A3FVaf4heL

— WWE on FOX (@WWEonFOX) April 2, 2023
Same Jimmy, Same!#WrestleMania pic.twitter.com/vKkPhrRBeV

— WWE on FOX (@WWEonFOX) April 2, 2023
C'est Magnifique! @FightOwensFight @SamiZayn #WrestleMania pic.twitter.com/A0ASwtkw8p

— WWE on BT Sport (@btsportwwe) April 2, 2023
🥹❤️@FightOwensFight @SamiZayn #WrestleMania pic.twitter.com/FwhdQtHS0M

— WWE on BT Sport (@btsportwwe) April 2, 2023
SAMI PINS JEY! We have NEW Undisputed Tag Team Champions!@SamiZayn @FightOwensFight #WrestleMania pic.twitter.com/JW9uTIgVEQ

— WWE on FOX (@WWEonFOX) April 2, 2023