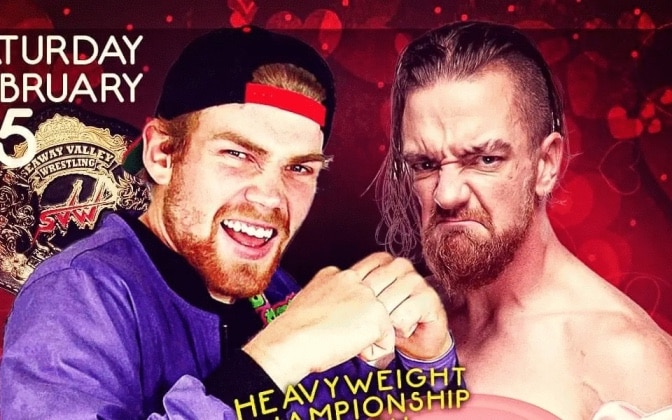 On February 25th, Seaway Valley Wrestling presents its Love Hurts 2 event which will take place in Cornwall, Ontario at the Agora Centre. A packed house is expected for this show.
A brand new Seaway Valley Wrestling Heavyweight Champion will be crowned as Ontario indy sensation Macrae Martin will take on another indy star who recently made an AEW Dark appearance "Moondog" Dylan Davis.
In the world of professional wrestling, you never know when championship opportunities will arise. The original main event for Love Hurts 2 was supposed to be Aiden Prince defending the Seaway Valley Wrestling Championship against Dylan Davis. Unfortunately, Aiden Prince injured himself during a match for Destiny Wrestling and had to relinquish the title.
With the title vacant, SVW management announced that Macrae Martin will take on Dylan Davis to determine a new SVW Heavyweight Champion.
PWMania.com spoke with Macrae Martin about his huge opportunity and he had this to say:
"When I got the call, I was pleasantly surprised. I had no idea that I was going to be the one to replace Prince. I'm very grateful for this opportunity as it validates all the hard work that I put into my craft inside and outside of the ring. And I feel that SVW sees that, which is why they are giving me this opportunity and now it's my job to prove they made the right choice."
"I'm not taking this opportunity lightly and I know I got my work cut out with Dylan Davis. In his 17-year long career, Davis has accomplished a lot, and proven to be staple in Canadian independent wrestling. I've seen him go to war with Channing Decker, Stu Grayson and the aforementioned Aiden Prince. And who knows what he brings to the table now after spending 12 weeks under the tutelage of Cody Rhodes, QT Marshall and Billy Gunn."
"However, since the announcement of our match, all he has said is "I don't dance". That's all he sees me as, a dancer, and that'll be his downfall. Being "just a dancer" isn't what won me Match of the year with Aiden Prince. Being just a dancer, isn't why I was given this opportunity. I have shown to everybody across Canada why I am one of the best up and coming talents in this country! And if Davis doesn't see that, then when the bell rings, he's in for a rude awakening."
In addition, the current Greektown Wrestling Champion Channing Decker defends his title against IMPACT Wrestling's Sheldon Jean.
Here is the full lineup for Seaway Valley Wrestling Love Hurts 2 event:
Main Event for the vacancy Seaway Valley Wrestling Championship – Macrae Martin Vs "Moondog" Dylan Davis
Greektown Wrestling Championship: Channing Decker (c) vs Sheldon Jean
Nick Sullivan vs Brad Alexxis vs Deeno Benjamin vs Dale Kilburn
Nikita vs Dani Leo
Tarik vs Magnum McClaren
Melanie Havok vs Krystal Moon
Tabarnak De Team vs For The Glory
Natural Born All Stars vs Freak Nation
Green Phantom vs Zak Patterson