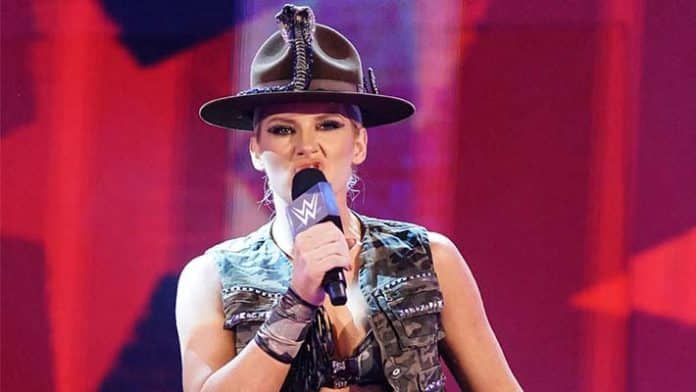 As many of you may have heard over the weekend, the daughter of WWE Hall of Famer Sgt. Slaughter was not pleased with Evans' new look on Friday's SmackDown.
Evans, who served in the United States Marine Corps, appeared on Friday wearing a Drill Instructor cover/hat, and many compared her to Slaughter, with some even accusing her of stealing his gimmick. Others pointed out that Slaughter's gimmick was stolen from the US Marine Corps, and while no records show that Slaughter served in the military, Evans did for 5 years.
Slaughter's daughter responded to her initial tweet by saying that while she respects Evans for his service, she believes Evans stole the Cobra Clutch and "now the hat." The Cobra Clutch has been used by countless names, including the Iron Sheik. "You've got my respect for serving our country. 💯 I'm talking about the gimmick. Cobra clutch & now the hat. You look ridiculous. #stolengimmick," Slaughter's daughter wrote.
Evans responded, "A move is a move. As far as my military campaign cover goes…..come take it. 🇺🇸 #IllShowYouAFkingGimmick."
A move is a move.

As far as my military campaign cover goes…..come take it. 🇺🇸 #IllShowYouAFkingGimmick https://t.co/LWLkY3MAEo

— Lacey Evans ~ WWE Superstar. (@LaceyEvansWWE) June 5, 2023