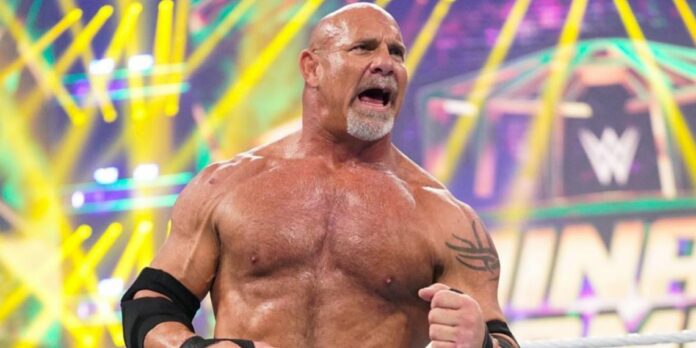 Bill Goldberg, the former WCW and WWE champion, was one of the most popular stars of the hottest period in the history of the pro wrestling business. He had a meteoric rise, propelling himself to the top of World Championship Wrestling to become the world champion less than a year after his debut on Nitro. The handling of Bill Goldberg as a main event commodity and how it coincided with the collapse of WCW is another discussion for another time, but the point being, Goldberg left a massive mark on the industry.
That's why it's very interesting to hear that for the first time in several years, the former main event star is officially a free agent. Of course, as is the case when anyone of notoriety hits the market, questions will be asked about a potential All Elite Wrestling debut.
Would Tony Khan offer the 56-year-old grappler an AEW contract?
As we know, when Bill Goldberg made a return to the WWE in 2016, it was initially scheduled to be a one-off to promote the video game franchise, which can be very lucrative for everyone involved. The diehard purists can criticize the in-ring style of the former Atlanta Falcon, but he was always a great businessman. Bill Goldberg never got five stars for his matches, but he made seven figures when he signed deals throughout his career. Keep in mind, the ability to make the most money possible should be the number one priority in the business. There's absolutely something to be said for legacy and stellar in-ring performances, but the harsh reality is, Wrestling Observer awards don't pay the mortgage, cash does.
It goes without saying that when Goldberg originally inked a deal with WWE in 2003, not only did the company do him no favors with how he was booked, (another topic that could be its own discussion for another time) but it was clear that WWE management was still fighting the wrestling war of the 90s that they won two years earlier with the purchase of WCW. That sounds counterproductive, considering that he received a hefty paycheck to sign with the company and it would've been in the organization's interest to use him as best as possible to draw as much money as possible to get a return on that investment, but you have to consider that Vince was still fighting the war in 2015 when Triple H just had to defeat Sting at Wrestlemania.
Goldberg's exit in 2004, the match that was surrounded in controversy, as it was also Brock Lesnar's last match with the promotion, was lackluster to say the least. It was clear that the WWE office had no interest in promoting a WCW commodity, especially when the Turner organization was still in the conversation of the industry when so many wondered what was next for the business after WCW folded. It took over 12 years for the fence to be mended, and everyone involved, including Goldberg himself, wanted a better conclusion to his career than an infamous match at Madison Square Garden where both he and Brock just wanted to get through the contest without any injuries so they could leave the company. In many ways, the office's botched presentation of the former WCW star in 2003 created the demand for his return in 2016. The fans wanted to see Goldberg get a better conclusion to his career. and that draw of a proper presentation allowed for a perfect scenario for the 90s legend to be introduced to an entirely new generation. In some ways, this was a chance for the WWE to put their own spin on Bill Goldberg, as many of the fans of his era had stopped watching years earlier, and a younger audience was exposed to the WWE presentation of him.
In 2016, when Bill beat Brock at Survivor Series, it was one of the very few truly surprising moments of the modern era and it will be considered a classic segment in retrospect. Obviously, he was older, but instead of putting him in scenarios that exposed his weaknesses, which was the bulk of his 2003 stint, the office took a much different approach with the run he had before WM 33. There were only three key matches that were promoted as major event and they were all kept short, with the exception of the final bout of that particular run when the Goldberg/Lesnar segment went about ten minutes at Wrestlemania.

You could say that WWE caught lightening in a bottle when they were able to recapture the buzz around Bill Goldberg so it makes sense that they kept him under contract, specifically when the Saudi deal was signed in 2018 and much of that was based on stars of the past that the Saudi government wanted to see in the country. The problem was, similar to anything else in that type of situation, you can only play that card so many times before you run the risk of exposing a star not being in their prime so you can't expect them to be the same performer from two decades earlier. The infamous Undertaker/Goldberg match from Saudi Arabia in 2019 was the clear indication that the Goldberg nostalgia run had already peaked a few years earlier.

Since that time, most of Goldbergs's time in WWE, even including a brief run with the title again in 2020, was cannon fodder in an effort to try to elevate other performers. When he beat The Fiend for the belt before the pandemic shut down the world, it didn't have the same atmosphere as a few years earlier because it was a recycled concept so it yielded diminishing returns. Putting Braun Strowman over didn't do anything other than let Braun control his narrative. More recently, Bill was more or less only there to put over a few of the key guys the office wanted to push at the time, which makes sense since doing the job doesn't diminish his legacy. His most recent WWE bout was against Roman Reigns at The Elimination Chamber pay-per-view last year and he was still under contract for another year, but the office opted not to schedule him for another run on television.
This isn't a knock on Goldberg at all, but taking everything into considerable, there wasn't much left for him to do in the WWE anyway. At his age, he already had another run and made big money in the process, with merchandise released since he re-signed with the company in 2016 so unless there's a specific bout that might be on the table, he accomplished more or less everything he could in WWE.
That's also why it wouldn't make sense for him to sign an AEW contract.
As much as Tony Khan is a fan of WCW and enjoys signing legends just so he can post the "All Elite" graphic on social media, there's no logical reason for Bill Goldberg to lace up the boots for AEW. He was already limited to very short matches a few years ago so how exactly would he be booked in the company? All Elite primarily sells work rate as its draw, and that's the opposite of what Bill Goldberg brings to the table. Plus, we've already seen the Goldberg return to the sport, what's the selling point of 56-year-old Goldberg in the ring again? More importantly, he doesn't need the money so why risk tarnishing his legacy? The vast majority of the All Elite roster, as bloated as it is, continues to be based on youth and the potential of the future so nostalgia has a limited spot on the card.

Tony Khan said in a recent interview that AEW would be interested in the potential of Bill Goldberg as a free agent, which isn't a surprise, considering how many contracts Khan offered. However, outside of a six man tag match with Sting based on their WCW history, I just don't see the realistic options for him in AEW. It's too much of a styles clash for Goldberg, unless Kenny Omega or another top name in the organization would work around him for a short match.
Finally, I want to mention that I actually met Bill Goldberg at a comic con in Pittsburgh last year and he was extremely polite. Goldberg is a genuine guy and you can tell that he takes his status as a potential role model seriously with the notoriety that fame brings him. In fact, if pro wrestling had more Bill Goldberg and less Hulk Hogan, the industry might be viewed better by the media. So, Bill Goldberg is a respectful former champion, but that doesn't mean he should sign to be a current AEW star.
What do you think? Share your thoughts, opinions, feedback, and anything else that was raised on Twitter @PWMania and Facebook.com/PWMania.
Until next week
-Jim LaMotta
E mail drwrestlingallpro@yahoo.com | You can follow me on Instagram & Facebook @jimlamotta89