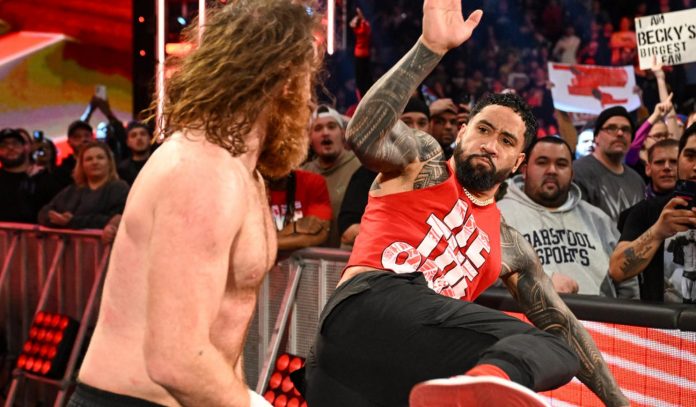 Tag team wrestling has long been a touchy topic in the world of professional wrestling. In the old days, it was a huge and vital part of storytelling to lead to major singles matches, as well as get some newer wrestlers a title/TV run before they potentially go off on their own. This acted like a trial period for brass to wage who has the potential to break off down the line. In the last 10-15 years however, WWE seemed to forget about tag team wrestling at points, with the champions often not being featured for weeks on end, not on PPV, and far from "important" to the eye of the beholder. Tag team champions were often thrown-together teams, two feuding stars being saddled with the old "can they co-exist" storyline or are just plain forgettable at times. Does anyone remember when John Cena and David Otunga were tag champions for a hot minute? I try to forget it every day, but I can't. Gone were the days of the Hart Foundation and the Rockers, as well as the Smackdown 6 or the Hardy's/Dudley's/Edge and Christian's of the world. Since then, 10-year-old Nicholas was a tag champion, Primo and Epico waged a title reign so forgetful I can't remember who they won the tag titles from OR who they lost them too, and we have seen more makeshift teams that make less and less sense win the tag gold (here's looking at you, Miz and Shane McMahon).
That is not to say that things have always been bad throughout the aforementioned time period. Brief glimmers of hope reigned down from time to time. The NXT Tag Team division of circa 2015-2020 was some of the best tag team wrestling I have genuinely ever seen (DIY vs. The Revival at Takeover Toronto is one of my favorite matches of all time period, mind you), and they showed just what tag team wrestling could and should be again on the main roster. Teams like the New Day and the Usos continued to have dominant and largely entertaining runs, both breaking the records for the longest tag title reigns in WWE history (New Day's at 483 days and the Usos' at 600+ days as of press release). Vince McMahon seemed destined to never allow tag team wrestling to shine for some ungodly reason, as it has proven to be a consistent draw power for AEW and NXT over recent years. AEW especially has featured an absolutely stacked tag team division from day one. Teams like the Young Bucks, FTR, Jurassic Express, the Lucha Brothers, SCU, and onward have dominated over the years. Even "makeshift teams" such as Keith Lee and Swerve Strickland and Kenny Omega and "Hangman" Adam Page have been really fun and entertaining at the main event level. The latter of those two examples actually helped to play into their eventual AEW World Title feud one year on from their tag title reign ending. NXT too showed promise, in teams like the previously mentioned DIY and Revival, as well as perennial champs the Undisputed Era, Mustache Mountain, American Alpha, AOP, and so many more. It's truly a shame so many great teams were wasted or split up for no reason and/or far too soon.
All of that said, Triple H has ascended to creative power, and, just as he did with the US and Intercontinental Titles, he has done an amazing job restoring the value and prestige of the Unified WWE Tag Team Titles, and the tag team division as a whole. Both Raw and Smackdown are now evenly balanced with genuine tag teams who belong, and the "makeshift teams" are starting to make more sense and are not just being thrown together for any sake. Ricochet and Braun Strowman have come together nicely, and while it may already be over, Sheamus and Drew McIntyre were extremely fun to watch in a tag team setting. The entirety of the tag team division has been fortified with NXT call up's, re-signings, and these aforementioned makeshift teams. The Usos, in the midst of that 600+ day reign, have carried the tag team titles for nearly two years. In that time, they've faced everyone, beaten everyone, and held the gold proudly whilst involved in one of wrestling's greatest stories ever told: The Bloodline vs. Sami Zayn. Now, with Wrestlemania 39 on the horizon, there is a massive question lying ahead, one nobody may have ever imagined even 6 months ago. Should the Unified Tag Team Titles be defended on one of the nights of Wrestlemania?
Two-night Wrestlemania cards have created this wonderful discussion and possibility, and it has paid great dividends over the last few years already. AJ Styles and Kevin Owens have both gotten a Wrestlemania main event because of it, Sasha Banks and Bianca Belair made history because of it, and now tag team wrestling should be next in line to do the same. Now, there is no doubt that Cody Rhodes vs. Roman Reigns should be the main event of night 2, and it will be. Night 1 however, that's another story. The 2 women's title matches both warrants the main event slot, especially Rhea Ripley considering she won the Royal Rumble, but the main event of a Wrestlemania card should always be the match that warrants the spot the most. AJ/Undertaker in 2020, Belair/Banks in 2021, and Owens/Steve Austin in 2022 are all great examples, as they all were the most deserving stories on their respective cards. Sami Zayn's story has been the most well-done, captivating, and enjoyable storyline since Kofi Kingston, and is one of the greatest wrestling stories ever told, as already mentioned. Couple that with all the layers of the potential tag team title match that would happen, and you have a recipe for a reaction like no other, a match like no other, and a Wrestlemania moment like no other. Sami Zayn and Kevin Owens winning the tag titles makes so much sense, their friendship, and their history, forever intertwined with one another until their careers come to a close. Them finally unseating the Usos, ending the longest tag team title reign ever, and finally avenging months and years' worth of beatings and suffering from the Bloodline. The cracks in the Bloodline open up like a dam breaking, allowing Cody Rhodes the chance to finally get to a wounded king still atop his throne, and maybe be the ripple effect needed to finally put an end to all that Roman Reigns has done. There is so much here to soak in, and Sami Zayn & Kevin Owens vs. The Usos for the Undisputed WWE Tag Team Championship in the main event of night one of Wrestlemania 39 in Hollywood just sounds 100% right. If I were the WWE, I'm pull the trigger on this ASAP, and ensure everyone a moment forever etched in time, like so many moments to have come before it.
What do you think? Share your thoughts, opinions, feedback, and anything else that was raised on Twitter @PWMania and Facebook.com/PWMania.